With Ander Herrera emerging as an important part of the Manchester United team during their improved run of form, Adam Bate examines the midfielder's growing contribution...
"He is a great guy and a great professional also, so that's not the problem. His problem is that he has to compete with high-level players… He has to improve." – Louis van Gaal, February 6th 2015
Right from the outset there seemed to be uncertainty surrounding Ander Herrera. David Moyes had reportedly baulked at the transfer fee and even when Louis van Gaal approved the signing, questions were asked about why Manchester United had not fought to sign Cesc Fabregas instead.  Fabregas has 94 Spain caps to Herrera's none despite being only two years older, after all.
A slow start added to the intrigue and there was a danger that he could become a Shinji Kagawa figure, with fans anxious for him to be given a chance but Louis van Gaal apparently reluctant to trust him with a key role. Two months on from Van Gaal's demand for more and Herrera has made the necessary adjustments, earning the admiration of his boss in the process. He's blossoming.
Herrera's brace in the 3-1 win over Aston Villa marked the high point so far. Compatriot Juan Mata subsequently described his team-mate as "a genius on and off the pitch", but it was no one-off. This was just the latest in a series of strong performances. Manchester United have now won eight of the 10 games that the 25-year-old has started since October.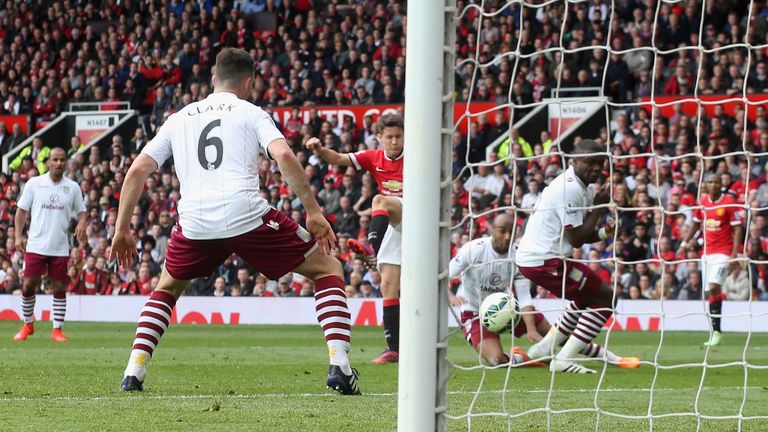 Indeed, United have lost only one of the last nine Premier League games and it was even Herrera who scored their goal in that solitary defeat at Swansea. It is telling that his return to the starting line-up has coincided with the first signs of rhythm from the Red Devils. Like Michael Carrick, it seems Herrera is a player who helps others perform and brings balance to the team.
Finding form
"It's just all fallen into place," Gary Neville told Monday Night Football. "Things have happened. Blind going to left-back and Shaw getting injured; Carrick coming into central midfield; Van Persie getting injured and Rooney going up top; Herrera coming in; Di Maria getting suspended and Mata going wide. All those things with the form of Fellaini have just meant they look a really good team."
Most obviously, Herrera has been getting on the scoresheet. "He scores goals," said Van Gaal. "I knew already that Herrera has a good technical kick, but he wasn't always composed." Perhaps that explains why his measured opening effort against Villa earned Herrera a kiss from his manager, with the Dutchman delighted that his player has embraced his words of advice.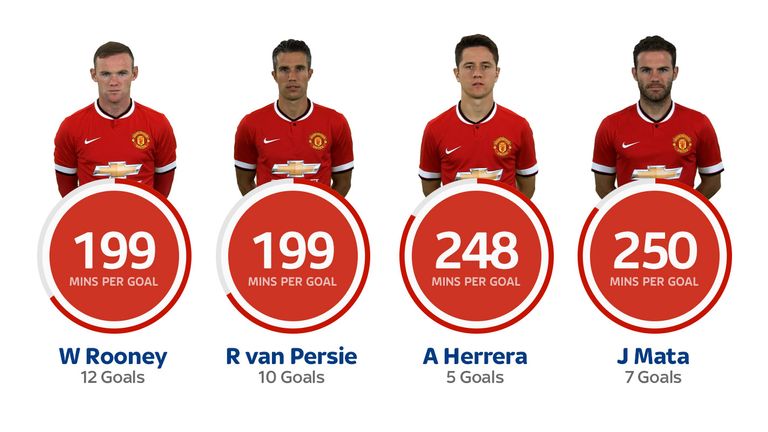 "He's a really good finisher when the ball comes to him on the edge of the box," added Neville. "He never panics, he controls his strike." Herrera has now scored seven in 15 starts – the best goalscoring season of his career – with five coming in the Premier League. Only Van Persie, Rooney and Mata have more with Herrera averaging a goal every 248 minutes of play.
But it's about more than goals. In his understated way, Herrera is knitting the play in advanced areas. The win over Aston Villa was only the seventh time a United player has hit 60 successful passes (at 94%) in the opposition half and only the second that has managed 40 (at 93%) in the final third. In both respects, among those on the list, Herrera's passing accuracy in those areas is a season high.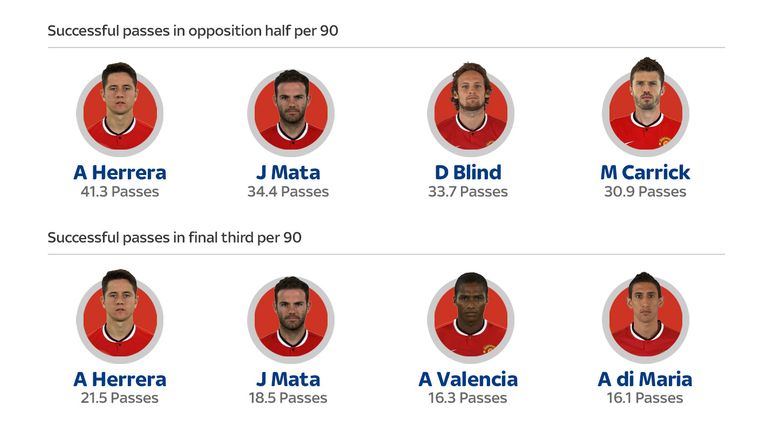 It's an indication of his ability to find space in forward areas and keep the ball ticking over. Herrera makes a pass in the opposition half more frequently than anyone at United and the same applies in the final third as well. For Neville, it's the positions from where the former Athletic Bilbao man is making those passes that will have convinced Van Gaal that Herrera now knows what's required.
Midfield balance
The manager has been striving for fluidity and balance all season and it's surely no coincidence that this has finally come from the players that have been most obviously willing to listen to the manager. Carrick? Van Gaal's "trainer-coach". Fellaini? The man of whom Van Gaal has said that "from the first training session he did what I asked". The intelligent Herrera has fought for this role.
"He is starting to play well," said Neville. "He's looking confident after being out for so long. He's looking like the player they bought. He probably roamed around the pitch too much because Van Gaal likes players to play their position in midfield, stick to their jobs and stick to the principles of what he wants. Herrera has started to do that."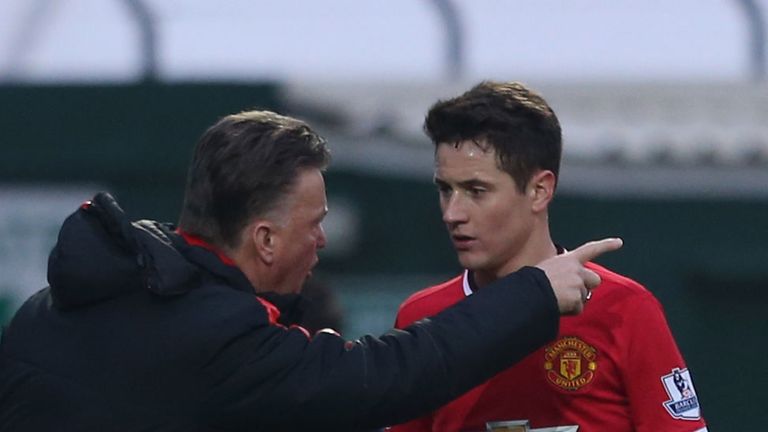 He believes spaces are created by staying in the right place as the team has the quality to find you. In fact, at first he was angry with me because I always looked for the ball.
In a recent interview with El Pais, Herrera himself made explicit of this change he'd been asked to make to his game. "He wants long possessions and to keep the ball because he believes spaces are created by staying in the right place as the team has the quality to find you. In fact, in the beginning he used to tell me off because I always looked for the ball. I should have waited for it."
Significantly, Herrera has gone from having 25 per cent of his touches on the left-hand side of the pitch to just 10 per cent, with Van Gaal asking the player to operate in that right-midfield channel while Fellaini drifts to the left. The roaming has been curtailed. "Positionally he is playing better than in the beginning," said the United manager. Now Herrera is eyeing a long stay.


"I feel I quickly adapted to this league and this country because I am so comfortable here," he told United Review earlier this month. "I am in the right team, in the right league and in the right country. I want to stay at the club for many years to come."
If he can continue with his progression – starting with the Manchester derby on Sunday - then he won't be the only one happy. And those comparisons with Fabregas, as well as the other 'high-level players' at United, will only become more and more favourable.
Watch Man Utd v Man City live on Sky Sports 1 HD this Sunday from 3.30pm