Should Wayne Rooney lead the line for Manchester United this season?
Last Updated: 21/07/15 10:24am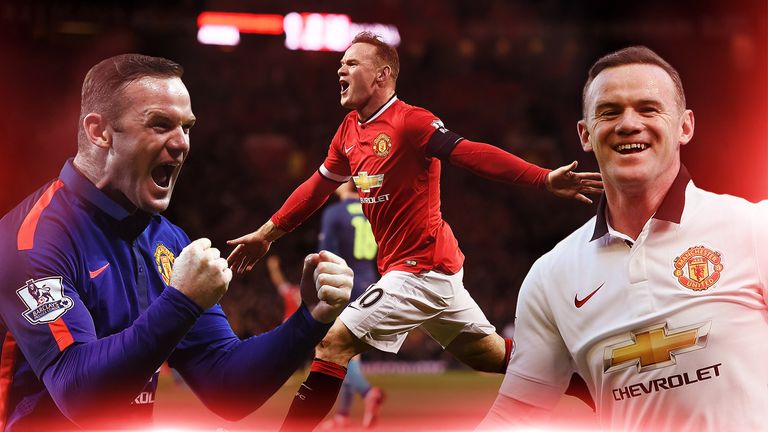 As Sky sources say Manchester United are happy to rely on Wayne Rooney to lead the line this season, we examine whether it would be the right move...
The Wayne Rooney midfield experiment appears to be over. Having deployed the 29-year-old in an unfamiliar deep role for much of last season, Sky sources say Louis van Gaal is preparing to restore him as a central striker – and history suggests it could be a smart decision.
Robin van Persie's move to Fenerbahce and the expiry of Radamel Falcao's loan from Monaco have cleared the way for Rooney, who has not been trusted to lead the line for the entirety of a campaign since 2011/12 despite a record of 230 goals in 479 appearances for United.
And when considering his case to take on that responsibility in the new season, a look back to the 2009/10 campaign is a good place to start. Despite having made his move to Old Trafford five years previously, that was the first campaign in which he truly flourished as United's main man.
The £80million departure of Cristiano Ronaldo to Real Madrid that summer granted Rooney the opportunity to lead the line, and he grasped it with both hands, scoring 26 Premier League goals at a rate of one every 104.73 minutes.
United fell one point short of Chelsea in a nail-biting title race, but it came as little surprise that the rampaging Rooney scooped a PFA and Football Writers' Player of the Year award double having scored 34 goals in all competitions – 22 more than any of his United team-mates.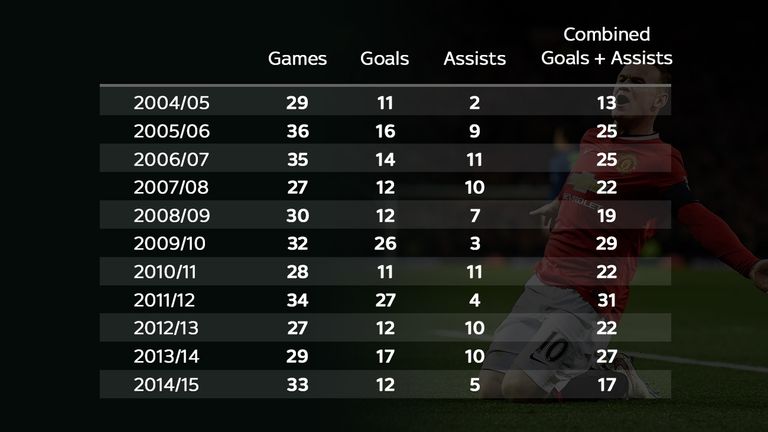 The stage was set for Rooney to pick up where he left off the following year, but instead he was overshadowed by strike partner Dimitar Berbatov after a disappointing showing at the World Cup with England in South Africa.
On the domestic front, Rooney assumed the role of provider for the Bulgarian, who scored 20 Premier League goals to Rooney's 11 and was named ahead of the Englishman in the PFA Team of the Year as United reclaimed the title.
His combined total of 29 goals and assists in 2009/10 fell to 22, and a deeper look at the stats provides further evidence that he is far more effective when leading the line.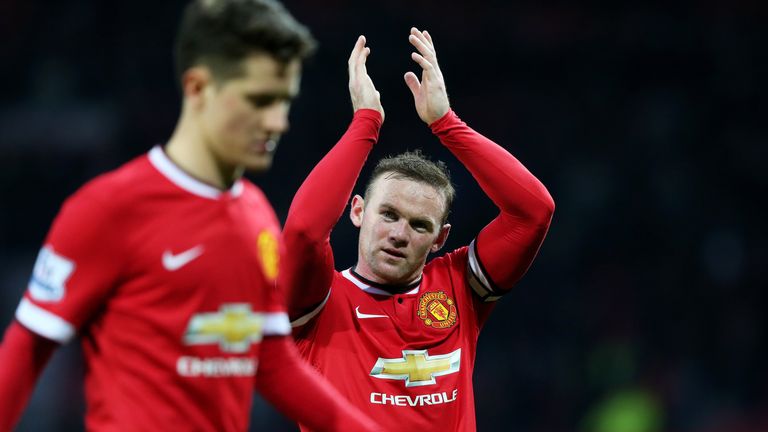 While his passing accuracy increased by over three per cent to 76.9 and he created 2.1 chances per game compared to 1.75 in 2010/11, his average number of shots fell from 3.9 per game to 2.7, and he also averaged fewer touches (56.75 v 60.8 in 2009/10), despite adopting a deeper role to accommodate Berbatov.
In 2011/12, however, Rooney re-established his status as United's leading striker with another stellar individual campaign which leant further weight to the argument he is at his best as an attacking focal point. He scored a career-high of 27 Premier League goals that year as Berbatov was reduced to a supporting role along with Javier Hernandez and Danny Welbeck.
But once again it proved to be something of a false dawn for Rooney's striking aspirations, as United duly clinched the signing of Van Persie from Arsenal – the only player to have outscored him in 2011/12.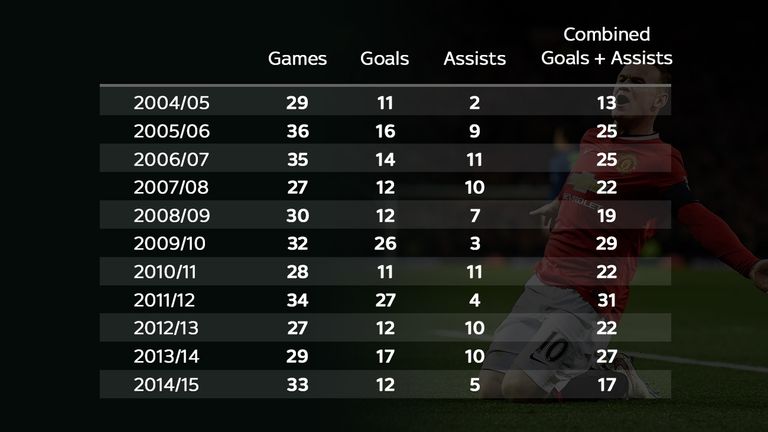 Van Persie's presence at United was always problematic for Rooney, who has become a victim of his own versatility at Old Trafford. Van Persie usurped him as their talisman with his stunning 26-goal contribution to Sir Alex Ferguson's final title triumph, and Rooney began a process of adaptation which culminated in him playing in United's depleted central midfield last season.
Indeed, the early indications from Louis van Gaal were ominous following his appointment last summer. "Rooney can play in more positions," he said in September, just a few weeks into the season. "He's a multi-functional player and I have tried him in a striker's position. He's played well but not spectacular and [Radamel] Falcao is a striker and I think he can do it better."
But even as Falcao and Van Persie struggled in front of goal last season, Rooney was rarely deployed in his favoured position as a central striker, and the statistics reveal just how much his contribution to the side diminished.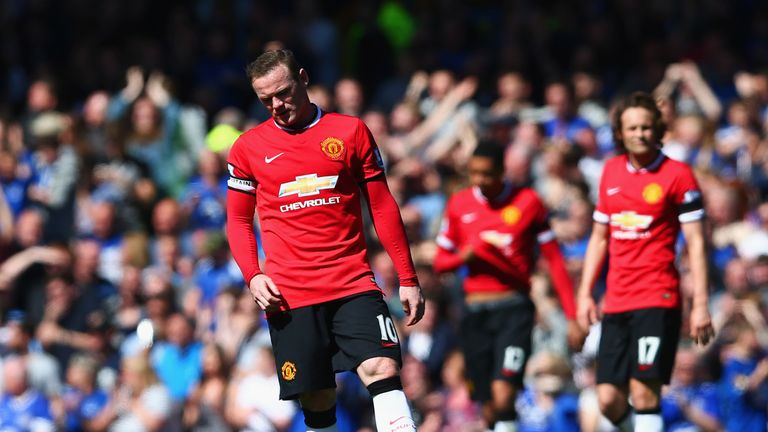 Rooney is at his best in front of goal, but as he was deployed deeper and deeper last season, his average number of shots fell to just 1.6 per game – a considerable drop from his rate of 3.9 in 2009/10. His combined total of 12 goals and five assists was also his lowest since the 2004/05 season, which is surely a waste of a player who is just 19 goals short of Sir Bobby Charlton's United goal record of 249.
Sky Sports pundit Jamie Carragher agrees. "I was watching Wayne Rooney and the position he's in is not right," the former Liverpool defender said after Rooney featured in central midfield in a 1-1 draw with West Ham in February. "Rooney has got to get back up front, that's his best position."
In the face of heavy scrutiny last season, Van Gaal always defended his decision to move Rooney into midfield. "I think he likes playing in midfield because he is more on the ball," he said. "So he enjoys it more."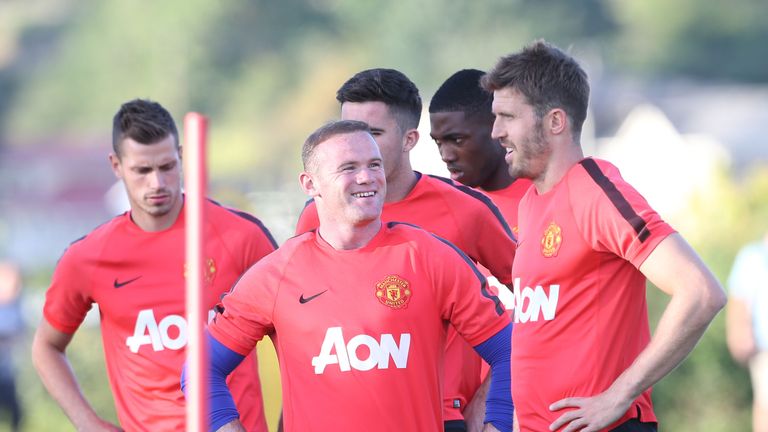 But the stats show Rooney averaged just 66.8 touches per game in the Premier League last season, only a fractional increase on his last campaign as United's main striker in 2011/12 despite spending much of the campaign in midfield. He also only created an average of 1.4 chances per game, his lowest rate of the last six seasons.
With that in mind, it is hardly surprising that Van Gaal is ready to unleash Rooney as his first choice striker. The former Everton man endured his least productive season to date last year, but the opportunity to spearhead United's attack could help him rediscover his best form.