After all the hype, Anthony Martial delivered a debut goal to savour in Manchester United's 3-1 win over Liverpool, writes Adam Bate.
"Manchester United fans, I've not heard them cheer as loud as that - I know it's against Liverpool but there was a huge relief around the stadium. It was a big, big moment for a player making his debut. He'd been written off, almost, in some quarters in the last couple of weeks, before he'd started." - Gary Neville
They'd sent the cameras to his Paris banlieue and interviewed his old coaches. Number crunchers had busily worked out how many world-class players you could assemble in one dressing room in exchange for that hefty fee for his services. Social commentators were even speculating about what his arrival says about the state of our national game.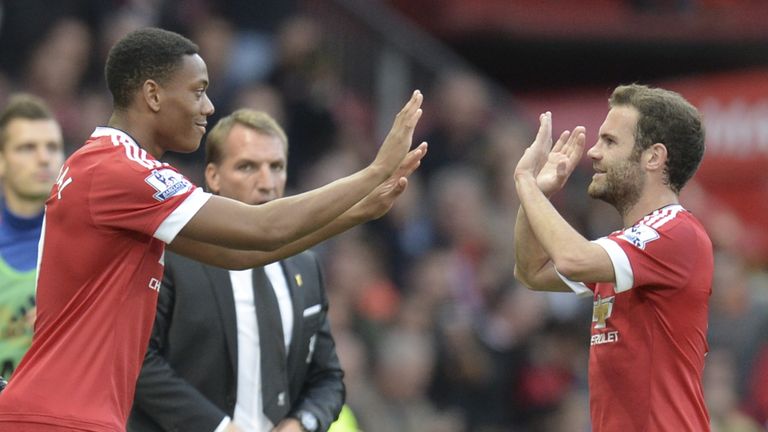 All that remained was for Premier League audiences to see young Anthony Martial in action. A hint of Lionel Messi with a dash of Cristiano Ronaldo and, ideally, a bit of fancy footwork for the vine generation would do nicely. Anything less would surely be underwhelming. This is a player who is supposed to be the new Thierry Henry, after all.
"I don't think he'll want that tag," said Neville on co-commentary, determinedly bringing a sense of reality to the hype as Martial came on. "He's a young player trying to make his way in the game. It's not his fault, the price tag. But a lot of pressure comes with that."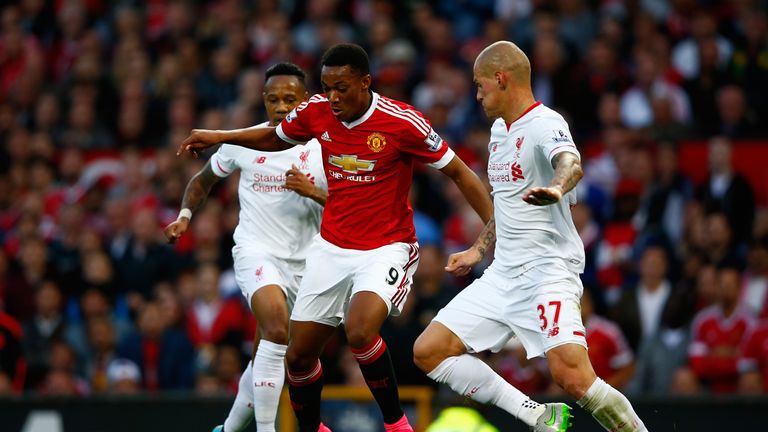 Martial certainly wasn't perpetual motion when he came on. This was not the panicky performance of a man bounding about without thought. In fact, he didn't see much of the ball and, according to the Premier League tracking data, finished with the lowest average speed of the 26 outfield players to feature.
For a time it seemed as though United fans would be left searching for something to take from his 25 minutes. A clue, nothing more. The sight of him holding off Dejan Lovren on the flank was a start. It was perhaps this passage of play to which Louis van Gaal was referring when he said afterwards: "I also saw physically he can play in the Premier League."
But then came the moment when the world had a fuller explanation. Cutting in from the left, Martial ran at Martin Skrtel with purpose and that was more than enough. There was an element of fortune but it was immediately followed by a more telling sign of quality as he produced a finish of real class to kill the contest.
Thirteen minutes to get his first touch; just 21 minutes to produce one of the great Premier League moments. The world's most expensive teenager scoring with his first shot. And in a 3-1 Manchester United win over Liverpool in front of the Stretford End. Astonishing.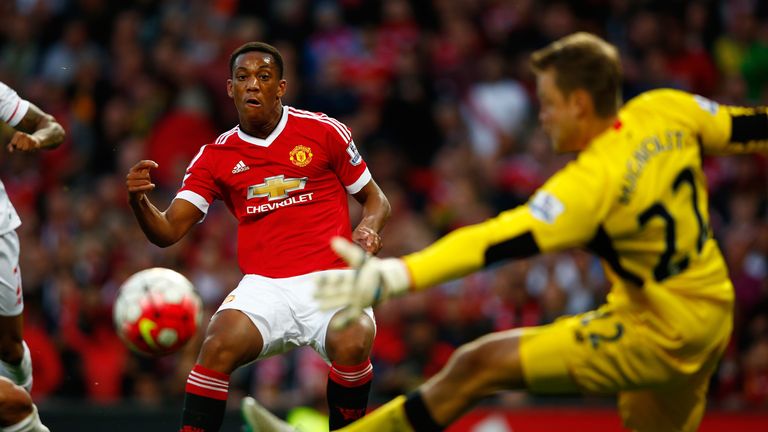 That finish. Passed low into the far corner of the net, it was not the actions of a man eager to end those Henry comparisons. In the Sky Sports studio, the man himself was impressed. Henry had little interest in focusing on Skrtel's unconvincing attempts to dispossess the debutant. It was all about the finish. "I call it freezing the goalkeeper," he explained.
The first of many or a one-off memory? Henry's natural successor or the new Federico Macheda? For now, who cares? Slow starts can be crippling when the weight of expectation is unfairly loaded on young shoulders and there's no precedent when it comes to shoulders of the £36m variety. But this ought to be enough to ensure the momentum is with Martial.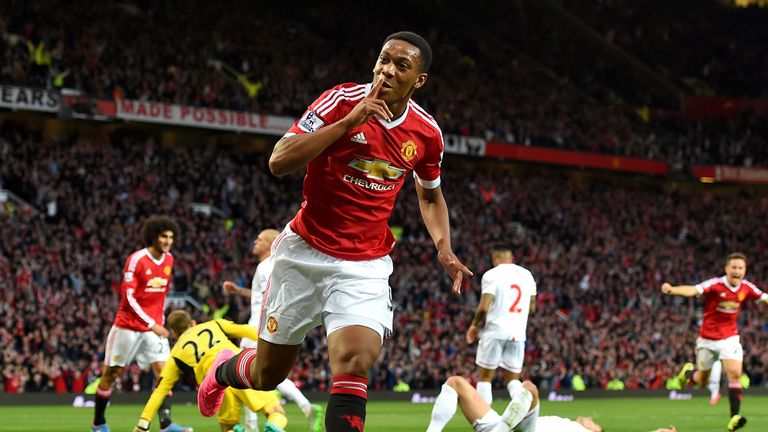 Putting the fee to one side, if he does little else this season, this was an encouraging contribution for a 19-year-old from Monaco with only 11 league goals to his name prior to Saturday. Martial has already done in one substitute appearance what, say, Danny Welbeck, has so far been unable to come up with in a dozen matches against Liverpool. A goal.
"That will settle him down," Neville told The Gary Neville Podcast afterwards. "It'll give him the confidence to think that actually 'that's what I can do'. Over the next couple of months Manchester United fans will be thinking of nothing more than Anthony Martial's goal against Liverpool, and they'll give him some time - that'll give him some breathing space.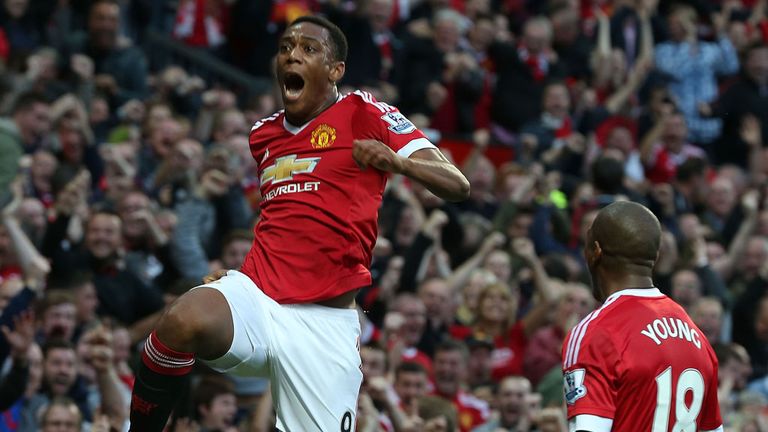 "Even if he misses one next week in the Champions League or against Southampton, he'll still have that feeling that he's scored a massive goal, he's taken his opportunity, and it buys him some time which I think for a young player is so important. It's a huge moment for him, make no mistake about that." Others preferred to downplay it.
"He did alright," said Van Gaal, his smile giving away the attempt at studied understatement, before adding: "He scored a marvellous goal." An earlier Van Gaal line had been in reference to the tactical state of the game when the youngster was introduced but seemed to sum the evening up even better. "It was a match for him." Martial's match.