Special One: Remembering Jose Mourinho's first-ever Chelsea press conference
Portuguese was unveiled at Stamford Bridge in the summer of 2004
Last Updated: 18/10/18 6:23am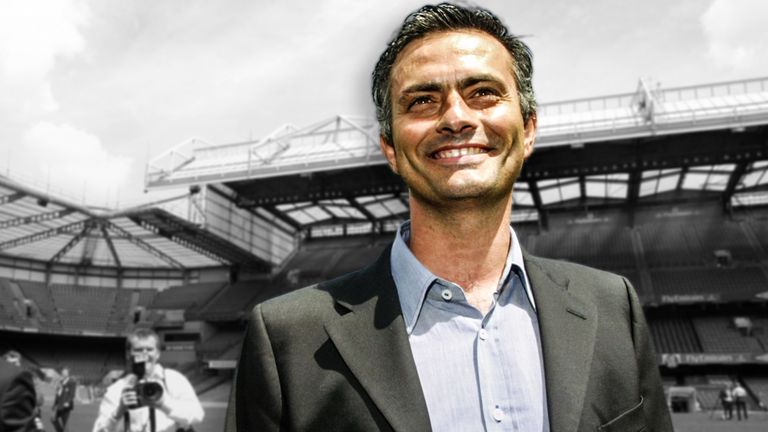 Jose Mourinho takes Manchester United to Chelsea on Saturday lunchtime and ahead of the Portuguese's return to his former club, we look back at his famous first press conference as Blues boss...
Mourinho replaced Claudio Ranieri as Chelsea manager in the summer of 2004 having just guided Porto to a remarkable treble, the final part of which was achieved with victory over Monaco in the Champions League final.
For many, though, the defining image of that 3-0 win in Gelsenkirchen was of Mourinho removing his winners' medal on the presentation podium and immediately excusing himself from the players' post-match celebrations.
In the build-up to the final, the then 41-year-old had been constantly linked with Ranieri's job in west London and it was this speculation that led to his low-key reaction after winning Europe's premier club competition.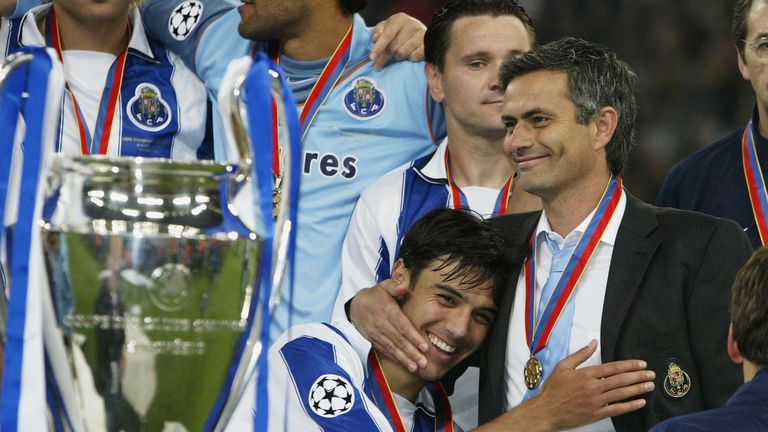 "Since I was linked with a departure from FC Porto I had to live with some pressures I was not used to," Mourinho explained at his unveiling at Stamford Bridge on June 2, 2004.
"I had to change my life and the life of my wife and kids. At the end of the match I was more worried about them than being in celebrations.
"Porto supporters know what I am and what I give and nobody can erase what I did at the club. And my players know what I am and that after that match I was the proudest manager in the world."
Clash with Ranieri
The recently ousted Chelsea manager had questioned whether a coach from Portuguese football could step up to the demands of the Premier League.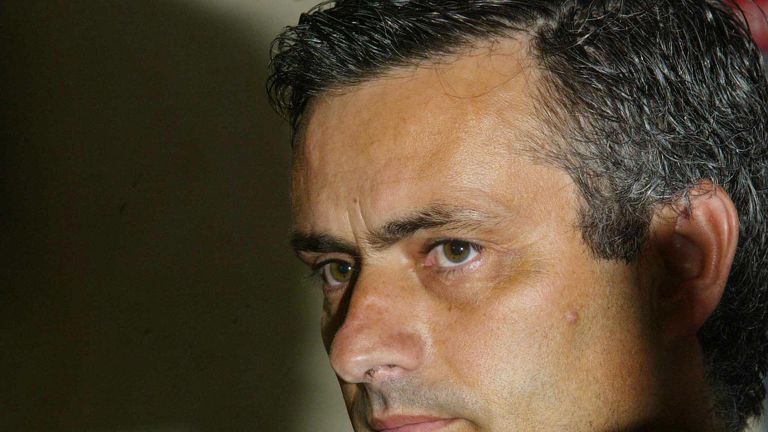 However, the man who had won six trophies in over two-and-a-half years at Porto delivered a stinging rebuke to the Italian in what would become a trademark of his.
"I heard that and I suggest if one of you is Mr Ranieri's friend or has his number you should call him and explain to him that for a team to win the European Cup it has to beat many teams from many countries," Mourinho quipped.
"I did not win the cup playing against 20 Portuguese teams. I played and beat a team from his own country, Italy, from your country and the one he was working in, England.
"And to win the Uefa Cup that was the same kind of thing."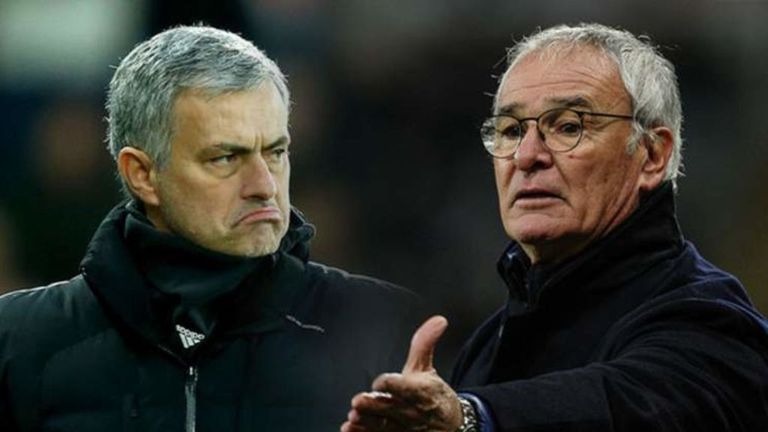 I heard that and I suggest if one of you is Mr Ranieri's friend or has his number you should call him and explain to him that for a team to win the European Cup it has to beat many teams from many countries
Jose Mourinho
Ambitions
Meanwhile, those in attendance at the Bridge that day were given their own glimpse into how the rising star of European football went about his business when he revealed what he intended to do at the club.
"To give my best, to improve things and to create the football team in relation to my image and my football philosophy," Mourinho said.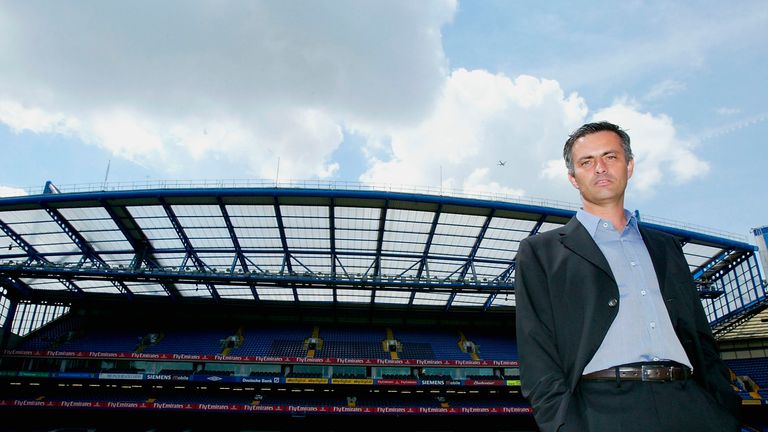 However, what about his ambitions for a team that had not won the league for half a century?
"The biggest ambition I have is to win the first Premiership match on 14 August," Mourinho replied.
That first encounter, of course, was at home to United, a game Chelsea would win 1-0 on their way to winning the title for the first time since 1955.
Mourinho was, do not forget, joining a club whose new owner - Roman Abramovich - had lavished an incredible £100m on players the previous summer.
Those new recruits included Damien Duff, Hernan Crespo, Juan Sebastian Veron, Claude Makelele, Adrian Mutu, Joe Cole, Glen Johnson, Wayne Bridge and Scott Parker.
'I love the players who love to win'
When pressed on which Chelsea players had caught his eye, though, the Portuguese was coy, preferring instead to talk up the team collective.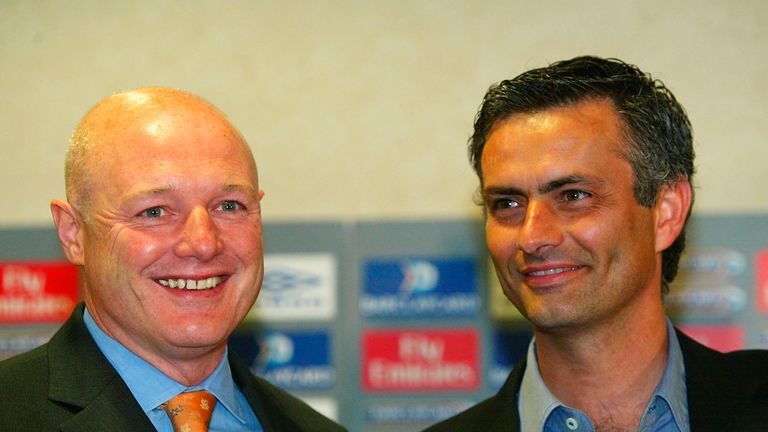 "I'm a great defender of team spirit and team work and the first thing I have to promise to my new players is that I will look at them all with the same eyes," he said,
"I don't want special relations with one of them. I hate to speak about individuals. Players don't win you trophies, teams win trophies, squads win trophies.
"I cannot say I love this player, but generally I love the players who love to win. Not only the ones that love to win in 90 minutes but love to win every day, in every training session and in all of their lives."
Interestingly, Veron and Crespo were then loaned to Inter Milan and AC Milan respectively as Mourinho brought in his own players as part of a much-reduced first-team squad.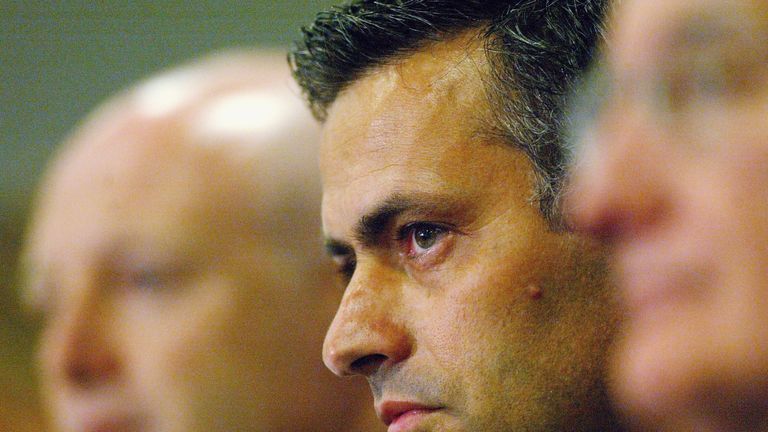 However, he refused to bite when asked who he would be signing that summer.
"I would say if all the names you wrote in the last few days are correct we would have a 50-player squad and I hate to work with big squads," Mourinho joked at the time.
"I want a small squad - 21 players plus the goalkeepers and no more."
And Mourinho was true to his word, buying only Paulo Ferreira, Petr Cech, Arjen Robben, Mateja Kezman, Didier Drogba, Tiago and Ricardo Carvalho to help form the basis of his championship-winning side.
'I'm a special one'
But for all the words spoken that day, it was one phrase in particular that Mourinho will forever be remembered for.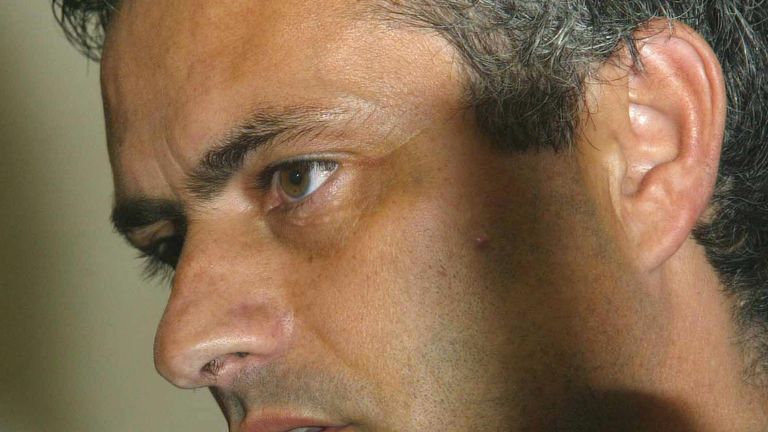 Please don't call me arrogant, but I'm European champion and I think I'm a special one
Jose Mourinho, June 2004
The Chelsea manager, who was being paid just over £4m a year to bring trophies to the Bridge, was asked about his new side's credentials.
"We have top players and, sorry if I'm arrogant, we have a top manager," was his answer.
When quizzed on being a modern-day football manager, though, Mourinho memorably replied: "Please don't call me arrogant, but I'm European champion and I think I'm a special one."
Naturally, it was that line that made all the headlines in the following morning's papers, with the Guardian's Amy Lawrence writing "either he is putting on a sensational act to camouflage a deeply sensitive and shrewd mind, or Jose Mourinho really is the most self-adoring person ever to set foot in the English Premiership."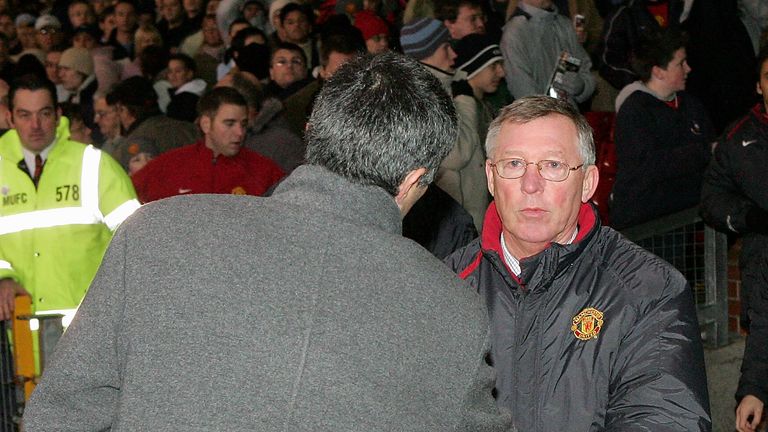 Lawrence was not the only one who had sat up and taken notice of the 'Special One's' arrival, with United manager Sir Alex Ferguson going on to write in his autobiography: "The first time I recognised Jose Mourinho as a potential threat was at his opening press conference as Chelsea manager.
"'I'm the special one,' Jose announced. 'What a cheeky young sod', I thought."
It was not long, however, before Ferguson and Co were in agreement about Jose's 'special' qualities…
Get the dedicated Sky Sports Premier League channel to see Chelsea take on Manchester United.
If you're reading on skysports.com comment below to get involved in the debate, but please adhere to our House Rules. If you wish to report any comment, simply click on the down arrow next to the offending comment and click 'Report'.