For while Eden Hazard is a visceral experience to enrich the senses, Costa is more of a brooding presence stalking the fringes of your attention. Hardly involved. And then comes the goal. It's less of a spectacle than you'd expect of a matador from Madrid, the killing stroke delivered instead like a bullet to the brain.
The strike against West Brom on Saturday was Costa's 11th Premier League goal of the season. Of the 10 other players who've found the net five times or more this season only Charlie Austin and Diafra Sakho have had fewer touches or attempted fewer passes. It's a clue that Costa is not acting as a link-up man at Chelsea. But there is more than one way to be a presence on the pitch.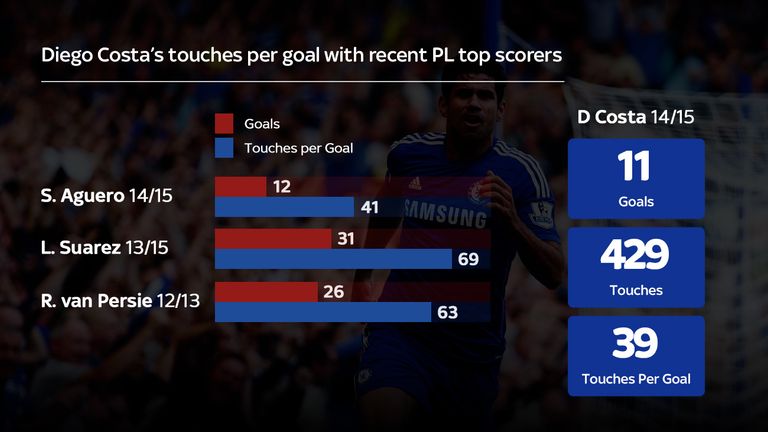 Partnerships aren't all about Xavi and Iniesta playing keep-ball. Jamie Carragher spoke on Monday Night Football of the relationship Steven Gerrard enjoyed with the likes of Michael Owen, Fernando Torres and Luis Suarez, able to catch their movement in the corner of his eye or just instinctively predict their plans. It doesn't require a childhood shared at La Masia to forge a bond on the field. Good players get it.
Cesc Fabregas has that connection with his international team-mate. He's already into double figures for Premier League assists this season and has created 38 chances for his team. Opta defines nine of those as clear-cut – more than anyone else – and that's due in part to his symbiotic relationship with Costa. The powerful forward is not necessarily a link man but he is certainly a target – the one Jose Mourinho said in the summer they'd been "waiting for" all year.
Missing link
Chelsea goalkeeper Mark Schwarzer agrees. "He's something that we've lacked after Didier Drogba left the club," he told Sky Sports in midweek. "That was missing a little bit and this season you've seen the benefits of having a player of that quality – a guy that doesn't do a lot for certain parts of the game and then all of a sudden crops up and scores a vital goal. We're taking our chances more this season."
When Schwarzer says 'we' he might just as accurately say Costa. The striker has transformed Chelsea and the impact has been startlingly swift. Ruud van Nistelrooy, a predator of similar ilk, could hardly be said to have started slowly at Manchester United but his first 10 Premier League games yielded five goals. Luis Suarez scored four; the aforementioned Drogba only three. Even Sergio Aguero, who began with a brace off the bench, 'only' managed nine. Costa has 11.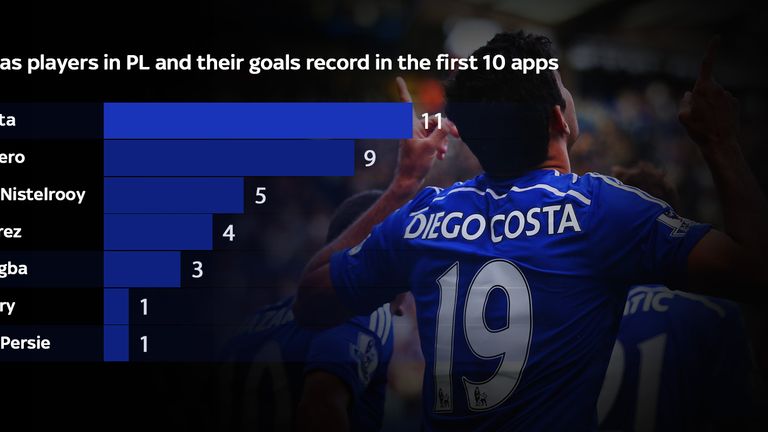 Unsurprisingly, among the Premier League's top goalscorers this season Costa has the best shooting accuracy of all of them, hitting the target with over 80 per cent of his attempts. He has the best conversion rate too, finding the net with an incredible 42 per cent of his shots. In short, he's been lethal.
Costa v Aguero
Diego Costa and Sergio Aguero have had 15 clear chances each with the Chelsea man converting 11 to the City striker's eight.
Of course, that's partly a reflection of the quality of chances Chelsea are fashioning for him. But as Schwarzer suggests, they still require putting away and Costa is doing that better than anyone. Aguero has had 15 clear chances to score, netting eight. Costa has had 15 and scored 11 of them.
Live Ford Saturday Night Football

The Opta data shows that Torres, Demba Ba and Samuel Eto'o all missed more clear chances than they scored for Chelsea last season. The Blues still finished as the division's third-highest scorers but with 30 goals from the first 12 games this year they now top that chart and are the second-highest scorers in the Champions League too.
It's called the Costa effect. And while there are many reasons why Chelsea are the Premier League's strongest side, for the sheer brutality of his numbers, there is every chance Costa will be the difference maker that history – and our friend from West Brom – remembers.
Watch Chelsea in action at Sunderland on Saturday Night Football from 4.45pm