Chelsea striker Diego Costa is willing to overstep the mark to win but that's what Jose Mourinho loves about him
Last Updated: 30/01/15 2:27pm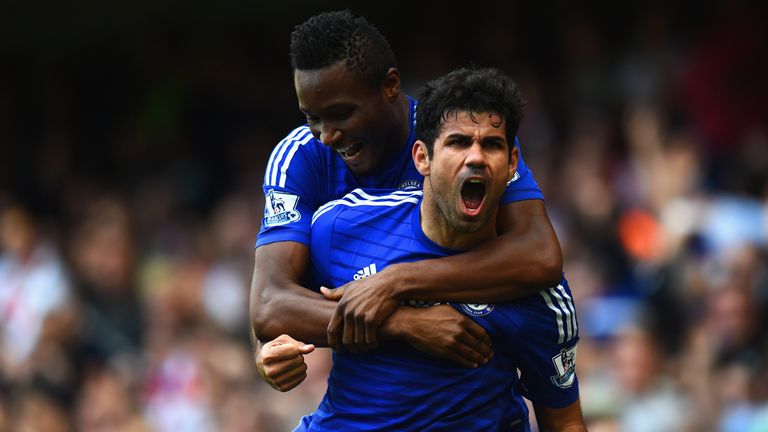 Chelsea are through to the Capital One Cup final after edging past Liverpool in Tuesday's second leg at Stamford Bridge.
Diego Costa was at the centre of controversy after twice appearing to stamp on an opponent but was defended with passion by his manager Jose Mourinho.
Adam Bate was at Stamford Bridge to see it and was not surprised by Mourinho's response – Chelsea's new striker is the on-field embodiment of his manager…
"He's not just about the goals."
Jose Mourinho's initial assessment of Diego Costa upon the official confirmation of his arrival at Stamford Bridge in the summer can seldom have seemed so apt. In Tuesday's Capital One Cup semi-final victory over Liverpool, it was Branislav Ivanovic who scored the only goal of the game and yet it was Costa who found himself at the focal point of just about everything else.
No goals then. But one strong penalty appeal, two possible stamps and three shots. The man Mourinho calls a "killer" gave us the good, the bad and the ugly with a throwback of a performance that had Sky Sports pundits Thierry Henry and Jamie Redknapp offering the critique and Mourinho quick to conclude that attack was the best form of defence.
That's a tactic Costa is certainly an expert in on the field. Nothing is easy when the Spain international striker is around and for two long hours he revelled in the contest with the Liverpool defenders. He might have been outnumbered up there, but you were inclined to feel it was the visitors who found themselves outgunned.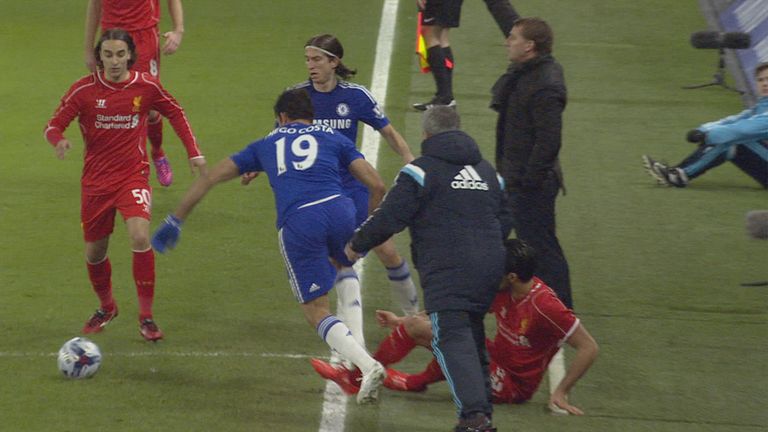 It's easy to be deceived into thinking that Costa is out of control at times – the Premier League's latest Luis Suarez figure. And yet, it's becoming increasingly apparent that Costa is a man at his best when playing on the edge. He's picked up 28 yellow cards in the past two years – receiving eight already in a Chelsea shirt - but not been sent off once in that time.
In contrast, Costa takes other players outside of their comfort zone. Whether that stray boot planted on Emre Can was accidental or not, he had the 21-year-old squaring up to him inside the first 15 minutes. Can had been booked just once all season prior to last night. By extra time, even Liverpool's vastly-experienced captain Steven Gerrard was facing off against Costa.
None of which did Liverpool any favours. When the tempers flared it was Chelsea who seemed to find this intensity a less stressful environment in which to work and in this sense Costa can be seen as the embodiment of his manager on the pitch. It's a figure Mourinho has missed in more ways than one.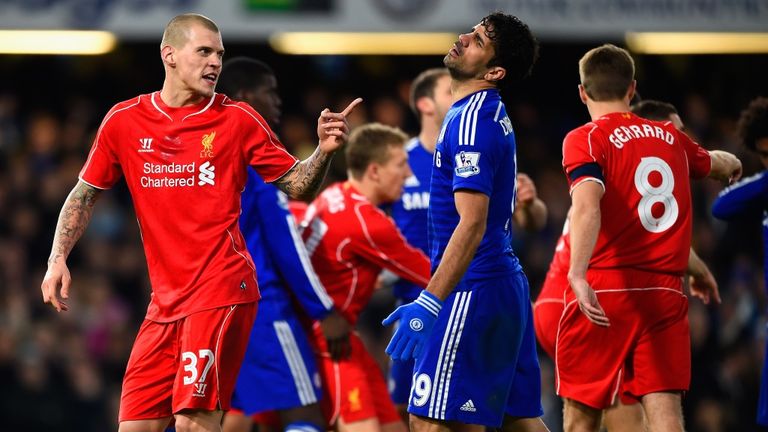 While Didier Drogba performs the role of his foil in the dressing room and John Terry is his tactical voice on the field, dictating the press, it's Costa who personifies those traits that are Mourinho incarnate – fiercely competitive, willing to put aesthetics to one side in going to any lengths in seeking an advantage over an opponent and ultimately just about the best in the business.
Costa is the one pushing things to their limit. A man who first flourished under the tutelage of Diego Simeone, he is conspicuously willing to do more than the next man to win. Again, it is revealing to note how Mourinho described Costa when signing him. "It's about his defensive work, mentality and ambition," he said. "This is the player we bought and we were waiting for since last season."
Indeed, consider the language used to describe last season's strike-force compared to his new leader of the line. Fernando Torres was praised as a "fantastic boy". The romantic equivalent of that is being told you're a "nice guy". Samuel Eto'o's status as "a killer" was described in the past tense by Mourinho even after scoring against Chelsea for Everton earlier this season.
"We are not saying 25 or 30 (goals) because our strikers are not these kind of killers," said Mourinho of Costa's predecessors. He added of Torres: "When he has the ball on his feet with the back to the goal, he's not a very skilful player, we know that." By comparison, against Liverpool on Tuesday, Costa was involved in more aerial duels than anyone else on the pitch and – unusually for a striker – also boasted the best pass completion rate.
The darker arts of which he's an exponent cannot be condoned by the neutrals, but you sense it is precisely what Mourinho likes about his striker. When he praised the "maturity" of his team's performance, it felt like a euphemism. When he concluded that "the most important thing is that we won" it hammered home his priorities. For Mourinho, the beauty comes in victory. As he said of Liverpool counterpart Brendan Rodgers, "we are very different people".
So while Rodgers might be forgiven for spending his Wednesday morning asking himself the same question he's been conjuring for the past five months – what exactly is it that makes £16million man Mario Balotelli tick? – Mourinho has no need to ask that of his £32million forward. The two men are perfectly in sync. Did Costa go too far? For Mourinho, there is no such thing.
Watch Chelsea v Man City live on Sky Sports 1 from 4.45pm this Saturday