"We're going away disappointed that we didn't score more goals." Steven Gerrard's assessment of Liverpool's 3-0 win over Manchester United at Old Trafford on Sunday was arguably more damning than the scoreline itself. The question now is a simple one - Can they win the title?
"No chance," said Brendan Rodgers in his post-match press conference. But the beaming smile said something rather different. And why not? With five consecutive victories, Liverpool are the Premier League's form team. This is no false position and it is only the perception forged from the recent past that prevents more people from heralding their chances of winning this league. All the evidence from the current campaign suggests Liverpool have the quality to do it.
Perhaps the most important aspect of their success has been the tactical tweaks that have given the team a new dimension. This Liverpool appear to have many ways of winning games and it's a trait recognised by their skipper. "I think you've got to give credit to the manager," he said after the United win. "He keeps switching it, tinkering with the formation and the tactics. We played a diamond today and totally bossed it in the middle of the park."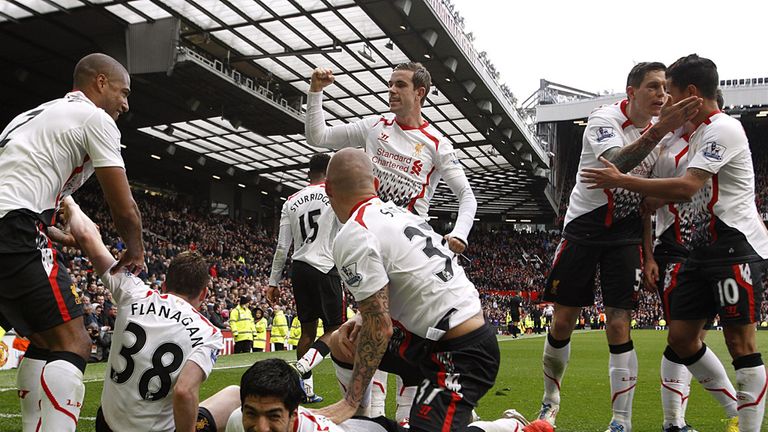 The diamond formation, with Raheem Sterling in the hole, was not a whim on Rodgers' part. It was a specific tactical ploy designed to punish United. "I just felt that the Manchester United centre-halves drop off so we could exploit the space in front of that with Raheem's speed," Rodgers explained. "We felt in this game that because of the nature of Manchester United being at home they'd have to attack and that would allow us to get in round the back of their midfield."
Importantly, there is no guarantee that Liverpool will line up the same way next time out. While Rodgers knew what to expect of David Moyes' Manchester United, getting a steer on this Liverpool team is a tricky business when they can change their plans to suit the demands of any particular match. "We worked it the other way against Southampton where we felt we could play through them with Philippe and then bring Raheem on when the game opens up," added Rodgers.
It's a flexibility that relies on the tactical intelligence of his players. Indeed, that was a recurring theme during Rodger's post-match address. The Liverpool boss name-checked no fewer than five of his starting line-up in citing their tactical nous. Sterling was "developing really well tactically" we were told, while young full-back Jon Flanagan was "tactically very good" in adapting to the challenge of a big game.
Rodgers reserved the biggest praise for two men who've come in for criticism in the past in Jordan Henderson and Joe Allen. The midfield pair were tasked with the dual role of ensuring Liverpool had superiority of numbers in the middle but also getting out wide to help out their full-backs. Allen covered the most ground of any player on the pitch – 11.87km – and Henderson wasn't far behind with 11.25km of running.
"Both the boys on the side, Jordan Henderson and Joe Allen, were exceptional," said Rodgers. "They very rarely get mentioned, especially Joe Allen. But there is tactical intelligence required to play on the side." There's that word 'tactics' again. Clearly Rodgers is revelling in the fact that his players are taking his ideas on board. Poetry in motion is the chant from the Liverpool supporters but hard work is the Melwood mantra.
"I think the biggest thing in terms of where we've come in the past year is belief. We now inherently believe in what we're doing. We've played a number of systems this year but the style stays the same. We want a team of dominance on the ball and aggressiveness in attack." The fusion of those two styles has been an important factor in the improvement. They are not passing for the sake of it. In fact, Liverpool rank fifth in the Premier League for number of passes – down to 495 per game from 521 last year. Aggression in their attacking is the oft-repeated line now.
Top Four Comparison - PL 2013/14
Team
Clear chances created
Liverpool
67
Manchester City
61
Arsenal
50
Chelsea
37
It's evident in much of the work from Luis Suarez and Daniel Sturridge. In truth, the strike pair were not at their very best on Sunday. However, they still managed to terrorise Nemanja Vidic and Phil Jones. Run at defenders and things tend to happen. Liverpool have completed more dribbles (370) than any other Premier League team and have created more clear opportunities (67) too. Gerrard's view that United's defence hadn't had a harder 90 minutes was probably justified.
And the really scary thing is they're getting better. The improvement is typified by Flanagan. "Working with him closely on the training field, you can see the improvement he's made in the exercises that we do," said Rodgers. "He's improved his technique and then he's been able to tactically introduce that into his game. He's been very committed and it's great to see young players like that improve and get better."
This continued improvement will inevitability lead to title talk, despite Rodgers' bizarre claim that they have more important things to discuss at Anfield. But if it works it works and clearly the aim is to keep the pressure off his players. As the man himself says: "We'll just get on with coaching the players to get better." It seems that ethos could yet take this Liverpool side rather further than their fans might dare to dream.