With Alexis Sanchez's Arsenal form under scrutiny, we reveal the truth about his underwhelming running stats...
Alexis Sanchez came in for criticism for his performance in Arsenal's 5-1 home defeat to Bayern Munich at the Emirates on Tuesday night with one newspaper suggesting he did "the bare minimum" and another reporting he was "largely invisible" before being withdrawn.
To cap it all, Sanchez was seen appearing to smile on the bench as his team-mates toiled and the score worsened. Clearly, it has been a difficult week for the Chilean.
Arsene Wenger had also been the subject of intense scrutiny following his decision to drop Sanchez for Arsenal's trip to Liverpool on Saturday. The fact that Sanchez came off the bench to help turn the game only for his side to still lose 3-1 only exacerbated the criticism.
But Wenger came out with an intriguing suggestion in the aftermath of that defeat at Anfield. In response to yet another question about Sanchez, the Arsenal manager invited the media to examine the statistics for themselves.
"Look, you have all the information available on the performances of the players after the game and you can decide yourself - without me - what is going on in the pitch," Wenger told reporters during Monday's pre-match press conference ahead of the Bayern game.
"Every physical data, every pass, the number of times a player touches the ball, how much he runs, how much he sprints, how much he doesn't sprint. You have all that available, you don't need me."
So what is the situation with Sanchez's stats? Has Wenger seen something that has been missed?
Interestingly, given the widely-held belief that the player's work rate is one of his greatest assets and that it is his team-mates who are letting him down, Sanchez's physical data is not that impressive.


Firstly, the running data. This is a headline figure that is easily digestible for coaches but can be misleading because it does not allow for the intensity and intelligence of players' work.
And yet, it is still a little alarming that Sanchez is yet to run 10 kilometres in a single Premier League game this season despite having completed the 90 minutes on 20 occasions.
By way of comparison, Mesut Ozil, a player sometimes styled as diffident, has hit that mark in 14 of the 16 full Premier League games that he has played this season.
Of course, the comparison is not like for like given that Sanchez has been utilised as a forward for much of the campaign.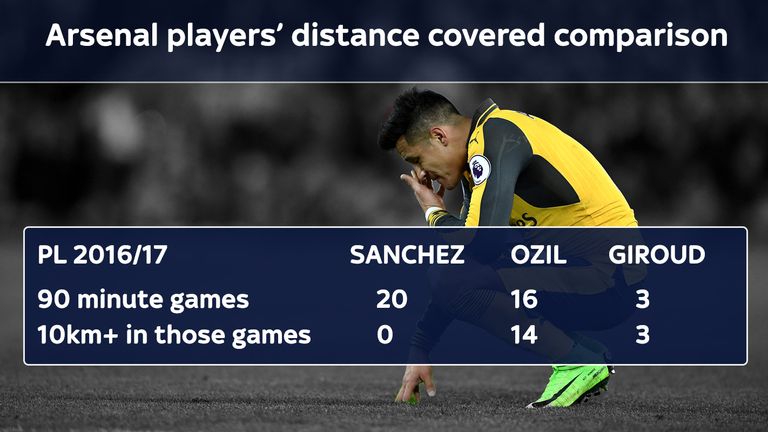 However, consider the fact that Olivier Giroud has run more than 10 kilometres on each of the occasions that he has played the 90 minutes and a different picture emerges.
Is Sanchez really working as hard as he can? In his last Premier League start against Hull he had the lowest average speed of all 26 outfield players to feature in the match.
But it is not just the distances that Sanchez is covering, although a failure to track runners has been a bigger problem since being moved back to the flank to accommodate Giroud.
Sanchez's much-vaunted intensity has not been evident of late either. In particular, his total of 46 high-intensity sprints in the defeat to Chelsea was his lowest in a full game all season.
Indeed, it is this dip in Sanchez's numbers that is likely to be troubling Wenger.
The seven times that Sanchez has run even 9.3 kilometres in a match all came in his first 13 appearances of the season. In the last 13 appearances? He has not run that far once.
It's a similar story with his sprint stats. The high of 72 came at Watford in August and the next three most energetic performances all came before the end of November.
So what changed? There was talk of a concrete offer from China in December, interest from Chelsea and a contract figure floated by Arsenal that was some way short of expectations.
Back-to-back defeats to Everton and Manchester City followed and Sanchez's demeanour has deteriorated since - including a bizarre strop when substituted in the 4-0 win at Swansea in January.
More recently, Robert Pires confirmed that Sanchez walked off the training pitch last week as he was unhappy at having been on the receiving end of a kick from a colleague. Laurent Koscielny's attempts to persuade him to return were in vain.
Sanchez has had the air of a man exasperated by his team-mates and increasingly keen to play as an individual - at odds with Wenger's long-held views on the right way to play.
Sanchez stat
In the December defeat to Manchester City, Sanchez ran 8.30 kilometres despite playing the whole game. That was closer to the 5.05 kilometres covered by goalkeeper Petr Cech than the 12.15 kilometres ran by midfielder Granit Xhaka.
A look at the possession stats tell some of the story. Sanchez has lost the ball exactly 100 times more than any other Arsenal player this season.
In fact, he is responsible for nine of the 10 occasions when an Arsenal player has the lost the ball 24 times or more in a single Premier League match this season.
It's a product of playing in such an advanced role, but things reached a nadir in the shock 2-1 home defeat to Watford when Sanchez surrendered the ball a season-high 30 times.
If Sanchez's frustration, whether it is as a result of his contract, the team's form or his future at the club, is affecting his decision-making as well as his work ethic then it is a major issue.
Perhaps that is what Wenger identified and elected to act upon at Liverpool. Solving the Sanchez problem is just one of the many challenges facing the Frenchman now.