Arsenal's defensive problems exposed by Leicester
Last Updated: 12/08/17 1:51pm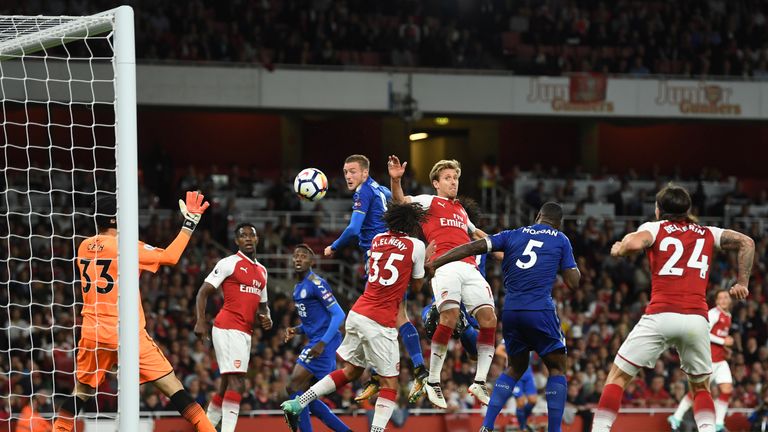 Arsenal may have celebrated a sensational 4-3 comeback win over Leicester on Friday night - but familiar defensive concerns cannot be ignored if they have ambitions of returning to the top four and challenging for the Premier League, writes Peter Smith.
Each year, the new season comes with a feeling of a fresh start. But for Arsenal the same old problems at the back resurfaced in worrying fashion in their curtain raiser with Leicester.
While the game will be remembered for Alexandre Lacazette's debut strike and Olivier Giroud's roof-raising late winner, Arsenal's defensive failings were at the heart of all three Leicester goals.
Arsenal supporters and the on-looking injured Alexis Sanchez must have felt they'd seen it all before, as poor marking, positioning and organisation presented the visitors with three clear-cut chances they gladly seized.
The best and worst of this Arsenal team was encapsulated in the first five minutes.
Lacazette's stunning headed opener on two minutes underlined Arsenal's undoubted brilliance on the front foot; an attacking ability strengthened by the arrival of the club's record signing. The move was a precursor for the impressive, intricate and fast-flowing forays into the Leicester half that were to come all night; the Gunners finished the game with 27 shots at goal.
But Shinji Okazaki's equaliser 160 seconds after Lacazette's first for his new club highlighted a defensive deficiency which has dogged Arsenal for too long.
It was a frustrating feature for much of last season, until the spring-time switch to three at the back looked to have alleviated the problem. The tactical change helped to bolster Arsenal's backline, with an extra man in defence providing additional security from both set-pieces and open play.
It also freed up the Gunners' forwards, whose goals propelled the team to an end-of-season surge, culminating in an FA Cup final win.
But without the senior figures of Per Mertesacker, Shkodran Mustafi and Laurent Koscielny, the Arsenal defence on Friday looked badly short of know-how.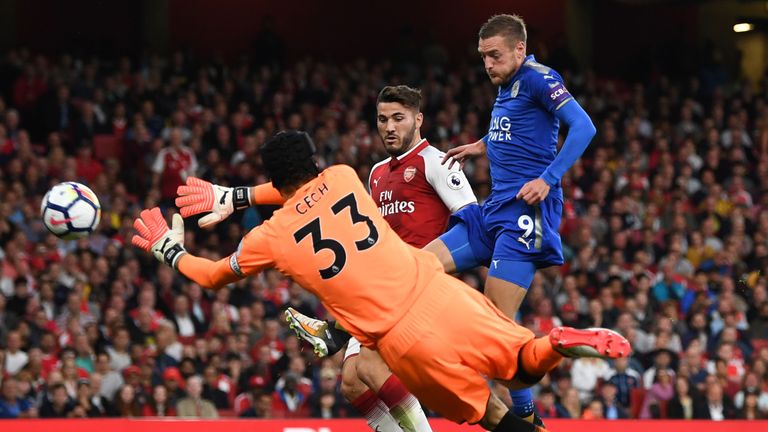 Nacho Monreal, an attacking left-back by trade, was given the central role, flanked by Premier League debutant Sead Kolasinac - who is also more comfortable on the left - and 21-year-old Rob Holding. Their lack of experience in the complex system was plain to see and proved costly against an energised Leicester attack, eager to get at the unfamiliar combination.
Craig Shakespeare's side peppered the Arsenal penalty box with crosses. There were 14 of them from open play in the first 45 minutes alone. The Foxes also looked to unleash the pace of Jamie Vardy at every opportunity, teeing him up to run into the open spaces to the side of the wide centre-backs. Arsenal's defence couldn't cope.
The backline failed to deal with Marc Albrighton's cross or Harry Maguire's header across goal in the build-up to Okazaki's early equaliser, with Kolasinac guilty of wandering away from his back-post guard duty.
Vardy was then afforded far too much space by both the Bosnia international and Monreal for Leicester's second, after Holding had failed to block another Albrighton centre. The England man capitalised again in the second half when completely unmarked from a corner.
It was a recurring concern every time Leicester moved into the final third, with Arsenal's three at the back looking unacquainted.
Wenger switched to a back four midway through the second half as Arsenal sought to come back from 3-2 down, but with right-back Hector Bellerin at left-back, winger Alex Oxlade-Chamberlain at right-back, and full-backs Monreal and Kolasinac at centre-half, the change hardly solved the confusion in Arsenal's defensive play.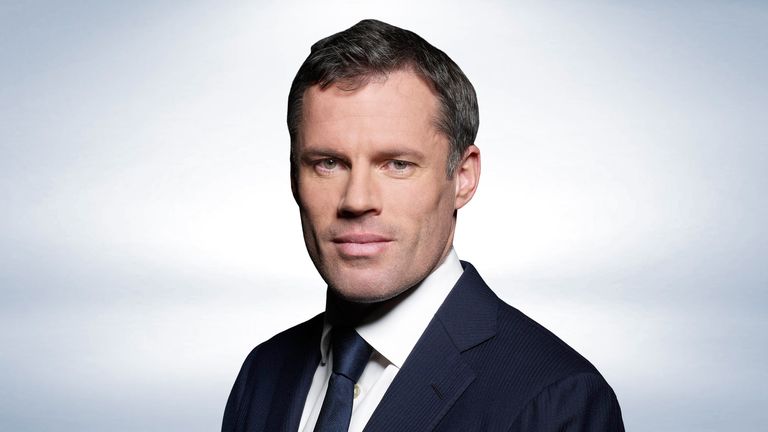 It's the same old problems, year in, year out for Arsenal. The back three haven't looked comfortable all night.
Jamie Carragher
Perhaps the most impressive part of Arsenal's thriving form towards the end of last season was that they had had little time to work on their new 3-4-2-1.
But after a full pre-season, knowing that was going to be the system of choice, and with plenty of time to prepare for the absence of suspended Koscielny, Mustafi (a late returner this summer after the Confederations Cup) and Mertesacker, who picked up a cut in last Sunday's Community Shield, the Arsenal defence seemed ill prepared in the line-up against Leicester.
"It's the same old problems, year in year out for Arsenal," said Sky Sports pundit Jamie Carragher. "The back three haven't looked comfortable all night.
"If you cut the team in half, attacking wise they look great on paper and they showed that with some intricate passing - it was outstanding at times. But at the other half of the pitch, there are big problems for Arsenal.
"Of course there are injuries to the two best centre backs. But even with those centre backs, they still conceded 44 goals last season, so it's not a great statistic. Arsene Wenger will be hoping those reinforcements will be back soon."
Fellow pundit Gary Neville agreed, describing Arsenal as "vulnerable" and "naive". "They showed no authority or organisation," he said. They're worrying observations.
Wenger will argue - and expect - the defending will improve when his first-choice centre-back options are fit and available. He said after the game that "with a bit of work we can get that [vulnerability from crosses and corners] out of our system".
But it isn't just Arsenal's back-ups who have been caught out and exposed in the past. While the Gunners' attacking fluency is impressive, there remains work to do in defence if they are to challenge at the top this time around.
Kick-off the Premier League and only pay for the games that matter to you with a NOW TV Sky Sports Day Pass. One off payment, just £6.99.