Mikel Arteta to Arsenal: Why it might be a gamble worth taking
Last Updated: 21/05/18 8:08am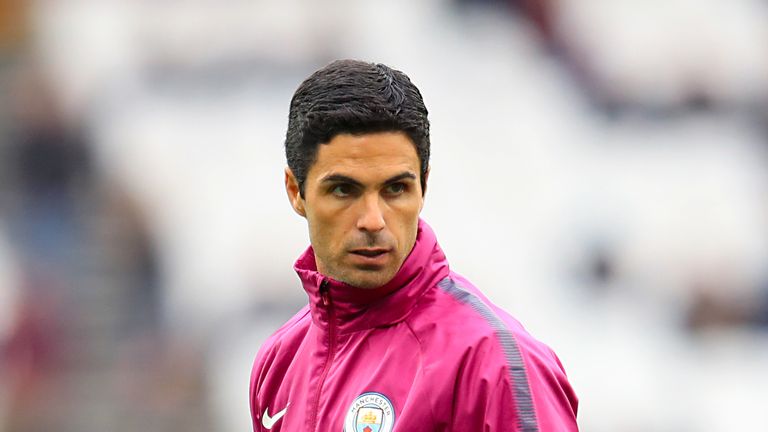 Mikel Arteta is the leading candidate to succeed Arsene Wenger at Arsenal despite having no managerial experience. His appointment would represent a gamble, but a look into his past reveals he has always been destined for the dugout, writes Nick Wright.
Alan Stubbs was nearing the end of his first spell at Everton when Mikel Arteta arrived on loan from Real Sociedad. The 22-year-old had been brought in to add flair to David Moyes' grizzled squad, but despite being a young player new to English football, it soon became clear that he was also happy to stand up in the dressing room and speak his mind.
"Mikel always had an opinion about how the team was playing," Stubbs tells Sky Sports. "He wouldn't hesitate to come forward and say something to the group. He would talk about what the team wasn't doing or what the team needed to do better, whether that was keeping the ball or creating more in the final third.
"Some people would agree and some would disagree, but it was all constructive discussion, and even though he wasn't one of the oldest in the squad, he was never afraid to have his say. Mikel had a vision and an idea of what the team needed to do to win games or get back into games."
It was obvious to Stubbs - just as it had been to Pep Guardiola and Mauricio Pochettino, Arteta's team-mates at his previous clubs Barcelona and Paris Saint-Germain - that the young Spanish midfielder was an intelligent individual with an advanced understanding of the game.
"He was very professional and focused," adds Stubbs. "It was clear that he had a good football brain. He was the type of player who wanted to get on the ball and dictate the way Everton played at the time. Looking back, I think that probably stood him in good stead for what he wanted to do next."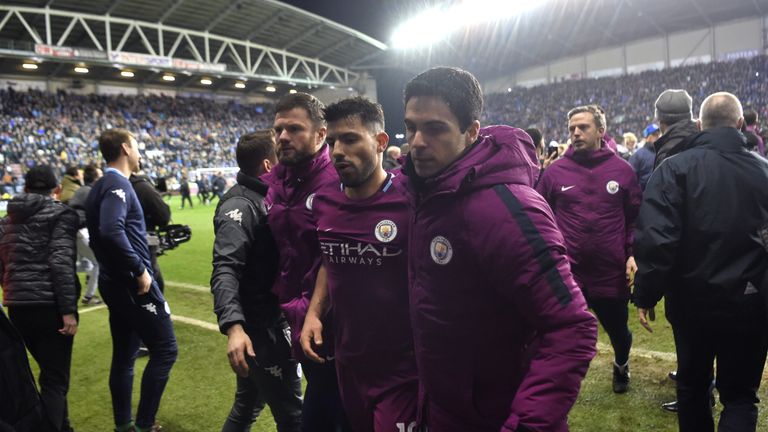 What came next was still a long way off at that point, but 13 years on, it appears to be drawing closer by the day. Two years after ending his playing career at Arsenal to take up a coaching position under his old mentor Guardiola at Manchester City, Arteta is in talks with Arsenal about a return to north London as Arsene Wenger's successor.
It is a divisive prospect among Arsenal supporters, many of whom believe the club's hierarchy should be targeting a manager in the Massimiliano Allegri or Luis Enrique bracket, and who can blame them? Allegri and Luis Enrique have years of elite managerial experience behind them. Arteta, by contrast, has none whatsoever.
But like Stubbs, who watched him mature at Everton, Guardiola, who took him to City, and Pochettino, who wanted him at Tottenham, Arsenal have seen something in him. Arteta captained the side during his time there, with his team-mates even said to have nicknamed him 'coach' as he turned his attention to the prospect of management more seriously.
"My team-mates are always going, 'What are you going to do Miki? You're going to be a manager, you should be a manager!'" he said in a revealing interview with the Arsenal Magazine in 2014.
"I know what the job means and I know how hard it is, especially when I look at the boss and see how many hours he puts in here. You need to sacrifice your family all over again, which I've done since I was 15. But I would love to manage a squad of players and staff - I've got it inside me, it's true, and I want to do it."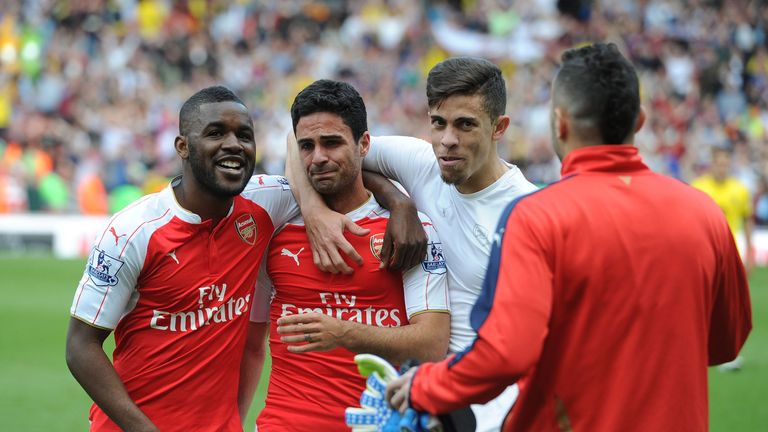 Arteta, still only 32 at the time, had even mapped out his approach. "My philosophy will be clear," he added. "I will have everyone 120 per cent committed, that's the first thing. If not, you don't play for me. When it's time to work it's time to work, and when it's time to have fun then I'm the first one to do it, but that commitment is vital.
"Then I want the football to be expressive, entertaining. I cannot have a concept of football where everything is based on the opposition. We have to dictate the game, we have to be the ones taking the initiative, and we have to entertain the people coming to watch us. I'm 100 per cent convinced of those things, and I think I could do it."
Those comments tally with the need for continuity mentioned by chief executive Ivan Gazidis when discussing Arsenal's next appointment last month, and it is little wonder that Wenger has already vouched for him. Arteta "has the qualities" for the job, the Frenchman said this week. "He was a leader, he has a good passion for the game and he knows what is important to the club."
Arteta grew up playing the Barcelona way and had the opportunity to follow those principles as a player at Arsenal and a coach at Guardiola's City, but crucially, he is also adaptable. Arteta's playing career had taken in four different countries by the time he was 22. As part of that, he experienced totally different playing styles at Everton and Rangers.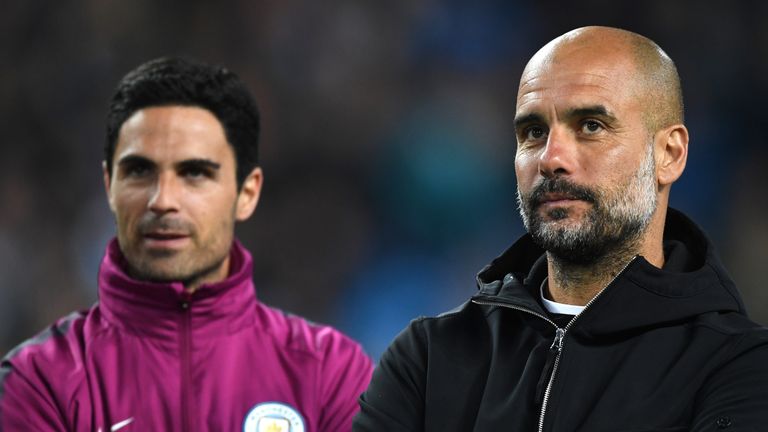 It is perhaps why, back in 2014, he emphasised the importance of flexibility. "I think you need to adapt," he said. "You can have an idea of a system, but you need to be able to transform it depending on the players you have - how much pace you have up front, how technical your team is, what types of risk you can take and whether your players are ready to take those risks.
"It's important to analyse your players because you can't always play the same way. There have to be different details and changes in how you approach things, and you have to look at how you can hurt whoever you are playing against. Is there something they don't like to do? If so, we're going to make them do plenty of it."
Those comments offer encouragement to the Arsenal supporters who tired of Wenger's apparent reluctance to entertain the idea of adapting his tactics, and Arteta now has the practical experience of implementing those methods under the most progressive manager there is.
Arteta is said to have relished working with Guardiola and the feeling is certainly mutual. The former Barcelona manager has described Arteta's contribution to their record-breaking Premier League success as "outstanding". "If he stays, I will be the happiest guy in the world," he said after City's 1-0 win over Southampton on the final day of the season.
He went into more detail during his appearance on Monday Night Football this week, praising Arteta's one-on-one coaching abilities and crediting him for Raheem Sterling and Leroy Sane's improvement.
"Mikel Arteta helped both of them," he said. "They work together after training sessions, doing some drills close to the box to practice the situations which happen in the game to make them comfortable, to make them believe more in what they are going to do. Because in the end, when they have the quality to dribble, they have to use it."
That level of coaching will be vital at Arsenal, where the failure to secure Champions League football for a second consecutive season is likely to impact transfer spending. It is part of the reason why Allegri and Luis Enrique appear to have slipped out of contention, and it might also be why Gazidis says Arsenal must be "brave" and "open-minded" with their next appointment.
It all points to Arteta. He may not have managerial experience behind him, but from holding court in the Everton dressing room to the hours spent with Guardiola on the training pitches at Manchester City, this is what he has been working towards. It is a gamble, but it might just be a gamble worth taking.
Comment below to get involved in the debate, but please adhere to our House Rules. If you wish to report any comment, simply click on the down arrow next to the offending comment and click 'Report'.