Paul Merson's Premier League predictions - Week 4
Soccer Saturday pundit tips the results of the weekend's action
Last Updated: 13/09/13 12:51pm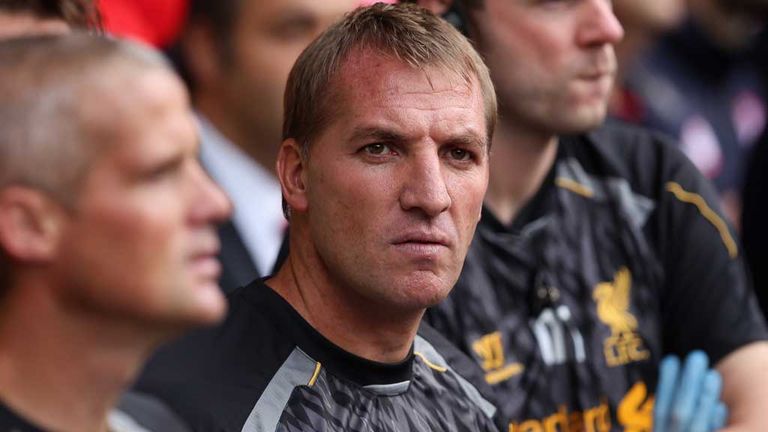 Liverpool are still well short of being title contenders, but they've done well so far. They just need to do what Everton did a few years ago when they finished in the top four and got into the Champions League. They did that by scoring the first goal in a lot of football matches and then they defended and worked from there - and that's what Liverpool have done in the first three games. They've been very good at sitting back and defending a lead, but if they don't get that first goal I don't know what they're going to do. If they score first against almost anybody I don't see them losing too many games because they'll rarely let in two goals. However, I do see them losing if they concede early.
Swansea are one of those team who will test them. Brendan Rodgers is trying to get his Liverpool team playing the same way as Swansea and that isn't happening for me at the moment; they gave the ball away far too cheaply against Man United. His players are still getting used to the patient style and I think this will be a draw - and that's a good result for Liverpool because this is a hard place to go.
PAUL PREDICTS: 1-1
Southampton v West Ham (3.30pm, Sun, Sky Sports 1 HD)
West Ham will go to Southampton and try to stifle them because they're very short of options going forward. I watched their game against Stoke and they never looked like scoring. Sam Allardyce will turn up at St Mary's looking for a draw, but I don't see how Southampton will fail to make a chance and I expect them to win.
As it's a Super Sunday game, Rickie Lambert will have an extra day to recover after playing two games for England and I expect him to start up front because he's one of their best players. I have been a bit disappointed in Southampton so far because I expected good things from them after spending a bit of money over the summer. They bought three big players, which is the way to do it rather than buying bits and pieces, and I think they'll be comfortable this season - and in this game.
PAUL PREDICTS: 2-0
Everton v Chelsea (5pm, Sat, Sky Sports 1 HD)
A lot of players involved in this game will have gone away on international duty and that is a bit of a leveller. Everton are getting used to playing the Roberto "pass, pass, pass" Martinez way, but they've gone three games without a win and could go into the bottom three if they lose this. I expect Gareth Barry and James McCarthy to play, but they'll try to get the ball down and pass it around and when you do that you take chances.
So I'll just go for Chelsea to win 1-0 because they'll get opportunities and I think they have the class to do it. You hear people saying that Chelsea will be the team to beat this year and that the Premier League is theirs to win, but they're still a centre-forward short in my view. They've got too many Number 10's and I don't think they have a world-class centre-forward. I thought Samuel Eto'o was past his best a long time ago and I don't see that buy at all.
PAUL PREDICTS: 0-1
Aston Villa v Newcastle
Aston Villa seem to struggle at home and I just don't think they're that good at Villa Park. It seems that when they need to push a game and go for it they can't do it. In their home game against Liverpool they didn't really look like doing anything, but when they go away from home they are a very good counter-attacking team.
They'll want Newcastle to come onto them, but I can't see that happening and both teams will be trying to play on the counter-attack. That's why I think this will be a draw. I would probably have gone for 0-0, but with Christian Benteke playing I expect to see goals in the game.
PAUL PREDICTS: 1-1
Fulham v West Brom
This will be a hard game for both teams. West Brom are struggling and haven't scored a goal yet, but Victor Anichebe is a good signing and I think they'll be alright. I know they're bottom of the table now, but I can't see them being in trouble for too much of the season.
Fulham got a good result at Sunderland on the opening day, but have lost both of their Premier League matches since then and they need a result. I don't think there's much between these two teams and I think it will finish as a draw.
PAUL PREDICTS: 1-1
Hull v Cardiff
It's early in the season, but this is a six-pointer. I think Hull will probably win it because they've got the advantage of being at home and they did really well at the Etihad the other week, even though they lost the game 2-0. They got a good result against Norwich and the way they play makes them very hard to beat. I think they'll nick a goal and play for a 1-0.
Cardiff have done well in their home games, but I don't see many goals in the matches this week because there's so much pressure on the teams early in the season. It will ignite soon, but I don't see it just yet.
PAUL PREDICTS: 1-0
Man Utd v Crystal Palace
Crystal Palace had a big win against Sunderland in their last game. As a promoted team, you need to get off the mark before the international break or else before you know it you'll be seven or eight games into the season and you'll be staring at relegation without a win to your name. They'll know the pressure is all on Man United, who haven't scored in two successive games for the first time in six years, and they'll try to frustrate them.
But I expect Man United to win this. It's a nice game for them after the international break and it's a good one for Marouane Fellaini to make his debut. You'd rather play your first game against a promoted side and it should be pretty comfortable.
PAUL PREDICTS: 3-0
Stoke v Man City
I watched Stoke against West Ham on Soccer Saturday and I thought they were brilliant, passing the ball about nicely, so I'm backing them to go away from this game with a draw. I say that because Man City are really struggling for defenders and I fear for them in the centre-half position.
Also, this is the first game after the international break and Man City probably had 90 per cent of their players away with their countries and that can make a real difference. Stoke are strong at home and I'm tipping a draw.
PAUL PREDICTS: 1-1
Sunderland v Arsenal
I don't see anything but an Arsenal win here. Sunderland are struggling, they've got no kickers like Lee Cattermole in the team and it's a nice place for Arsenal to go and play their football. If you take away the great result against Newcastle last season, Paolo Di Canio's record hasn't been great and they need to get a result quickly - but I just don't think this is the game.
Mesut Ozil's arrival gives Arsene Wenger a decision to make. Who doesn't play? I expect Ozil to play as a number 10 off the frontman with Theo Walcott buzzing around on the right. For me, they look a better team with Mathieu Flamini in midfield making tackles and you can't drop Aaron Ramsey, who's playing the best football of his life. For me, it's out of Jack Wilshere and Santi Cazorla and I don't know who you drop. If you look at Wilshere's numbers - 25 games, 0 goals, 3 assists last season - then you've got to go for Cazorla. It'll be interesting to see what Wenger does, and it wouldn't surprise me if he leaves Ozil on the bench for this game - but I wouldn't do that.
PAUL PREDICTS: 0-2
Tottenham v Norwich
The entertaining football at Tottenham is long gone and I think there's a little bit of Jose Mourinho rubbing off on Andre Villas-Boas these days. They will be very difficult to beat and we've seen in the three games they've played so far that they haven't made many chances. They've won two games 1-0 with penalties and haven't made the opposition goalkeepers work very hard.
But at the other end, Hugo Lloris hasn't had much to do and that tells you how they're setting up this season. They will be hard to beat and I think this will be a tight game. I expect Spurs to just nick it.
PAUL PREDICTS: 1-0