Premier League: Arsenal's Wojciech Szczesny is struggling for form but will Arsene Wenger wield the axe?
Last Updated: 09/01/15 1:25pm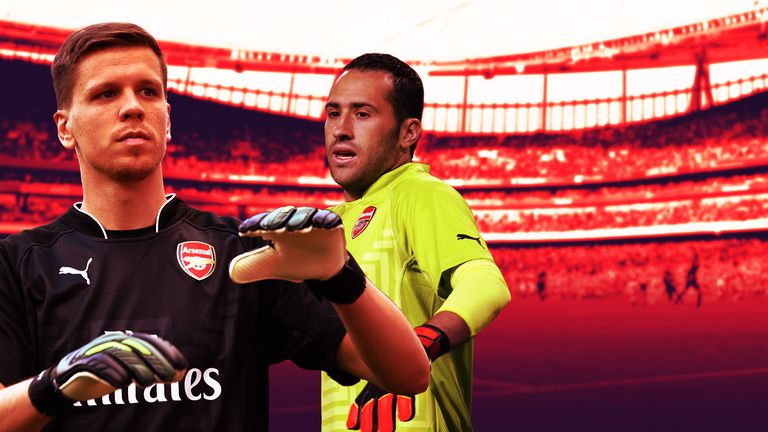 Arsenal goalkeeper Wojciech Szczesny is facing questions on and off the pitch and the stats don't look good for him, writes Adam Bate...
"We must give credit to their keeper today." Arsene Wenger's praise of Fraser Forster following Arsenal's 2-0 defeat at Southampton was revealing. His own goalkeeper Wojciech Szczesny had committed errors for each of the goals conceded, costing his team the points in the process.
"In our final third we didn't defend well," added Wenger. "We were quite in control of the game and we gave it away, it's as simple as that. It's disappointing because the team gave a lot, but you cannot afford these kind of mistakes at our level."
Szczesny rushed from goal for the first, misjudging the situation to allow Sadio Mane through, and then inexplicably kicked the ball straight at Dusan Tadic while stranded on the deck for the second.
In doing so, he became only the second Premier League player this season – according to Opta – to make two errors leading to goals in the same match. The first was Sunderland's Vito Mannone, who did so on the same ground in an 8-0 defeat in October. And Gunners fans know what became of his Arsenal career.
Some supporters are now suggesting the same fate should befall Szczesny. They're tired of seeing error-strewn performances from their team and understandably so given that the statistics show only Everton have made more mistakes leading to goals this season.
It's usually the defence that bears the brunt of that criticism with the perennial search for a holding midfielder a constant bugbear. But those issues just make it more important to have a man last in line who inspires confidence.
Last week's defeat at St Mary's was the first time this season that Wenger had been able to field his first-choice back-four. They were at least partially culpable for the failure but it was a time for assurance from their No 1 not a goalkeeper undermining their efforts.
Manchester United, for example, have shown in recent times that a quality goalkeeper can cover a multitude of sins ahead of him. Instead Arsenal have a keeper adding to the gloom.
Indeed, the contrast between Szczesny and his peers among the top six is as stark as it is damning. None of the other five goalkeepers at Arsenal's rival clubs have made more than two errors leading to a goal or shot so far this season. Szczesny has made six.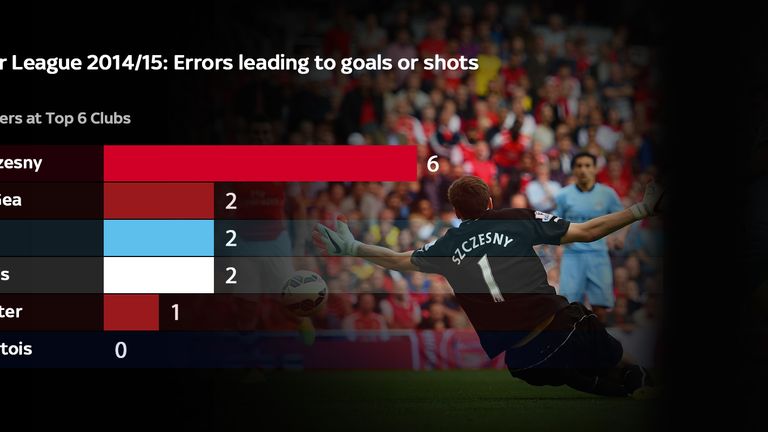 Of course, the Poland international remains capable of strong performances. His late save at Leicester earned a point in August and he conveys that confidence bordering on arrogance that seems a recurring quality in the very best.
But that attitude has to be accompanied by signs of progress. The early errors could be tolerated while that was the case. However, Szczesny is now 24 and has played more than 200 games in English football. He's older than both David de Gea and Thibaut Courtois.
The example of De Gea, in particular, does not reflect well on Szczesny's development. The Spaniard had his issues upon arrival at Old Trafford, with Szczesny even defending the United youngster publicly on Twitter. But those problems were addressed while Szczesny's remain.
De Gea's concerted effort to change a lifestyle that former United goalkeeping coach Eric Steele called "lazy" has paid off. Reports this week suggesting Szczesny was caught smoking in the showers at St Mary's would indicate that he could do with a similar epiphany.
Doubters
That's the sort of indiscretion that can test the resolve of even the most loyal of managers. Wenger would certainly fall into that category and is a coach who has been proven right many times before when backing a player to come good against a backdrop of vocal doubters.
But even Aaron Ramsey's transformation from duckling to swan cannot extinguish the enduring frustration at Arsenal when the manager sticks by players who continue to make same mistakes with little sign of learning from them.
David Ospina was signed in the summer and while there is little conviction that he is in the very top bracket, this is a 26-year-old Colombia international with 50 caps. A clean sheet against Hull last weekend will surely have encouraged Wenger that Ospina could prove a more reliable option.
Sunday's clash with Stoke City might not be the ideal opponent for an introduction to the Premier League. But it's Wenger's own words of support from the summer, when backing Szczesny to continue as his No 1, that have come back to bite the man in possession of the Arsenal goalkeeping jersey.
"You know at the start Szczesny will be the No 1," said Wenger in July. "Then, again, we'll be down to performances and, if Ospina shows that he is better, he will play." Six months on and the verdict on Wojciech Szczesny could soon be in. 
Watch Arsenal v Stoke live on Sky Sports 1 HD from 12.30pm on Sunday