Typical Arsenal? Monaco beaten on the night but Champions League damage had been done
Last Updated: 18/03/15 12:48pm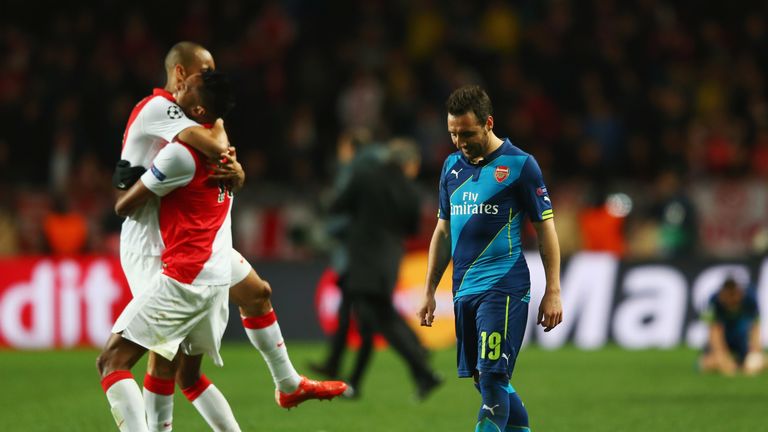 Arsenal beat Monaco 2-0 at Stade Louis II but exited on away goals after finishing 3-3 on aggregate in their Champions League round-of-16 tie. It's just the latest knockout-stage disappointment for the Gunners and Adam Bate argues that the manner of this exit typifies the team…
They do say it's the hope that kills you. Needing three goals to progress to the quarter-finals of the Champions League, Arsenal got two of them. Of course they did. For Arsenal supporters have seen this before. A brave exit if only it was possible to shake the memory of their first leg woe.
"We've done it against much better teams than this," said Charlie Nicholas in the Sky Sports studio. "We've done it against Bayern Munich and we've done it against Barcelona. You name it we've done it. This is a cruel one. They'll be scratching their heads wondering how they are out against Monaco."
For the fifth year in succession, Arsenal have exited at the first knockout stage. But while there was a certain glory in their 2013 exit to eventual European champions Bayern, this defeat in ostensibly identical circumstances is likely to have inspired as much frustration as proud defiance.
Arsenal's consecutive last-16 exits
2010/11 - Arsenal 3-4 Barcelona
2011/12 - Arsenal 3-4 AC Milan
2012/13 - Arsenal 3-3 Bayern Munich (lost on away goals)
2013/14 - Arsenal 1-3 Bayern Munich
2014/15 - Arsenal 3-3 Monaco (lost on away goals)
It's not that the scale of the task facing Arsenal will have surprised supporters. Arsene Wenger had not beaten his old club in seven attempts and no team in the Champions League era had pulled off what Arsenal were attempting. It's the memory of events at the Emirates Stadium that lingers.
As all the pre-match statistics had suggested, the damage had been done. Exposed by their naivety in north London. Punished when 2-1 down in stoppage time for desperately chasing a game that still had 90 minutes of football and three weeks of planning left to play out.
Caught out
"I think Arsenal will get 1-0 or 2-0 up and then get caught out on the counter-attack," Nicholas had predicted beforehand. And while the second part of that prophecy did not come true on the night, the Gunners will most definitely feel they were caught out.
After all, the second leg demonstrated the true gulf between these sides. Monaco boasted the best defensive record in this season's Champions League going into the game and still haven't conceded three at home since 2011 but they appeared paralysed by these circumstances.
Arsenal's fluency was impressive. Santi Cazorla controlled the contest with his probing passes, while Mesut Ozil and Alexis Sanchez loitered between the lines and were able to find surprising space as Monaco's defence retreated to the edge of their own area.
It made for a stark contrast and Arsenal pushed on. Joao Moutinho was Monaco's top passer with 35 completed passes but Cazorla managed 106 of them. Eight Arsenal players topped 50 – every starter except the strikers and goalkeeper. And those strikers did plenty more besides.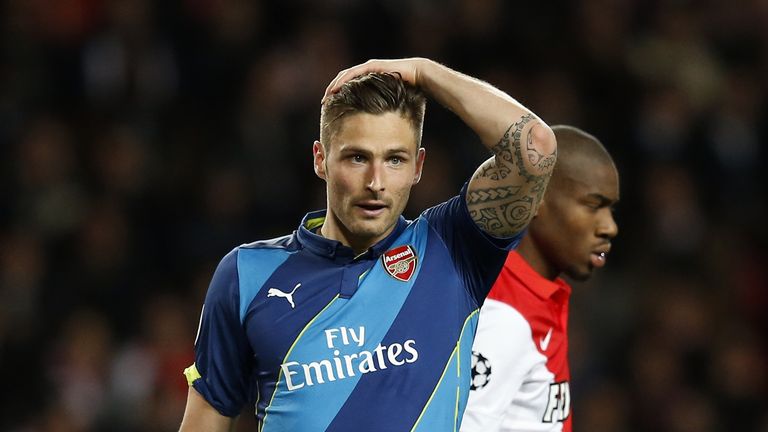 Olivier Giroud and Danny Welbeck showed real willing and produced nine shots between them. Indeed, Giroud alone hit the target on four occasions – four more than the Monaco team – with the two men combining for the game's opening goal when the Frenchman scored on 36 minutes.
That offered hope and when Aaron Ramsey drilled another right-footed effort low into the corner of the net with a little over 10 minutes remaining that transformed into a genuine belief that an astonishing comeback was looming.
Not quite good enough
Ultimately however, it was good but not quite good enough. And for all their efforts, a look around the team lent itself to that conclusion. Ozil showed his vision with the pass for the second goal but couldn't come up with a decisive finish himself when firing just wide of the left-hand post.
Welbeck had the energy and enthusiasm but not the certainty of touch to be clinical enough in the final third. Giroud embodied Arsenal's endeavour and got his goal but it's the clumsy collision with Sanchez when his team-mate was well placed to come up with the winner that will be replayed.
"Once again these players have turned up when the pressure was off them because they can just go for it," said Nicholas. "They need to start turning up when the pressure is on them. That's why they don't win big football matches domestically and that's why they get put out against Monaco."
Harsh words from the former Arsenal forward but ones that will no doubt strike a chord with many supporters. "Everybody tried and everybody gave their very best but they punished themselves," he added with an air of exasperation. "They beat themselves again."
Arsenal at their best remain a joy to watch and have now won eight of their last nine. But as so often with the Gunners, the caveat is key. And on a night when they played with passion and poise, they were left to rue the errors made in that one game they did lose. How unlucky. How Arsenal.