Francis Coquelin: Arsenal midfielder has brought balance and bite
Last Updated: 08/04/15 2:00pm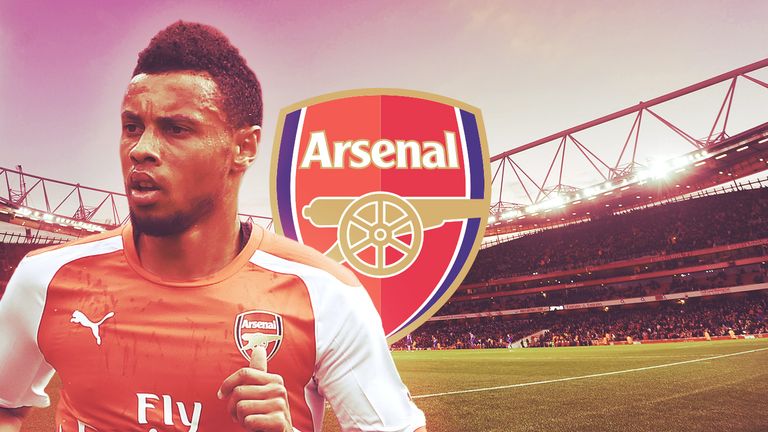 Francis Coquelin isn't the biggest name at Arsenal but the young midfielder's introduction to the team has coincided with a brilliant run of form for Arsene Wenger's men. Adam Bate looks at why Coquelin has emerged as an unlikely hero of Arsenal's season…
"Arsenal played a young boy in midfield; I had hardly heard of him – Francis Coquelin – and he barely played again. He was completely out of his depth."
Sir Alex Ferguson's verdict on Francis Coquelin's Premier League debut was damning but the former Manchester United manager wasn't the only one to doubt whether the young midfielder would make the grade. He didn't start in a league win for another four months and endured an inauspicious loan spell at Freiburg the following season amid little expectation.
As recently as November, Coquelin was on loan - and on the bench – at Charlton and closing in on his 24th birthday facing the prospect of being without a contract next season. When recalled from The Valley in December, Arsene Wenger admitted that Coquelin was frustrated to be denied the chance to play Championship football just so he could take up his place among the substitutes.
Instead, Coquelin was in the starting line-up by the end of the month and has gone on to emerge as one of the key figures in Arsenal's improved form. The results with and without Coquelin in the team offer a stark contrast. It's eight Premier League wins from 18 without him, but 11 wins from 13 for the Gunners with the Frenchman playing.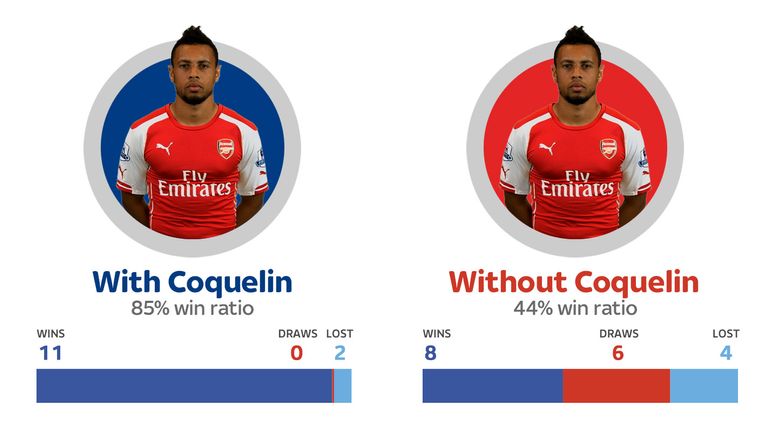 So how has he done it? Although not an obvious success – he picked up more red cards than Bundesliga wins there – Coquelin credits his time at Freiburg as an important phase in his belated development. "The period in Germany helped me a lot, it was a tough, tough experience mentally and that was a turning point in my career. I'm happy I went there and learned a lot."
Mental challenge
But for Wenger, the bigger mental challenge was in Coquelin's decision-making on the field. Most crucially, the player had to reach an understanding of his own strengths and weaknesses and act accordingly. Easy to say but sometimes tricky to do for a young player who is anxious to impress. "He analysed well what he is good at - defending in midfield," said Wenger.

"He was in between a bit the playmaking position and a box-to-box player. He is not that. He's a sitting player who can win the ball. He restricted his game to that and you make success in life with what you're good at. You don't have all the qualities but you have to express what you're good at and he's good at that."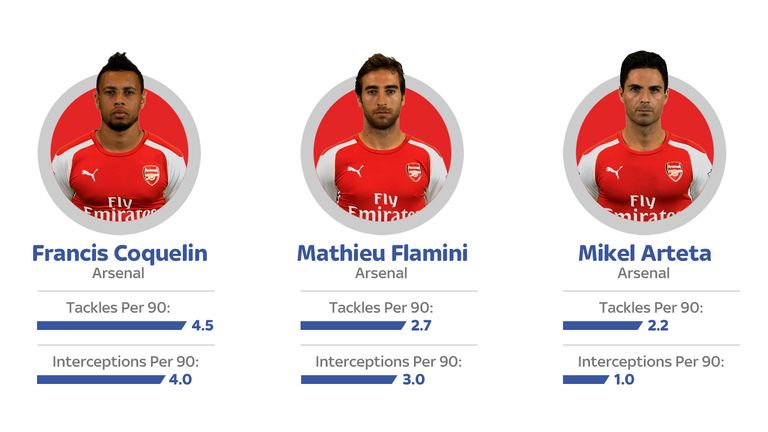 The numbers back up Wenger's assessment. Coquelin has made 4.5 tackles and 4.0 interceptions per 90 minutes this season. Those numbers dwarf the efforts of Mathieu Flamini and Mikel Arteta, the two men who had undertaken a similar role in the team prior to his emergence. He might not possess the experience of that duo but where the elder statesmen point, Coquelin runs.
Aggressive
As a result, he's added the much-needed bite to the base of the Arsenal midfield that Flamini and Arteta could not. With quality ahead of him, it's given the Gunners exactly what was required. "He's very aggressive and doesn't give the opposition much time on the ball, and that's why he wins so many tackles," says team-mate Aaron Ramsey. "Then he wins the ball and makes us tick over."
Saturday's visit to Burnley will be the next indicator of Coquelin's impact. Indeed, Tottenham's trip to Turf Moor last weekend will offer an interesting comparison. In an uninspired goalless draw on Easter Sunday, Spurs seemed unable to win the right to play against their hard-working hosts with no Tottenham player making more than three tackles.
It would be a surprise if Coquelin does not surpass that number and if he does it might help to give Wenger's men the platform to cause rather more problems for the relegation strugglers than their north London rivals managed last time out. That's his significance to this Arsenal team. Out of his depth? Not a chance. We've all heard of Francis Coquelin now.
Watch Burnley v Arsenal live on Sky Sports 1 HD this Saturday from 4.45pm
No contract?  No problem. With a Sky Sports Day Pass you can watch Burnley v Arsenal on NOW TV.