As we mark 20 years since Dennis Bergkamp arrived at Arsenal, Adam Bate argues that the signing of the Dutchman was an important precursor to the era of change instigated by Arsene Wenger…
It's easy to dismiss the period between Alan Smith's volleyed winner against Parma in the 1994 European Cup Winners' Cup final and Arsene Wenger's arrival two years' later. It's just the space between a couple of trophy silhouettes on the banner that runs around the Emirates Stadium.
But in the summer of 1995, with Smith retiring and long-time manager George Graham having been sacked under a cloud that February, there came the arrival of a man who would prove a catalyst for change. By the time Dennis Bergkamp departed 11 years later, Arsenal had won three Premier League titles and four FA Cups. More than that, the club had changed the way it defined itself.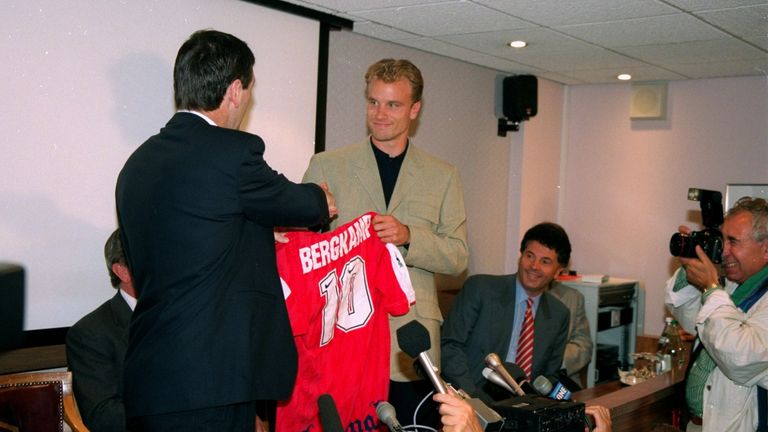 A world-class player with wonderful ability, technically excellent and an individual capable of applying his considerable ability to the benefit of the team.
His final game was sat out on the bench in the Champions League final with the Gunners having waved goodbye to Highbury earlier that month to move to a 60,000-seater stadium. In 2014, a statue was erected outside it in his honour. And yet, all that was far from inevitable when Bruce Rioch paid £7.5million – treble the club's record fee – to bring Bergkamp to London in June 1995.
Rioch described the Dutchman as "a world-class player with wonderful ability, technically excellent and an individual capable of applying his considerable ability to the benefit of the team" while Bergkamp was optimistic too. "I know Arsenal didn't win anything last season," he said. "But with this manager and this team I believe we can change that situation." Others saw it differently.
With Bergkamp having scored only five goals in his second season at Inter, club chairman Massimo Moratti said Rioch would be lucky if the player got to double figures. Dutch journalist Ron Westerhof of Voetbal International went further. "I don't think he'll succeed in England. He is still one of the best players in the world, but he's weak mentally. He's not a winner. He's a loser. He's a cissy."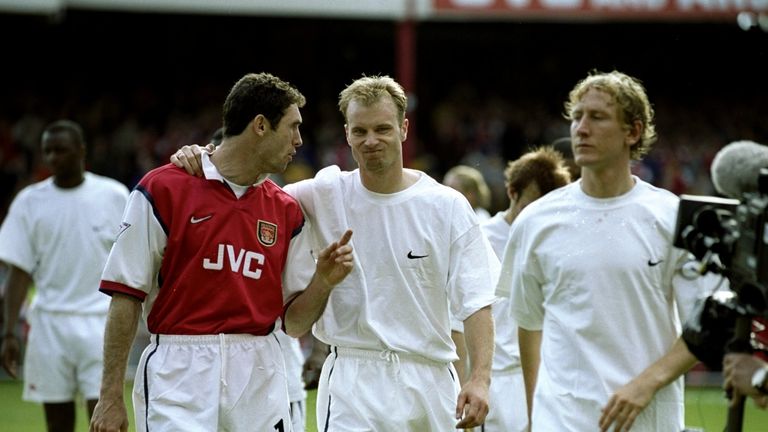 He was a real character. He was not one of those players who would go out every night like we used to in the old days but he was good fun and we would play golf every week.
Even Bergkamp had his doubts. Years later, in his autobiography Stillness and Speed, he recalled the combination of pressure and excitement he felt after arriving at his hotel room with wife Henrita following the press conference. "They must rate me here, they still expect me to be like Van Basten or Gullit. I don't think of myself like that. I looked at Henrita: 'This is amazing! I have to step up'."
When Bergkamp arrived, Arsenal didn't even own their own training ground, instead sharing with the students at UCL, but it was the culture that was the bigger challenge. He admits being shocked by the drinking habits of his colleagues, something that hit home when strolling with Henrita on a pre-season tour of Sweden only to bump into his team-mates sat outside the local pub.
However, that didn't mean integration was an issue. Ray Parlour recalls a man willing to get involved in his own way. "Dennis was also great fun," Parlour told Sky Sports. "He was a real character. He was not one of those players who would go out every night like we used to in the old days but he was good fun and we would play golf every week."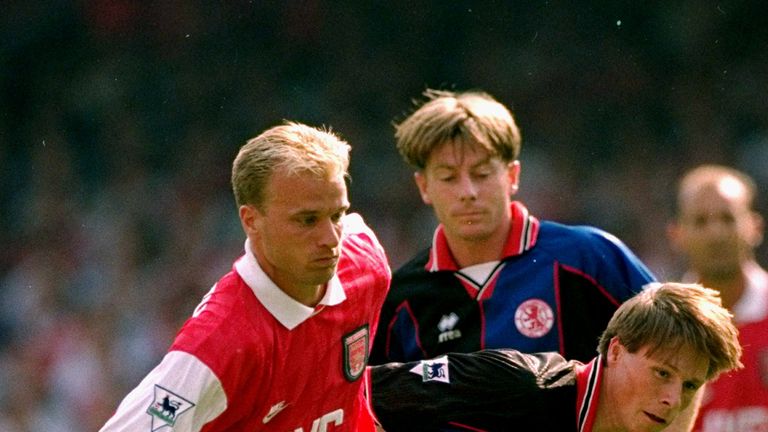 On the pitch, Bergkamp's quality ought to have been obvious and there was an encouraging debut against Middlesbrough. But while Rioch was happy – "Dennis was a success from the start," he said years later – rival supporters had their fun when it took the forward more than 10 hours to get off the mark. Chants suggesting that Arsenal had wasted their money became customary.
The media weren't far behind. "The English tabloids criticised me at first when I didn't score in my first seven or eight games," Bergkamp told FourFourTwo. "Fair enough." But he was off the mark with a brilliant brace against Southampton – the first a volley, the second a sensational strike – and Arsenal remained unbeaten. The Daily Mirror ruled the man-of-the-match decision a no contest.
That old mastery of time and space was all there. Bergkamp scored a winner against Manchester United, capitalising on a Denis Irwin error, and Arsenal were still in the mix when he netted in a 4-2 win over Sheffield Wednesday in late November. But he missed five games over Christmas with the Gunners winning only one of them and wasn't back in the goals until February.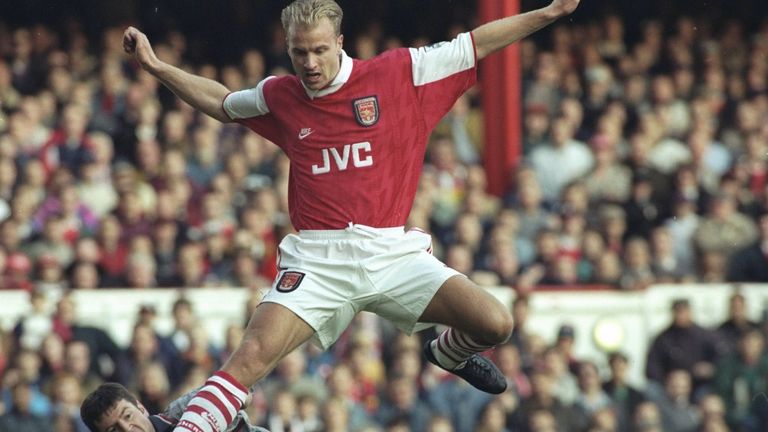 Arsenal eventually finished fifth – up from 12th the season before – and the club was on an upward trajectory. The title followed in 1998 and Adrian Clarke, who made four Premier League starts alongside Bergkamp in that debut season, feels the seeds of success were sown that season. "Rioch's Arsenal played good football too, and that's often unfairly forgotten," he told The Set Pieces.
"Released from Graham's shackles, the team was encouraged to pass and move quicker, and played with freedom. His side was certainly easier on the eye than the one he inherited. Dennis Bergkamp's arrival may have had something to do with that of course. Bruce adored Dennis and wanted us to build everything around him."
Wenger's arrival brought a host of stars to Highbury but for all the changes that were to come – including the Premier League's first all-foreign side – looking back, it's striking how little change in personnel was required to turn Arsenal into champions. In that 1997/98 triumph, there were eight Englishmen – all pre-dating Wenger – who played at least 24 league games.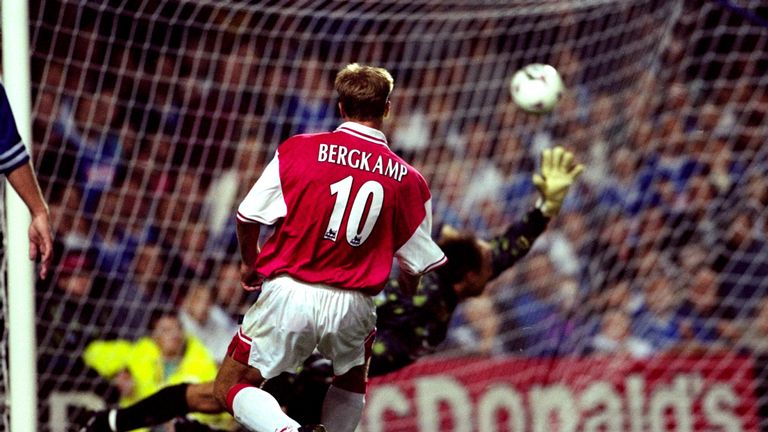 Of course, Patrick Vieira, Emmanuel Petit and Marc Overmars had key roles and Nicolas Anelka scored some vital goals late in the campaign. But it was Bergkamp who was the team's top scorer and best player. He set the tone with five in his first four games, including that hat-trick at Leicester. "Perhaps there is a better player in the world but I don't know of him," said Wenger after a brace against Barnsley.
Thierry Henry might have since surpassed him at Arsenal, but the great French forward joined a team on the up and packed with talent. The journey had already started. "I believe that Bergkamp triggered the trend of continental stars such as Emmanuel Petit, Marc Overmars, Thierry Henry and Nwankwo Kanu joining Arsenal," said Rioch. Perhaps that's why Parlour still rates him as the key man.

"Henry was fantastic but Dennis arrived in English football slightly earlier and changed the aspect of the game; the way he trained and the way he worked hard," added the former England midfielder. There will be anniversary celebrations next year if and when Wenger chalks up 20 years at the club and Henry has a statue of his own. But before them, there was Dennis Bergkamp. And this weekend, that's worth remembering.