Gareth Bale factfile
Sky Sports looks at the dazzling career of Tottenham's Gareth Bale after his PFA awards.
Last Updated: 29/04/13 12:50am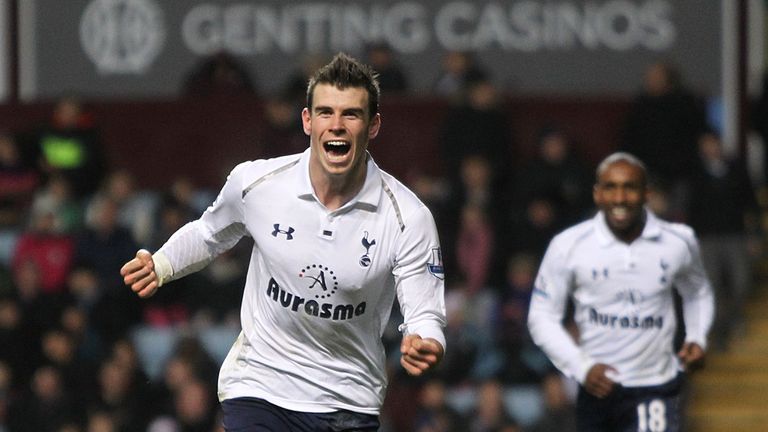 1989: Born July 16 in Cardiff.
2005: Joins Southampton as a trainee.
2006: April 17 - Aged 16 years, 275 days, becomes second-youngest footballer to play for Southampton in 2-0 Championship win against Millwall.
May - Makes Wales Under-21 debut against Cyprus. Quickly promoted to the senior squad for a friendly against Trinidad and Tobago, coming off the bench to become Wales' youngest-ever full international at 16 years and 315 days.
July 16 - Signs first professional contract with Southampton on his 17th birthday.
August 6 - Scores first goal for Saints with free-kick on opening day of the season in a 2-2 draw at Derby.
September 5 - Makes first start for Wales in 2-0 defeat to Brazil.
October 7 - Becomes Wales' youngest-ever goalscorer with a trademark free-kick in a 5-1 defeat to Slovakia.
2007: January - Bale's agent says he is happy to stay at Southampton despite Manchester United and Tottenham reportedly bidding £10million for the player. Both clubs admit their interest.
May 25 - Joins Tottenham.
August 26 - Makes his first-team debut for Tottenham in a 1-0 defeat at Manchester United.
September 1 - Scores first Tottenham goal in away draw at Fulham.
September 15 - Scores in his first north London derby against Arsenal.
December 2 - Injury against Birmingham rules him out for the rest of the season.
2009: June - Undergoes knee surgery, ruling him out for the start of the 2009-10 Premier League campaign.
September 26 - Tastes victory as a Premier League player for the first time in 25 attempts in the 5-0 defeat of Burnley.
2010: January 26 - Secures first victory as a Premier League starter at the 23rd time of asking.
April - Scores in successive games against Arsenal and Chelsea to help Tottenham finish in the Premier League's top four. Named player of the month.
May - Signs new four-year deal for Tottenham.
August 25 - Sets up all four goals as Tottenham beat Young Boys 4-0 in the second leg of their Champions League qualifying game to progress to the group stages.
October 20 - Scores a scintillating hat-trick against Inter Milan at the San Siro.
Named Welsh player of the year by the FAW.
November 2 - Produces man-of-the-match display as Tottenham beat Inter 3-1.
2011: January 28 - Tottenham manager Harry Redknapp rules out possibility of selling Bale, amid interest from Inter.
March 19 - Signs new four-and-a-half-year deal with Spurs.
April 17 - Named Professional Footballers' Association Player of the Year.
2012: January - Named in the UEFA team of the year. Also named as Premier League player of the month for the second time.
June 27 - Signs new four-year contract with Spurs.
June 30 - Suffers a recurrence of an old back and hip injury after pulling up while running, ending his hopes of competing in the Olympics.
September 11 - Scores the first of his 29 goals so far this season - a stunning free-kick for Wales against Serbia.
October 20 - Pulls out of Tottenham's game against Chelsea just before kick-off so he can attend the birth of his first child, Alba Violet Bale.
2013: February 7 - Manager Andre Villas-Boas admits Tottenham are likely to lose Bale in the summer unless they qualify for the Champions League.
February 25 - Scores a contender for goal of the season at West Ham - an injury-time winner from 30 yards.
April 19 - Is shortlisted for both the PFA Player of the Year and Young Player of the Year awards.
April 27 - Villas-Boas says he has been told by Tottenham that Bale will stay if Spurs finish in the top four.
April 28 - Becomes only the third player to be voted senior and young Player of the Year at the PFA Awards.