Newcastle United were nine points clear at the top of the Premier League when Kevin Keegan signed Faustino Asprilla in February 1996. Results deteriorated, the Magpies were pipped to the title and Asprilla was blamed. But is that fair? With the help of Steve Howey, Adam Bate examines the evidence…
When title bids go wrong it's natural to look for reasons. In such circumstances, it's change - any change - that will be seen as an obvious explanation. New signings are always going to come under the spotlight when the blame game begins and English football is littered with such examples.
Manchester City goalkeeper Joe Corrigan called it "madness" signing Rodney Marsh to bolster their chances in the spring of 1972 and Aston Villa faded badly after buying Tony Cascarino in March 1990. But most famously of all, there was the arrival on Tyneside of Faustino Asprilla in February 1996.
Kevin Keegan's thrilling Newcastle side had picked up 57 points from 24 games prior to signing Asprilla, but accumulated only 21 points from their remaining 14 fixtures. The sequence included a crucial home defeat to eventual champions Manchester United and a famous 4-3 loss at Liverpool.
Live Ford Saturday Night Football


Even some involved point to Asprilla. "Prior to Tino arriving, we had Les Ferdinand and Peter Beardsley through the middle, myself on the right and David Ginola on the left," said Keith Gillespie. "But I became the fall-guy to accommodate Asprilla and Peter was moved to the right wing.
"The players became a bit miffed by the changes because they upset the whole way the team played. I'll always remember Rob Lee speaking to Kevin a few weeks later to ask him to put me back into the team because the players wanted to go back to the formation that had worked so well."
When even a Newcastle team-mate sees things in such terms, it's easy to buy into the narrative. But delve a little deeper, examine the matches that saw Keegan's men surrender their advantage and it becomes apparent just how much the outcome has shaped our view of events.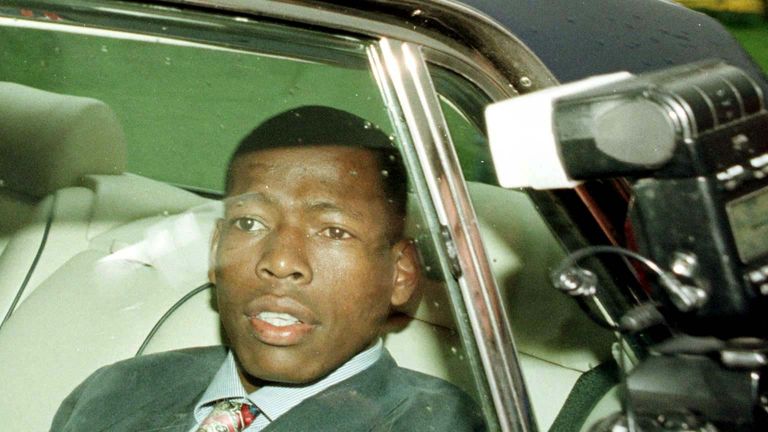 No wonder Beardsley calls the prevailing narrative an "absolute disgrace", while Ferdinand views such sentiments as "ludicrous" with Newcastle's top scorer in that 1995/96 season instead pointing succinctly to the problem of "not having any tactics". This was not one man's burden to carry.
However, what's clear is that having won their three previous Premier League games ahead of the deal that brought Asprilla to the club, the coming of the Colombian undeniably represented something of a defining moment in the season. Even the very manner of it demanded attention.
Picked up in a private jet from Italy, Asprilla was a genuine star. He'd been part of a Parma side that had thrived in the continent's toughest league, winning three European trophies. There are claims that even his interpreter was paid more than first-team regular Robbie Elliott.
"He first arrived in a teddy bear coat which was covered in snow," Beardsley told the Newcastle Evening Chronicle. "He was shivering and probably wondering what he had done. Tino only flew in the day before we played at Middlesbrough, but KK had him on the team coach straight away."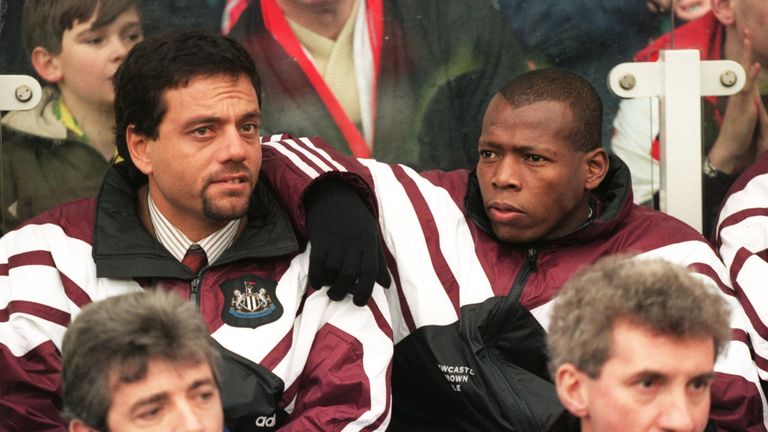 Asprilla had a glass of wine before coming on for his debut in the second half of that match. The forward, then 26, has since insisted that he felt he adapted quite quickly to English football. Re-examine those early games in a Newcastle shirt and it's clear the claim is not without substance.
Firstly, the notion that Beardsley was moved out of position to accommodate Asprilla is not quite so clear-cut. The veteran's flexibility had long been utilised. In the game prior to Asprilla's arrival, with Ginola injured, Paul Kitson had come in up front. It was evident Newcastle needed more options.
Secondly, it was Asprilla who turned the game around on his debut. With Newcastle 1-0 down at Middlesbrough, they scored twice after he came on. It was a heroic introduction. Even in defeat on his first start against West Ham next time out, it would be absurd to hold Asprilla responsible.
With Ginola still injured, Asprilla did not replace Gillespie. Instead, he came in for the injured Rob Lee and was arguably Newcastle's best player - hitting a post after skinning Slaven Bilic and almost winning a penalty, too. "He did some superb things," acknowledged Hammers boss Harry Redknapp.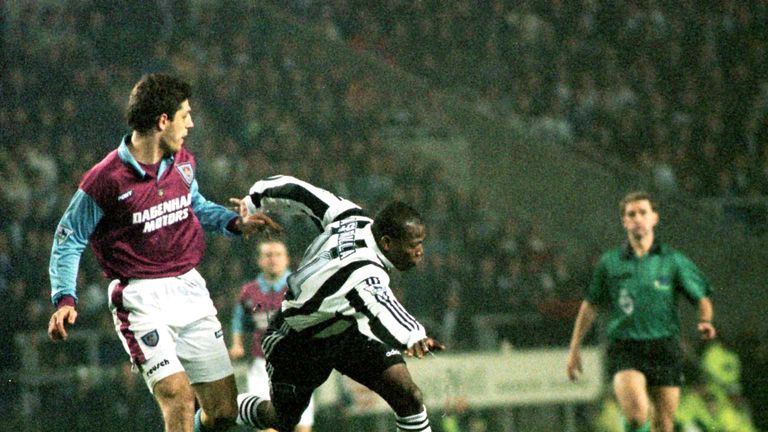 Keegan enthusiastically praised his new addition. "I was delighted with the way Asprilla played in his first full game in three months," he said afterwards. "We couldn't have expected anything more of him. He and Les are going to be a lethal partnership with one or two fine tunings."
Indeed, Ferdinand was the more culpable, wasting a clear opening, while Darren Peacock had hit a post early on. Perhaps it was a sign that Newcastle's fortunes had changed as much as the personnel or tactics. "You do have these nights where you don't always get what you deserve," said Keegan.
It was the next match at Manchester City that saw Gillespie ousted by the returning Ginola. But this was hardly a controversial decision with the Northern Irishman flagging and Asprilla having delivered such a fine display on his full debut. He justified his inclusion with a stunning first goal for the club as well.
While Asprilla was also involved in an unsavoury incident in which he appeared to head-butt Keith Curle, the bigger concern was that his goal was the second of three equalisers required by Newcastle in order to earn a point. The team's defence had become an obvious problem.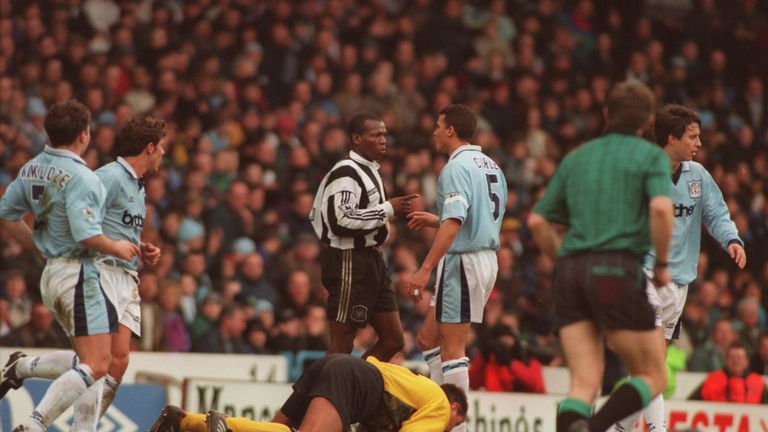 "When you have myself, Faustino Asprilla and Peter Beardsley, you give them their freedom," Ginola later argued but Keegan was unable to construct a sturdy platform on which they could perform. The Newcastle boss would go on to hire Mark Lawrenson as a defensive coach in recognition of this flaw.
"All that was required was for him to err on the side of caution in some games," said Lawrenson, quoted in the Telegraph many years later. "Maybe just an extra midfield holding player to release the likes of Beardsley, Ferdinand and Asprilla."
But in a sense that's precisely what Keegan did when signing David Batty from Blackburn in March. This was the no-nonsense midfielder some had suggested was required. Instead, Newcastle lost four of Batty's first six games for the club and with it their grip on the Premier League trophy.
It's fair to suggest that these were the six games that cost Newcastle the title. But consider Asprilla's role in them and his individual culpability is far from clear. In fact, afforded the perspective that only comes with time and such criticism appears utterly unwarranted.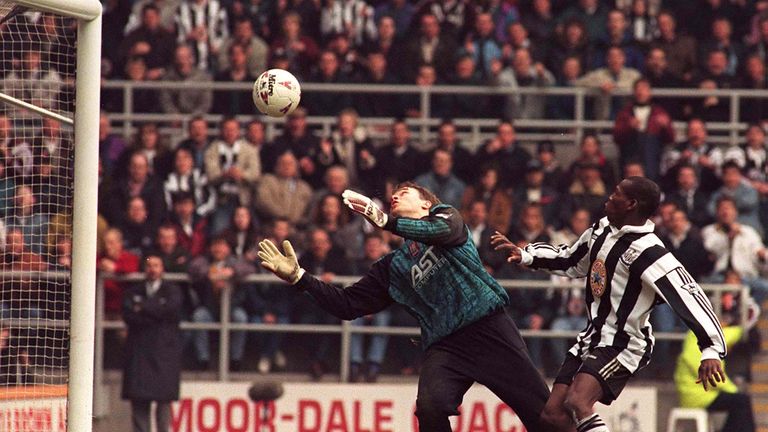 In the vital six-pointer against Manchester United, Newcastle were unfortunate having outplayed the visitors. "If they want to know who is the best team in the country, they only have to look at the tape of the first half," said Keegan. It's a tape worth watching for Asprilla's performance alone.
On his St James' Park bow, it was Asprilla, not the scorer of the game's only goal, Eric Cantona, who was the game's star. In a first half that Sir Alex Ferguson admitted he couldn't wait to end, he could well have been the hero had Ferdinand finished either of the one-on-ones he'd helped to fashion.
"We absolutely tortured them," recalls former Newcastle defender Steve Howey. "It should have been the same result as the year after when we beat them 5-0. I spoke to Peter Schmeichel after that when we were together at Manchester City and he said it was just one of those games where everything was hitting him."
Newcastle lost despite Asprilla, rather than because of him. "Asprilla's arrival has been questioned but, judging by the ovation he received last night, there are no doubters on Tyneside," wrote Glenn Moore in the Independent. "Within five minutes there could have been none anywhere else, either.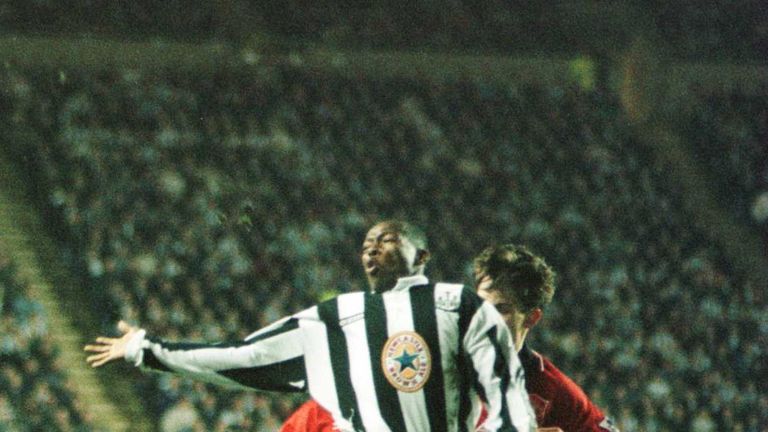 "The Colombian settled quicker than anyone and his touch and movement was exceptional. Had Ferdinand been as sharp, Newcastle would have won." They did pick up the three points in their next match, a 3-0 thrashing of West Ham in which Asprilla scored his first St James' Park goal.
However, back-to-back defeats at Arsenal and Liverpool saw Manchester United wrestle control of the title race for good. Asprilla infuriated Keegan in the 2-0 defeat at Highbury by changing and showering rather than listening to his manager's post-match criticism of the team.
Asprilla argued that he had a plane to catch and promptly whistled for a motorbike to negotiate the crowds outside the ground. According to Newcastle left-back John Beresford, Keegan could only turn to the rest of the squad to exclaim: "Can you believe this guy?" Many couldn't.
"Tino just didn't see the point because he couldn't understand anyway," Howey told Sky Sports. "I think that annoyed Kevin and it annoyed the lads as well because he might not have been able to speak but could have at least sat his backside down and listened."
Even so, it was Warren Barton's error rather than anything by Asprilla that had been most costly on the pitch. Those defensive problems were to prove decisive once again against Liverpool in a game that has, of course, come to symbolise Keegan's Newcastle.
The seven-goal thriller was an instant classic. At once, Newcastle were effervescent and exciting in attack but vulnerable in defence. A visceral joy but also a glorious tragedy of a team for which every foray forward represented a risk. Every overlap now came at a cost. It was a beautiful unravelling.
Asprilla added to this sense of chaos. He was "mad as a box of frogs" according to Howey. "As a defender, you have a rough idea where a forward is going to go. With Tino, you didn't have a clue because Tino didn't have a clue. He played completely off the cuff.
"The two lads up front were doing brilliantly but it was difficult getting the point across to Tino because he's a different player. With Tino it was difficult because you'd play it up to him and he'd try a flick or a trick, lose it, and you were back under the cosh again."
And yet, Asprilla was magnificent at times. For Newcastle's first goal, he glided past Neil Ruddock with ease and had the presence of mind to pick out Ferdinand in the middle. He later put his side 3-2 up with a delicate finish with the outside of his boot that might well have been the winner.
Instead, Stan Collymore added two more for Liverpool and the story changed. But the twist in the tale owed more to a defence in disarray - they had five men around to mark Liverpool's four attackers for that final goal but couldn't do it - than any imbalance caused by Asprilla's inclusion.
Ginola called it "the turning point". Certainly, it was a performance to see doubts cascade rather than creep in. It took a late Beardsley brace to beat QPR with Simon O'Hagan of the Independent reporting that "for all the brilliance of Asprilla, there was uncertainty in much of what they did".
A loss at Blackburn two days later was the final blow. With Keegan tinkering in search of answers and games coming quickly, Lee was deployed on the wing and width sacrificed. After Asprilla was withdrawn, Newcastle fan Graham Fenton promptly scored twice to turn three points into none.
Keegan's men went on to pick up 11 points from their remaining five fixtures but Manchester United simply did not slip up, winning 13 of their last 15 games. The narrative of Newcastle's Asprilla-sparked collapse became unshakeable and one many pundits were content to perpetuate.
Everybody has got this idea that it was him who cost us the title but that wasn't the case.
"Everybody has got this idea that it was him who cost us the title but that wasn't the case," added Howey. "There were another 10 players out there and we all take responsibility for that. But let's not take it away from Manchester United. They went on an unbelievable run."
Beardsley also insists his team-mate was an "easy target" for the critics. "It simply wasn't true," he said. "Asprilla was a magnificent player. He had a sublime touch, great vision and a footballer's mind." Ferdinand agrees. "He was an asset. Kevin had noticed we were starting to let it slip."
But others have their doubts. Despite Gillespie and Asprilla later combining against Barcelona for the latter's hat-trick on a memorable night at St James' Park, thoughts of that season appear to continue to nag away at Gillespie. He isn't the only one who'll wonder what might have been.
"Who knows what would have happened if we had stuck to the system that had worked so well for us?" It's impossible to say. But despite the colour of the team's shirts, there's nothing black and white about Asprilla's involvement in Newcastle's failure to finish the job.