Manchester City's pre-season friendly against Bayern Munich will provide the first glimpse of how they might line up under Pep Guardiola.
The 45-year-old is two weeks into his City tenure, having signed a three-year contract at the Etihad Stadium, and his first match action comes with Wednesday's return to his old club at the Allianz Arena.
As excitement builds about how Guardiola might transform City, we look at the top five innovations of his glittering coaching career - and wonder how they might be applied in the Premier League...
The six second rule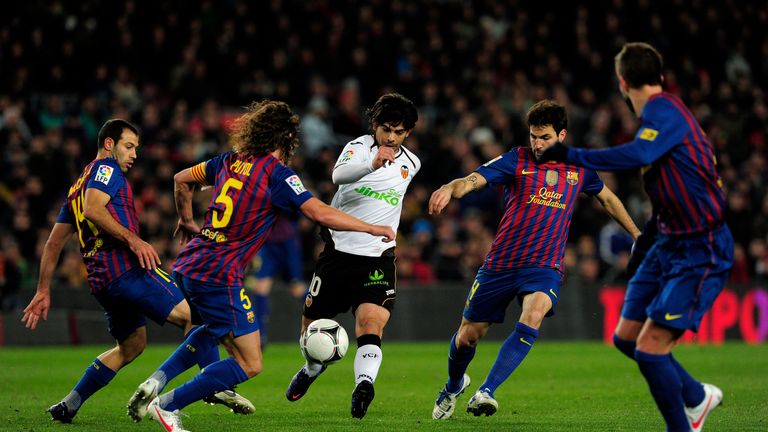 Guardiola's Barcelona were famed for their devastating, possession-based attacking football, but his most significant innovation at the Nou Camp actually concerned their approach without the ball.
Guardiola wanted to increase the speed at which his players regained possession after losing it. He saw it as a way of snuffing out counter-attacks and catching Barcelona's opponents out of position, and his solution was to introduce the six second rule.
The idea was to recover the ball with a six second burst of high-intensity pressing. The nearest Barcelona players were instructed to rush towards the individual in possession, with the rest of the team moving closer together to form a tightly-organised defensive shape.
The technique was designed to close down passing options and force an immediate mistake from the opposition, and in the event that Barcelona failed to win the ball back in six seconds, their compact positioning would make it difficult for the opposition to break them down.
Guardiola used the same approach at Bayern Munich - where he once described defensive organisation as "the cornerstone" of his philosophy - while Mauricio Pochettino's Tottenham and Jurgen Klopp's Liverpool have employed similar tactics in the Premier League. Expect Manchester City to do the same this season.
Messi as a false nine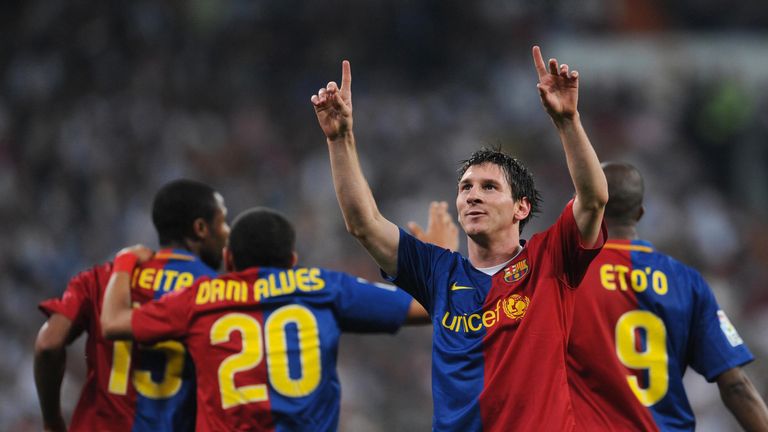 No player was more important to Guardiola's extraordinary success at Barcelona than Lionel Messi. The Argentine was already an established first-teamer when Guardiola took over from Frank Rijkaard in 2008, but Guardiola unlocked his true potential with a simple positional shift.
Guardiola struck upon the idea the night before Barcelona's title-deciding Clasico against Real Madrid at the Bernabeu in May 2009. "Pep noticed how much pressure the Madrid midfielders Guti, Fernando Gago and Royston Drenthe put on his own players, Xavi and Yaya Toure," wrote Marti Perarnau in Pep Confidential.
"He also noticed the tendency of the central defenders, Cannavaro and Metzelder, to hang back near Iker Casillas' goalmouth. This left a vast expanse of space between them and the Madrid midfielders - a vast, empty space."
Guardiola decided to unleash Messi in that space as a false nine. The story goes that he summoned the Argentine to his office late that night to explain the idea, and the next day the plan came into effect when Messi swapped positions with Samuel Eto'o after 10 minutes at the Bernabeu.
"The strategy worked perfectly and Barca destroyed Real Madrid, winning by six goals to two," added Perarnau. "Messi had become a false No.9 and Pep was happy. From that day to this, Guardiola has stuck to this system."
With Sergio Aguero such a deadly force as an out-and-out striker, it remains to be seen whether Guardiola will use the same approach at the Etihad Stadium.
Positional changes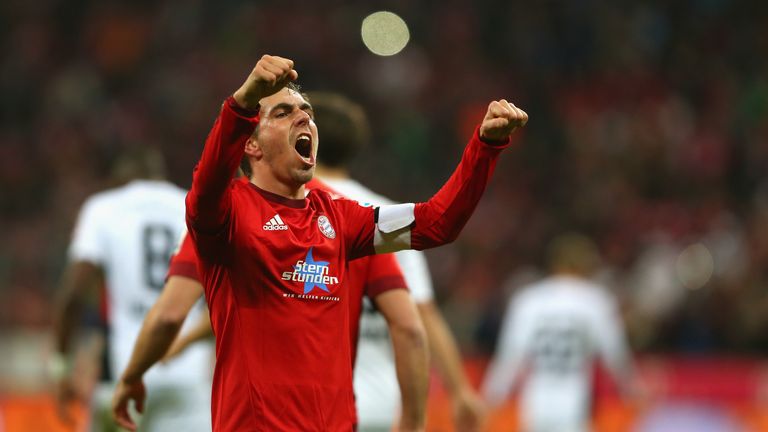 Messi is not the only player to have been reinvented by Guardiola. Javier Mascherano became a world-class central defender under his guidance at Barcelona, and at Bayern Munich it only took him a few pre-season friendlies to decide that right-back Philipp Lahm would make a brilliant holding midfielder.
"Have you seen how well [Lahm] anticipates the next pass?" Guardiola is quoted as saying in Pep Confidential. "Have you seen how he turns and protects the ball? He can play on the wing or in the middle of the field."
Sure enough, Lahm became Bayern's answer to Sergio Busquets. "He understands the game," said Guardiola. "Not all players do. Philipp can play in all positions. Football is a game where people move and you have to decide in one second what's going on in your position, as well as all around the field. What he decides in that moment is right."
Guardiola saw similar adaptability Lahm's Bayern team-mate in David Alaba, who played in all kinds of different positions over the last three seasons. There are no obvious candidates for the same kind of treatment at City, but history suggests Guardiola might have a surprise or two up his sleeve.
Pre-season training with a twist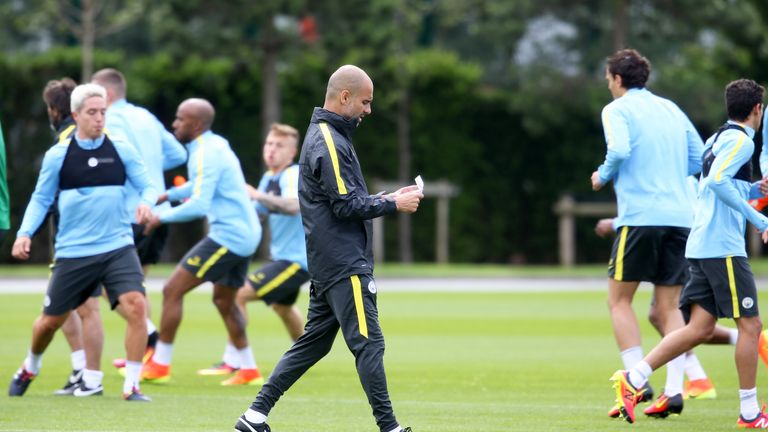 Pre-season training is typically associated with gruelling fitness regimes and punishing bleep tests, but in the summer of 2013, Bayern Munich's players discovered that Guardiola likes to do things rather differently.
"There is no jogging, no long sprints, no weight lifting," writes Perarnau in Pep Confidential. "They do not do any circuit training and there is no single exercise that focuses on athleticism. In fact, all that awaits the players as they arrive is a mountain of footballs."
Guardiola eschews the usual methods to focus on improving his players' technical skill, and it is therefore unsurprising that Manchester City players have been filmed doing ball-work and taking part in rondos since the Catalan took charge of training two weeks ago.
Striker Kelechi Iheanacho has admitted it's a "different way of training" to what the City squad are used to. "He's bringing fresh thoughts and his own style," he told Sky Sports. "Everything is different and everyone is adapting to what he's teaching us. We need to understand what he's telling us and what he wants to bring to the team."
Formation flexibility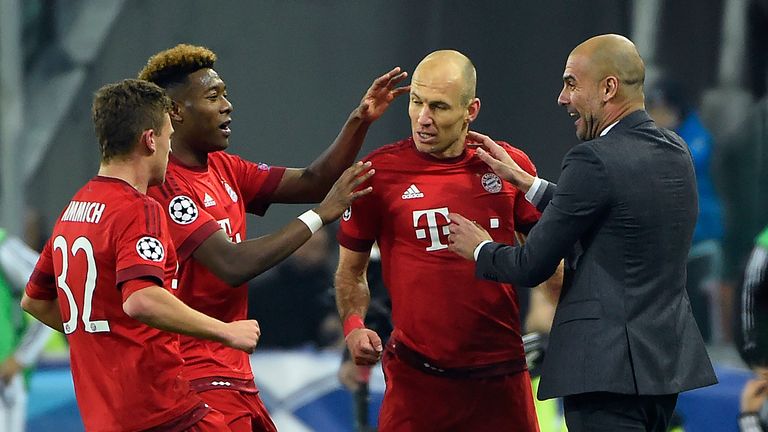 Guardiola primarily used a 4-3-3 formation at Barcelona, but at Bayern Munich he showed unrivaled flexibility and proved he is not wedded to a particular set-up.
The Catalan has become famous for tailoring his formation based on his opponents' strengths and weaknesses, and at Bayern he would often change things up several times during the course of a single match.
In the Bundesliga alone last season, Bayern lined up in seven different formations, according to WhoScored. A 4-1-4-1 shape was the most commonly used, but Guardiola also used 4-2-3-1, 3-4-3 and 3-1-4-2, among others. The Catalan micro-manages his players incessantly from the touchline, barking orders and making constant positional changes.
It is for that reason that Guardiola treasures tactically intelligent players like Lahm, Mascherano and Thomas Muller. He expects his charges to be able to switch between different systems instantly and without difficulty.
That kind of approach would mark a dramatic shift for Manchester City, who only used two formations - 4-2-3-1 and 4-4-2 - over the course of Manuel Pellegrini's final Premier League season in charge.
Guardiola didn't hesitate to abandon the system that brought Jupp Heynckes a famous treble when he took over at Bayern Munich, so don't expect him to pay too much attention to how City are used to operating.