Manchester City's eight different formations under Pep Guardiola assessed
By Martin Laurence, WhoScored.com
Last Updated: 18/12/16 11:31am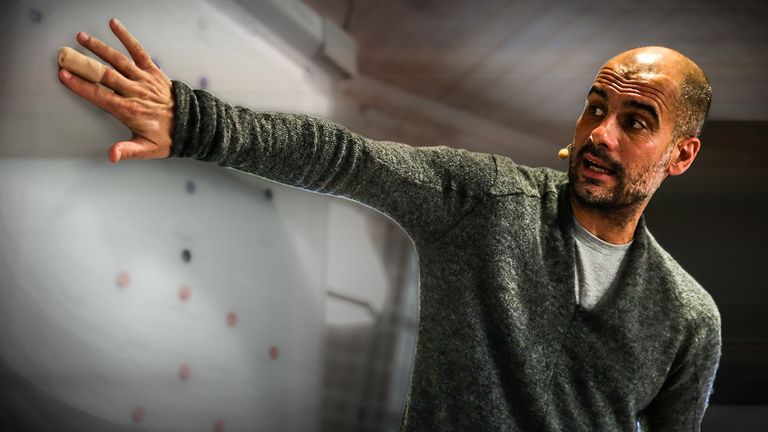 Pep Guardiola is renowned for his flexibility when it comes to formations - but this season he has already tried out eight different systems in just 26 games at Manchester City.
His side got back to winning ways with a 2-0 triumph over Watford on Wednesday night, with a starting formation of 4-2-3-1 enabling City to take maximum points at the Etihad Stadium.
However, after winning his first 10 matches in charge, that win over Watford was just City's fifth victory in their last 16 games. It's clear some systems are working better than others - with Stuart Pearce saying the City players seem confused by some instructions.
Here, with the help of WhoScored.com and their stats-based rating system, we take a look at the eight formations City have started matches with under Guardiola this season and see which have been more successful than others…
Back four - 20 games, 15 wins, 2 draws, 3 defeats - WhoScored.com rating 7.09
Manchester City have started 20 games with a back four. Their 10 consecutive victories all came with a four-man defence, which has led pundits to question Guardiola's decision to utilise a back three in recent months.
However, when you consider the last 10 matches that City have lined up with a back four have included three defeats and two draws it's certainly clear that the team haven't been without fault with this set-up. Here are the back-four variations they've used to date:
4-2-3-1 - 9 games - WhoScored.com rating 7.09
Seven wins - 2-1 vs Sunderland, 5-0 vs Steaua, 4-0 vs Bournemouth, 4-0 vs West Brom, 2-1 vs Palace, 2-1 vs Burnley, 2-0 vs Watford
Guardiola has deployed a 4-2-3-1 formation more than any other this season, including his first match in charge against Sunderland. However, it is fair to say their record of seven wins from nine games owes a fair amount to the modest opposition that they have faced in said victories. Nevertheless, with 21 goals across those seven wins and four of just six clean sheets all season kept in that formation it certainly has its merits.
Two defeats - 0-2 vs Tottenham, 0-4 vs Barcelona
Given City's two defeats in a 4-2-3-1 line-up have come against strong opposition in the form of Tottenham and Barcelona, it could be argued the manager has been too quick to stray from the formation. Guardiola's men did not perform badly in either game - with the defeat at Camp Nou a closer affair than the scoreline suggested.
4-1-4-1 - 7 games - WhoScored.com rating 7.14
Five wins - 1-0 vs Steaua, 4-0 vs Gladbach, 2-1 vs Swansea, 3-1 vs Swansea, 3-1 vs Barcelona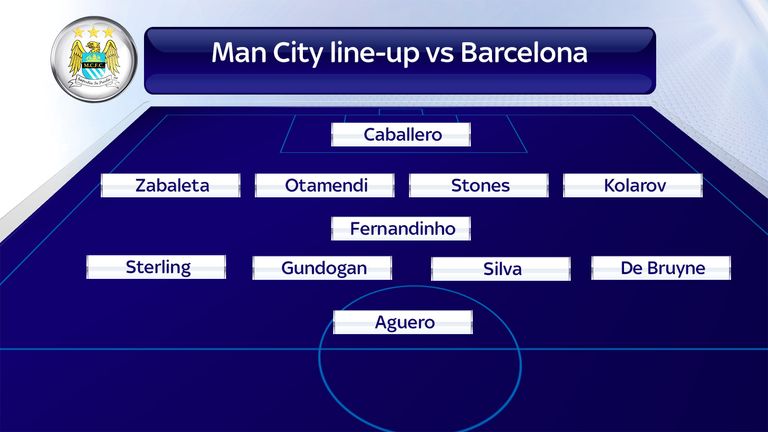 First switching to a 4-1-4-1 formation in their second leg Champions League qualifying win over Steaua Bucuresti, it has been a system Guardiola has deployed with success in Europe but has appeared reluctant to do so in domestic competition.
As well as a 4-0 win over Gladbach to get their Champions League campaign off to a flying start, undeniably City's best result of the season - a 3-1 win over Barcelona - makes it hard to understand why this formation has not been used in any of the last six matches.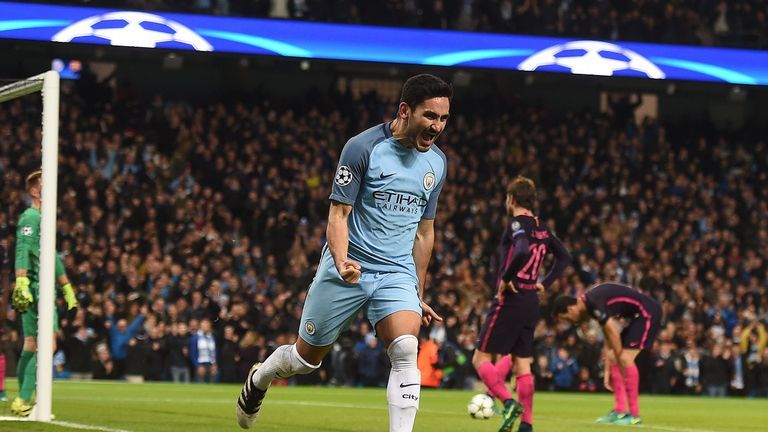 Two draws - 3-3 vs Celtic, 1-1 vs Middlesbrough
The reason for the manager's decision not to return to the 4-1-4-1 may be their disappointing draw at home to Middlesbrough, despite being utterly dominant in the first half. Indeed, the hosts had fired off 19 shots to Boro's zero before the break, with complacency and profligacy to blame for allowing Marten De Roon the chance to score an injury-time equaliser.
4-3-3 - 3 games - WhoScored.com rating 7.17
Three wins - 4-1 vs Stoke, 3-1 vs West Ham, 2-1 vs Manchester United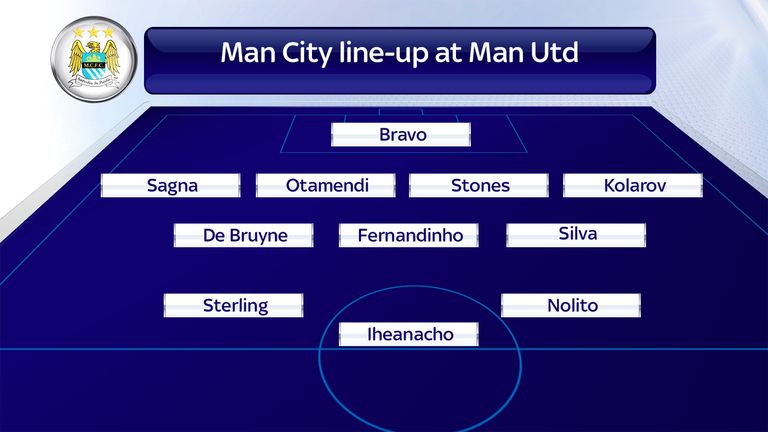 On paper, City's most effective formation this season, Guardiola has lined up with a 4-3-3 formation on just three occasions but come out victorious in every one. The fact that the last time he deployed said system was in September seems bizarre and even more so when considering that last time was a 2-1 away win in the Manchester derby.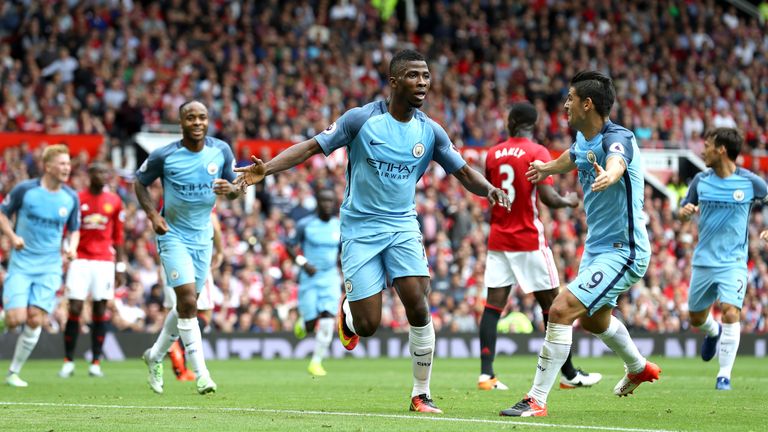 4-4-1-1 - 1 game - WhoScored.com rating 6.43
One defeat - 0-1 vs Manchester United
Utilised just the once as City exited the EFL Cup at the hands of their rivals, it is fair to say reading too much into the defeat would be misleading. Guardiola fielded a second string XI meaning their only three defeats with a back four this season have all come away from home, and against very capable opposition.
Back three - 6 games, 0 wins, 4 draws, 2 defeats - WhoScored.com rating 6.65
It took until the middle of October for Guardiola to make his first foray into the experiment of a back three and it has had its teething problems. In six matches with a defensive trio City are yet to secure a win, having switched between a three and a four on a near weekly basis of late.
Here are the different formations they've used with a three-man defence:
3-4-3 - 2 games - WhoScored.com rating 6.80
One draw - 1-1 vs Everton
While the result against Everton may not have been the desired outcome, City's performance was enough to convince the manager that the formation could work.
In perhaps their most dominant display of the season, the Citizens were hit on the break by Romelu Lukaku, who scored with the Toffees third and final shot of the game. City had 19 by comparison but scored just once courtesy of the heroics of visiting keeper Maarten Stekelenburg, who produced 7 saves, including two from the penalty spot.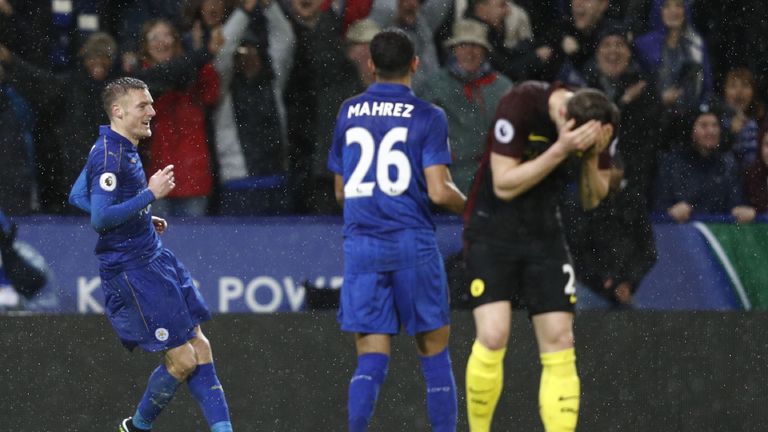 One defeat - 2-4 vs Leicester
If their first experiment with a 3-4-3 formation was a very encouraging one, their latest was an unmitigated disaster.
The decision to opt for a high line and back three comprised of two full-backs against league champions Leicester has been slaughtered. The Foxes became renowned for catching their opponents on the break last season and did so at a whim at the weekend to steam into a 4-0 lead before City mounted any sort of a comeback to save some face.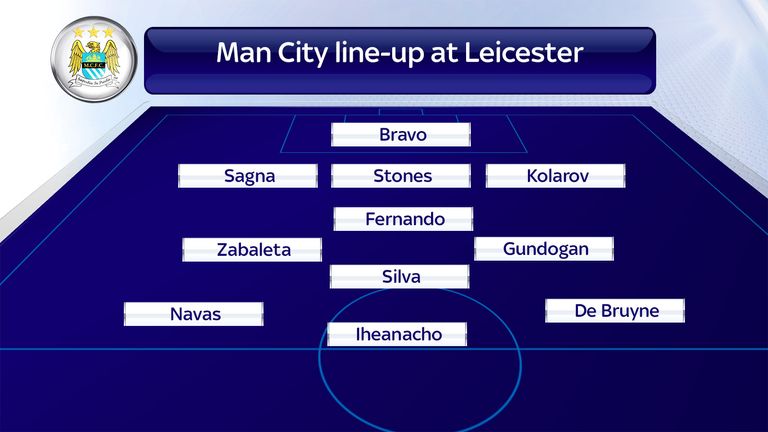 3-4-2-1 - 2 games - WhoScored.com rating 6.44
One draw - 1-1 vs Southampton
An unconvincing stalemate with Southampton represented the first time City utilised a 3-4-2-1 formation, with Raheem Sterling and Leroy Sane deployed as the wide men to leave space on the flanks for the visitors.
City fell behind when Nathan Redmond opened the scoring following a John Stones error, with the hosts needing a second-half strike from substitute Kelechi Iheanacho to salvage a point.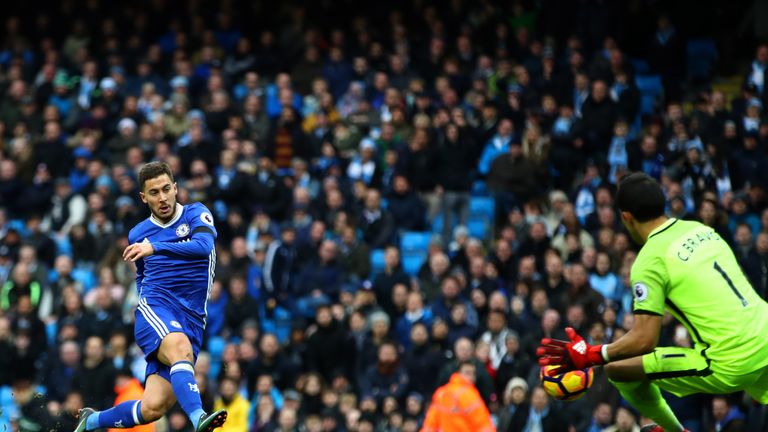 One defeat - 1-3 vs Chelsea
Opting to match up against Chelsea may have seemed to make sense, and with Guardiola's men on the front foot throughout the first half, it looked likely to pay off.
However, another second-half capitulation served to showcase how the back three should be played by the Blues and how far off the hosts were to getting it right as City conceded three times on the break.
3-5-1-1 - 1 game - WhoScored.com rating 6.74
One draw - 1-1 vs Gladbach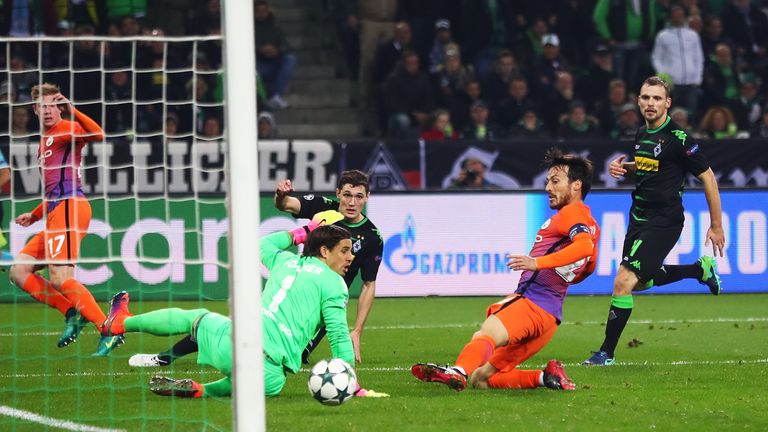 With their position in the group far more stable following a superb victory and performance against Barcelona, Guardiola again opted to change things around in a crucial game in Germany.
The visitors needed to avoid defeat and managed that with a display of possession football that lacked cutting edge for much of the game.
Indeed, while City enjoyed nearly 70% possession, they mustered one shot fewer than their hosts despite playing with an extra man for 12 minutes.
3-5-2 - 1 game - WhoScored.com rating 6.70
One draw - 1-1 vs Celtic
City's draw with Celtic is another that can perhaps be overlooked. Along with starts for teenagers Tosin Adarabioyo and Pablo Maffeo, full-back Pablo Zabaleta started the match in central midfield as the visitors understandably carried the greater threat.
Conclusion
According to the statistics, 4-3-3 would seem the best option for Guardiola. He has not used the system since September's Manchester derby win at Old Trafford, but it did bring him three victories early on in the season.
It also resulted in a team average 7.17 WhoScored.com rating, the best his side have recorded across their eight different formations.
Another successful set-up has been 4-2-3-1, despite defeats to Tottenham and Barcelona, while 4-1-4-1 has seen City generally see off weaker opponents and also secure their biggest win of the Guardiola-era, their 3-1 triumph over Barca.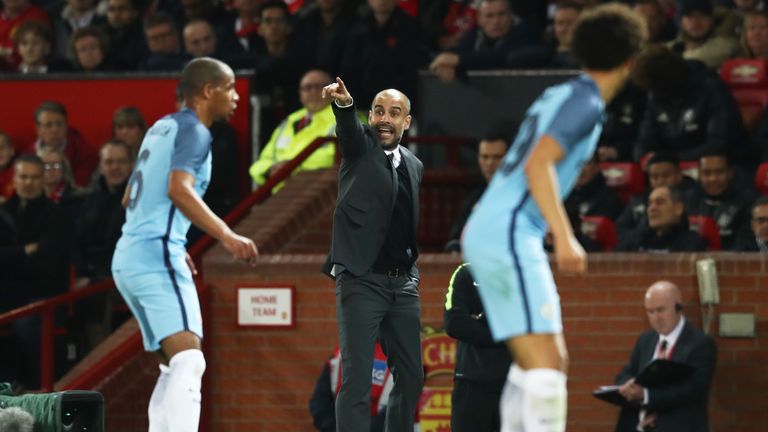 Of course, as well as being flexible with his starting formations, Guardiola is always quick to make alterations mid-game, too, which makes comparing his tactical systems difficult.
But what this study does show is the Spaniard remains eager to seek different solutions against different opponents - as he did at Bayern Munich.
As Pearce says, that may be tricky for City's players to cope with, but they will have to get used to responding to his tinkering.