Manuel Pellegrini's Manchester City have seen their European hopes extinguished and their title defence falter. With an ageing squad at his disposal, the Chilean needs to show different qualities now if he is to turn it around, writes Adam Bate. Starting with Sunday's Manchester derby...
When Manuel Pellegrini was appointed as Manchester City manager in the summer of 2013, the feeling was that he would bring precisely what was required at the time. Here was a man who could restore harmony. Two years on and his team is in need of major upheaval.
Predecessor Roberto Mancini had overseen a period of unprecedented success, but proved to be a divisive figure in the process. Star striker Sergio Aguero insisted that he "never had a problem with him" but admitted that "wasn't the case with everyone" and a calmer influence was required.
There remains little appetite to move away from the much-discussed 'holistic' approach with which the Italian appeared to be at odds. But change is now needed nevertheless. The question is whether or not Pellegrini is the man to implement those difficult decisions. Evidently, his remit has changed.
He's certainly shown himself to be an expert facilitator and got the key men on side. "When you have everyone at the club pulling in the same direction, you become a powerful force on and off the pitch and I think that was evident," said Aguero of last season's title win. The gentle touch worked.
The Argentine also described Pellegrini as "someone who instils confidence in his players" and that image of a man content to stick with an understated approach has been a recurring theme of his time in England, much to the chagrin of journalists eager for copy at his press conferences.
Players appreciate it rather more. "He gets the best out of players but without being an over-bearing presence," said Quique Alvarez, captain at Villarreal when Pellegrini took the club to the brink of the Champions League final. At Malaga, Oguchi Onyewu talked of him making the players "comfortable".


Now the role of City boss needs more than just a man who can keep the stars happy. In fact, it might well require the exact opposite. Pellegrini has been left with a team growing old together and recent signings have done little to change that with only Fernando - 28 this summer - establishing himself.
Ageing squad
This was precisely the sort of squad make-up that had been avoided by Mancini when building City's first title-winning side, something Sir Alex Ferguson acknowledged in his autobiography. "I was told that some of the players and staff didn't like him, but he was not there to be liked," said Ferguson.
"Results backed up his methods. He chose his players well, with a good balance and age range. I believe he wanted to avoid players over 30 and those under 24. His players were mostly in that band of 24 to 28." But the average age of the City team on Monday was three weeks shy of 30 years old.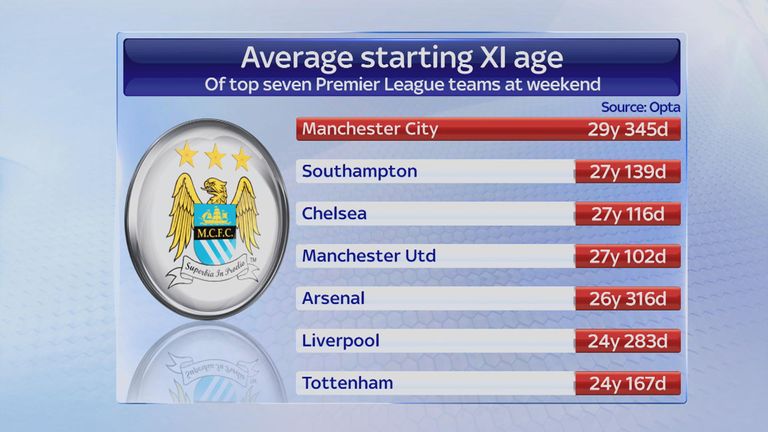 No wonder there is a feeling that this is a team at the end of their journey together. "We are watching a great team in the Premier League coming to the end," Jamie Carragher told Monday Night Football. "It has to change. They have been a poor team in Europe. It's finished now."
Hence the calls for drastic action. Former Manchester City player Trevor Sinclair told The Morning View that the club should look to get rid of Yaya Toure, while Sky Sports pundit Paul Merson included the Ivorian in a lengthy list of stars that need to move on from the Etihad Stadium.
It's not that Pellegrini lacks the strength to stand up to the big names. Indeed, he did just that when freezing out Juan Roman Riquelme at Villarreal. "Riquelme is among the five best players in the world in his position, but I will not risk the club's future for him," he said. "If individuals work for the team, phenomenal. If they want to be above the team, then they're out."
Vulnerable
The problem for Pellegrini is that his own vulnerability - Mancini was sacked following his first full trophyless season, after all - means he could find himself relatively powerless to instigate change whilst maintaining a harmonious dressing room. And yet, who else is there who can do the job?
Guillem Balague told Revista de la Liga that Diego Simeone turned down a "huge offer from City", while Pep Guardiola is unlikely to leave Bayern Munich just yet. Until then, Pellegrini might be seen as the safest bet, but defeat to Crystal Palace has added to the sense of urgency.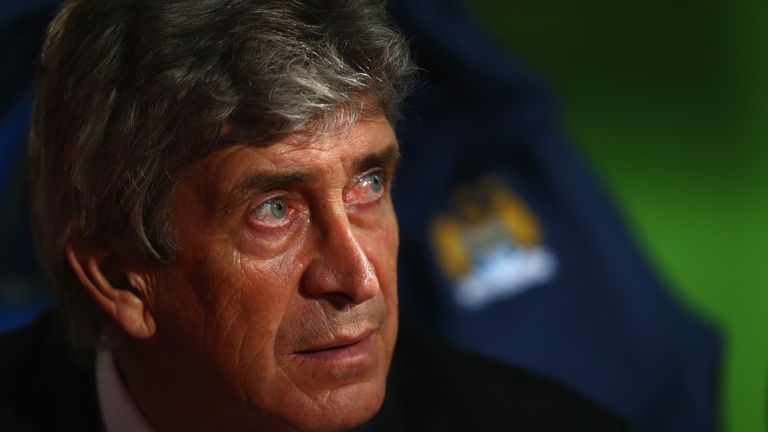 I do my work, I'm very happy. The team maybe have a difficult season but never worry about me.
Pellegrini is at least doing a good impression of a man who remains unconcerned. "I never have fear about it," he told Sky Sports. "I do my work, I'm very happy. The team maybe have a difficult season but never worry about me." Nevertheless, people are worried about this Manchester City team.
And so, the Manchester derby comes at a pivotal time. City have won this fixture in each of the three previous seasons and by a combined score of 11 goals to two. There is a growing sense that it might take a result of similar stature to convince the decision-makers at Man City to stick with their man.
Watch Man Utd v Man City live on Sky Sports 1 HD this Sunday from 3.30pm