Sky Sports Scout, in association with Wyscout, reports on Tottenham starlet Harry Winks
By Sky Sports Scout - Tweet me: @skysportscout
Last Updated: 21/05/14 12:22pm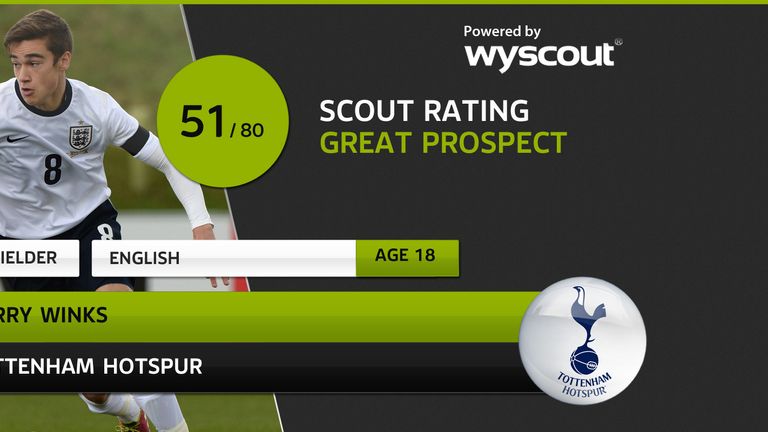 Sky Sports Scout is our exciting feature where we scour the globe, in partnership with Wyscout, looking out for the best talent and bring you a report on what we find.
Our scout - using all the tools at his disposal, which now includes the world's leading scouting resource Wyscout - will report back and you can comment on what you think of their appraisal.
WYSCOUT
Wyscout - the world's leading scouting and transfer resource - is launching its new Wyscout4 system shortly. Please click here for more details.

You can only nominate a player by emailing here, including the word 'Scout' in your subject line, and please check to make sure we have not already covered the player.
You can also now interact with the scout via his Twitter feed! You can get in touch with him and interact here or just search for @SkySportsScout.
The latest player to be spotlighted is Tottenham youngster Harry Winks.
The scout reports...
Tottenham have seen a host of young prospects propelled into the first-team squad this season. One of those is Harry Winks, who many think could be the next big breakthrough at White Hart Lane.
Scout Facts
NAME: Harry Winks
AGE: 18 (2nd February, 1996)
BORN: London, England
POSITION: Midfield
CLUB: Tottenham
FACTS:Has been with Spurs since he was 11
Sky Sports Scout Ratings:
0-10 - No hoper
11-20 - Should look elsewhere
21-30 - Might not make it
31-40 - Has work to do
41-50 - Keep an eye on him
51-60 - Great prospect
61-70 - On his way to the top
71-80 - Already World-class
The youngster who hails from Hemel Hempstead has been linked with Spurs since before he was a teenager, first linking up with them when he was 11.

Winks has progressed well through the ranks and was playing for the Spurs Under-18 side as he turned 16.
England were also quick to recognise his progress and he has been a key member of the national set-up and has shone in recent months for the Under-18s.
Andre Villas-Boas was the first Spurs coach promote to Winks to the first-team squad as he first started training with them last summer despite the fact he was only just entering into contention for the Under-21 side.
AVB did not use Winks, but his former youth boss Tim Sherwood was quick to call on him soon after his appointment and he was one of a handful of youngsters promoted to the bench for their Europa League clash with Benfica.
Winks did not make his debut against Benfica, but it is anticipated that he will soon be pushing for a first-team role and that was highlighted by the fact he also made the bench for the Premier League games with Liverpool and West Brom.
Winks is a deep-lying midfielder - who loves to play football, which has made him a firm favourite with Spurs' coaching staff.
Comfortable on the ball - his main weapon is his vision and his ability to pick a pass. He has a good engine and gets up and down the field well, but he likes to keep his shape and is not often dragged out of position.
It is not surprising Winks is knocking on the first-team door at Spurs, given the sense of maturity he brings to his game.
The scout says...
A terrific prospect, both for England and Tottenham, and one - who if nurtured correctly could have a huge career at Tottenham and beyond.
The Scout rating...
Shooting: 6 out of 10
Passing: 7 out of 10
Tackling: 6 out of 10
Heading: 5 out of 10
Pace: 6 out of 10
Vision: 7 out of 10
Current ability: 6 out of 10
Potential ability: 9 out of 10
OVERALL SCOUT RATING: 53/80
Current value: £1million
Potential value: £20million
Your opinion...
You have read our opinion of Harry Winks - now we want your views. Have you seen Winks in action? Do you agree with our assessment? Do you think he will make it?
Get in touch, either using the form below, email or the scout's Twitter feed - @SkySportsScout.
Pick your Sky Sports Fantasy Football team for the chance to win over £100k in prizes. Play for free here.