Paul Merson's Premier League predictions - Week 2
Merse wants to see Man City go for it at Cardiff and wonders if Villa can spring another surprise...
Last Updated: 23/08/13 11:09am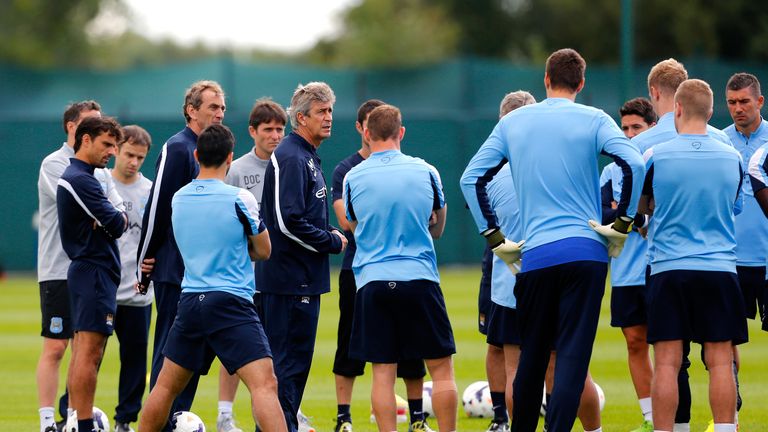 Cardiff's biggest problem is the same as the other promoted sides: will they get enough goals to stay up? Never mind against Man City! I heard Malky Mackay say after the West Ham game that they had a lot of the ball but they didn't really create any chances. Yes, it was a hard game and a hard place to go to, but with this one coming up this is a really difficult start. Cardiff need to get some points as soon as they can. I suppose the home support will play a part but they will do well to avoid their first home game in the Premier League ending in disappointment.
Everyone will be looking at Man City as well and what Manuel Pellegrini will bring to the table. It was good to watch on Monday because they went 4-4-2 - 'we'll have a shot, you have a shot and we'll score more than you' - but when they are playing the top sides, is the new City too open? We will have to wait to see if the new manager can adapt. The best change I have seen is the pace City break at now. Jesus Navas is like lightning. Last year when they tried to push forward everybody wanted a touch of the ball and by the time they got into the box the defenders had enough time to get back. Now they just go bang! And off they go at speed. Yaya Toure can drive forward too now when he wants because Fernandinho looks like he will break the play up and set City off again.
PAUL PREDICTS: 0-3
Aston Villa v Liverpool (5pm, Sat, Sky Sports 1 HD)
Aston Villa must be over the moon. I know they were beaten by Chelsea after winning against Arsenal, but with Liverpool coming up it could have been a nightmare start to the season. Whatever happens here I didn't think they'd have this many points. I've said it before but the best signing they could've made, they have: Christian Benteke. The fact that he has started so well makes you wonder if someone is going to come in with silly money for him, but he will score 15 to 20 goals - and that is the one thing that could get Villa into mid-table. One thing they need is a Stiliyan Petrov: an experienced organiser looking after them, because it is still a young side. But at least staying up and getting another year behind them should make them better.
Liverpool's main striker, Luis Suarez, is of course another topic of conversation. If Liverpool's best 11 are on their game they can take on anyone, but go beyond that and onto the bench then they have youngsters and I am not sure they have any game-changers to turn to. If Brendan Rodgers can keep them all fit, they will do well. I like the look of Philippe Coutinho and Daniel Sturridge, and I think they are in for a better season. Mind you this is going to be a difficult game for them. Villa are confident and it will be interesting to see how Liverpool set-up away. As always, if Steven Gerrard plays well they have a chance but I am not sure they will cope with Benteke.
PAUL PREDICTS: 2-2
Arsenal v Fulham
Arsenal might be heading into this on the back of a good Champions League win, but they are only papering over the cracks. Before that Villa's win against them was not smash-and-grab. Arsenal were well beaten. Add to that the fact that after just two games of the season they are playing full-backs in the centre of defence, things are not good. Arsene Wenger needs to go out and buy and I don't mean just Luis Suarez. He needs two, three, maybe even four big signings who will improve the side. I am not sure we will see any of that but this is already a hard, hard game for Arsenal.
You only have to look at two of the signings Fulham have made in Scott Parker and Adel Taarabt. Parker is solid and Taarabt can do special things and change games. Mind you I still think he, and indeed Fulham, are a bit like a bag of Revels and you just don't know what they are going to come up with next. They can be great on the day but Arsenal could easily wipe the floor with them. Fulham will need to have all 11 players playing at the top of their game, not just Damien Duff, Dimitar Berbatov and a couple of others. But they do have the players to beat them.
PAUL PREDICTS: 1-1
Everton v West Bromwich Albion
I thought Roberto Martinez would have bought more than just ex-Wigan players. It's not exactly lazy but it is not being 'unlazy', if that makes sense! Surely he could have got fresh players who were better value for money than Arouna Kone; for a start I thought he would've been bringing players in from Spain. Mind you the one thing he can't do is lose Leighton Baines or Marouane Fellaini because last week they played well. Yes they drew at Norwich and looked like they might get beaten, but they played well.
I am not sure you can say the same thing about West Brom. I know they are away at Goodison Park where they will be under pressure from the off. I don't see West Brom going down but when you watch a side fail to get a shot at goal in the first half against Southampton, you know that is a problem. I am sure Steve Clarke will have seen they just didn't create anything, never mind take chances.
PAUL PREDICTS: 3-0
Hull City Tigers v Norwich City
No-one expected Hull to beat Chelsea but now it's a different story altogether. This week they have to go out and beat Norwich and put three points on the board. Steve Bruce is a good manager and I am sure he will have highlighted certain games they need to win. This is one of them. I suppose the one good thing is that although they got beat last week, there was one positive: damage limitation. With the early penalty and then the second goal soon after, it really could have been five, six or seven. It won't happen again but if Hull lose this one then you are a madman not to bet on them going down.
I wouldn't say the same about Norwich. They've bought well in the summer and already Ricky van Wolfswinkel has scored and Nathan Redmond looked good against Everton. Add Gary Hooper and now on-loan Johan Elmander, and they have got goals in them. I just don't see them being one of the sides to go down and last week alone, they looked decent. But they cannot lose this one against a newly-promoted side. They just can't afford to even at this stage.
PAUL PREDICTS: 1-1
Newcastle United v West Ham United
So Sam Allardyce is back at St James' Park! Well I can tell you one thing: Newcastle wouldn't have got relegated if they'd have kept him. But they were convinced and fear forced them to get rid of him. He is a good manager but playing in Newcastle will bring a problem his way: away form. Last season West Ham were dreadful away; they were Ashford & Simpson - solid - at home but they need to sort that out this time. They need to start picking up points away and I am interested to see how West Ham line-up for this one and whether or not they have a real go at them.
It is possible because Newcastle were poor, very poor, against Man City. Yes, it was no huge surprise and you can point to the sending off of Steven Taylor but the game was gone by then. They were opened up many times and that will need fixing. At least Alan Pardew is thinking they don't have to do too much because they are not going to be as bad as they were last season. But I need to see them a couple more games - starting against Big Sam's West Ham - before you can see if the pressure is going to be on them. But West Ham trying to win away games means only one thing... a Newcastle win.
PAUL PREDICTS: 2-1
Southampton v Sunderland
I like Southampton - for me they are this season's surprise package. I like the way they keep the ball and are patient, and I like Mauricio Pochettino's signings. Dejan Lovren, Victor Wanyama and Daniel Osvaldo are all big signings and are all game-changers. He has a good centre-forward, a great central midfielder - who was head and shoulders above everyone against West Brom - and the centre-half Lovren didn't give their strikers a kick. There was no messing from the manager and that makes me think he could have a good season - even if he doesn't shout from the rooftops.
One man who usually does shout from the rooftops is Paolo Di Canio. But the fact that he hasn't really said a word all week, means you know that it is not looking good for Sunderland. If you get beaten by someone like Fulham at home deeper into the season, the fans would be worried. But the fact it was the opening game with a side full of new signings trying to gel together, I think that went under the radar. Di Canio will be happy about that. Mind you if they can't get a result here, or lose again, then you start to wonder if Sunderland are going to be under a bit of bother. No surprises I am going for Southampton. All day long.
PAUL PREDICTS: 3-0
Stoke City v Crystal Palace
Let's be honest here, Stoke could have been beaten by five by Liverpool last week. I just hope the players and the manager don't think they could have drawn 1-1. I don't think Mark Hughes is that type of manager but already I want to see what he does at Stoke. I was a bit surprised to see Tony Pulis go and I hope he is the new Alan Curbishley, who finished mid-table year after year with Charlton but went when someone wanted something special to happen. That was the beginning of the end for them. Hughes will have pressure as a replacement and, surprisingly, he hasn't really brought many new faces in. It is full of Pulis players. His style of football suited those players and the fans are used to seeing the ball go forward early. That is not necessary Hughes' style but he needs to get a good start before he can think about changing things.
This is a big game for Stoke and it could be a nice one or a nightmare. If they turn up expecting to win and they are not 1-0 up inside the first 20 minutes, the pressure will build in the stands. Palace were poor at the back last season but they have not strengthened there - yet at least. It is going to be a long, hard season even if they do.
PAUL PREDICTS: 2-0
Tottenham Hotspur v Swansea City
I was surprised when I saw Spurs. I have to be honest and say I was a little disappointed in them. In fact I thought there was something missing: fluency on the ball. It's what I call fall-over-football where if they did something good, it looked like they had stumbled onto it and it just happened. There was no-one - surprise, surprise - who could come up with something from nothing like Gareth Bale. Even with Paulinho in the middle of the park, there wasn't the patient, precise build-up I was expecting. But they were not the old Tottenham - who were too open - and that is the biggest change Andre Villas-Boas has made. And in the long run, that will make them harder to beat.
It should, though, at least be an entertaining game against Swansea, who also surprised me last week. In fact they shocked me. I thought it was going to be a really tough game for United, yet Swansea let in four! And it could have been more! Swansea have been tough to score against so you can see why Michael Laudrup was quick to move on and put it down to an opening-day blip. If it happens again then we will be worried. I still think they will have zero points from their first two games and that is not what you want. But as always their away form will not help them to bounce back.
PAUL PREDICTS: 2-0
Watch out for Merse's preview of the mouth-watering Monday Night Football clash between Manchester United and Chelsea.