Paul Merson's Premier League predictions - Week 6
Soccer Saturday pundit calls all the weekend's Premier League games
Last Updated: 27/09/13 3:31pm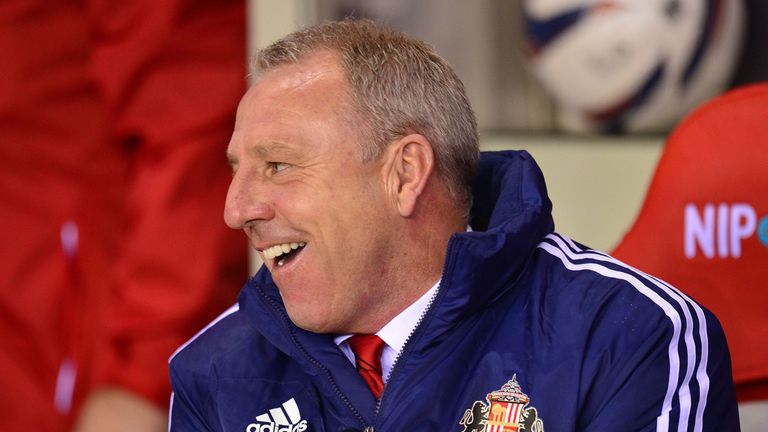 I have been impressed by Stoke. I really thought it would take a while for Mark Hughes to get them playing the way they are but - other than against Arsenal when they didn't keep the ball well enough and didn't do themselves justice - they have been outstanding. There was a lot of pressure on Hughes going into Stoke. I thought it was a big ask following Tony Pulis and wondered if it was a bad move, but it has turned out great so far.
People go on about Man United's tough start but Stoke had nightmare fixtures to start and have done great to get seven points from five games - and you'd like to think that Stephen Ireland could be a big player for Stoke this season.
When he was at Man City he was one of their best players but I don't know what happened after that because he just fell away. Hopefully his goal against Tranmere can kick-start him because the lad can play and has major, major talent.
As for Norwich, I can't remember the last time Ricky van Wolfswinkel touched the ball. He doesn't really get involved in the game and Norwich can't afford to have luxury players like that.
They got well beat at Tottenham a couple of weeks ago - it was only 2-0 but it could have been any score - and they had a shocker of a result at home to Aston Villa so it could be a really long season.
I am surprised that Wes Hoolahan hasn't had more of a look in because he gets on the ball and makes things happen, but he is missing out because they have gone for 4-4-2 instead of playing one up top and one in the hole.
That has really backfired, if I'm being honest.
PAUL PREDICTS: 2-0
Sunderland v Liverpool (3.30pm, Sun, Sky Sports 1 HD)
I am not surprised that Paolo Di Canio got sacked.
I am surprised that he went that quickly after bringing in 14 new players but I thought that if they ever started losing games the players weren't going to have his regime.
I think it's a bit too much for the players on a lot of money to go running to the chairman if they are not happy but at the same time you want to go out and play with confidence, not be a bag of nerves and have the manager belittling you.
I think any of Gus Poyet, Roberto Di Matteo of Gianfranco Zola would be a good fit as the next manager because there are a few Italian players in there, but the lad in there at the moment, Kevin Ball, won't let them down because he is a good coach.
I played against him a million times and what he will give them is fire and confidence and I wouldn't be surprised to see Lee Cattermole come back in because he is a Kevin Ball-type player who will get stuck in and win tackles.
They need that because they haven't go the players to play a "you have a shot, we have a shot" game, they need to rattle into teams and make it uncomfortable as possible and that is Cattermole all over.
Liverpool have had shocking defeats to Southampton and Man United this week. They shouldn't be getting beaten at home by Southampton and then they got knocked out by Man United's B team in the Capital One Cup.
It was Man United's reserves - if they picked the best team only Wayne Rooney and David de Gea would get in it - against Liverpool's strongest side, so for them to lose was massively disappointing.
Luis Suarez has got another game under his belt, though, and I would expect Liverpool to win this game. Ball will have his players ready but Liverpool should have too much class.
PAUL PREDICTS: 0-2
Everton v Newcastle (7pm, Mon, Sky Sports 1 HD)
Everton have got a steal with Romelu Lukaka on loan for a season.
I didn't think he would stay at Chelsea because he blows hot and cold - he is unbelievably brilliant or very poor - and that isn't good enough for Chelsea, but he will be great for Everton.
He is a part of an Everton squad that is stronger than last year; they have lost one very good player in Maroune Fellaini, but got three very good players in Lukaku, Gareth Barry and James McCarthy in return.
I don't think Fellaini fitted Everton's new style anyway. Roberto Martinez wants to get the ball down and play it, but Fellaini is good for when you want to get the ball forward quickly.
I know Newcastle lost at home to Hull last week but I'd like to think that they are not in trouble because they went to Aston Villa not so long ago and won quite easily.
Still, the Hull result was a shocker because if they had won they would have had four wins in a row including the League Cup, everything would have been rosy in the garden and they could have been on an Arsenal-like roll.
But now they are going to Everton and thinking: 'I hope we don't get beat because that will be two on the trot in the league and then we will be reeling again' - and I do think this will be a difficult game for them.
Everton are playing well - they were great against Chelsea and then to go to West Ham and win after going behind speaks volumes - and I think they will win again.
PAUL PREDICTS: 2-0
Tottenham v Chelsea
Out of these two teams, Tottenham have impressed me most this season. They look a really good, solid team and were outstanding against Villa in the cup with their squad players in the line-up which shows how much depth they have.
Plus, against Cardiff last week they won 1-0 but it was the most one-sided matches I have seen in the history of football, and they were superb against Norwich, so I make them favourites for this game against Chelsea.
Chelsea, though, are really stuttering.
When Jose Mourinho was at Chelsea before he came out with the quote 'park the bus', but he parked the bus at Man United and they have lost to Everton and home to Basel in the Champions League.
You'd have been surprised if Mourinho had lost two of his first 20 games, let alone two of his first five or six, and the Juan Mata situation is still a massive talking point.
For me, Mata should be in the team as he is one of Chelsea's best players but I think it was clever of Mourinho to leave him out completely against Fulham because if he was on the bench the fans would have been singing his name and there would have been uproar.
PAUL PREDICTS: 2-1
Aston Villa v Man City
I think Villa are going to struggle at home without Christian Benteke. The advantage they have got here is that Man City will have a go and that will let Villa play like they do on the road, where they are very, very good and have beaten Norwich and Arsenal. But I watched Man City last week and that's as good as it gets. If they play anywhere near that this could be any score you want.
PAUL PREDICTS: 0-3
Fulham v Cardiff
This is a huge game for Fulham. The fans have turned on Martin Jol - I don't know why because it is still quite early and even though they are in the bottom three they are having a go in games and have a few flair players. The fans will expect a win in this game and that puts more pressure on but Cardiff's defeat to Spurs, where they go played off the park and looked out of their depth, will be disheartening, and I think Fulham will win.
PAUL PREDICTS: 1-0
Hull v West Ham
Hull have surprised me because the one thing I could never see them doing was scoring enough goals. I thought they would keep clean sheets and be difficult to beat but I didn't see them doing enough at the other end because they didn't put threes and fours past many teams in the Championship. Steve Bruce is a very experienced manager and I think his team will beat West Ham to back up that great win at Newcastle.
PAUL PREDICTS: 1-0
Man Utd v West Brom
I think David Moyes showed a lot of bottle against Liverpool. I thought he had to win that game but he still stuck to his guns and played the lads that haven't been playing. Those guys went out and performed but it was a big gamble and if United had lost to their biggest rivals - again - the fans could have got restless. I respect Moyes for that and with the way Rooney is playing I don't see any way they don't beat West Brom.
PAUL PREDICTS: 3-0
Southampton v Crystal Palace
Southampton had a great result against Liverpool and I think they will beat Palace. It can be easier going to Liverpool than chasing a game at home but Palace are struggling badly. I really like Southampton's Adam Lallana but he seems to come off in every single game. He will be pleased to be starting but will find it disheartening to keep getting ripped off.
PAUL PREDICTS: 2-0
Swansea v Arsenal (5pm, Sat, Sky Sports 1 HD)
This is a big game for Arsenal because Swansea have done them before and they get around and pass it like Arsenal do - though I don't know what Swansea were doing against Birmingham in the cup. They are the defending champions and the competition is the only thing they've got a real chance of winning, but they put a weakened team, which I found extraordinary, but I think they will get a draw in this game because Arsenal will really miss Theo Walcott's pace.
PAUL PREDICTS: 2-2