Paul Merson's Premier League predictions - Week 8
Soccer Saturday pundit tips wins for Liverpool, Man City, Chelsea & Everton
Last Updated: 18/10/13 5:31pm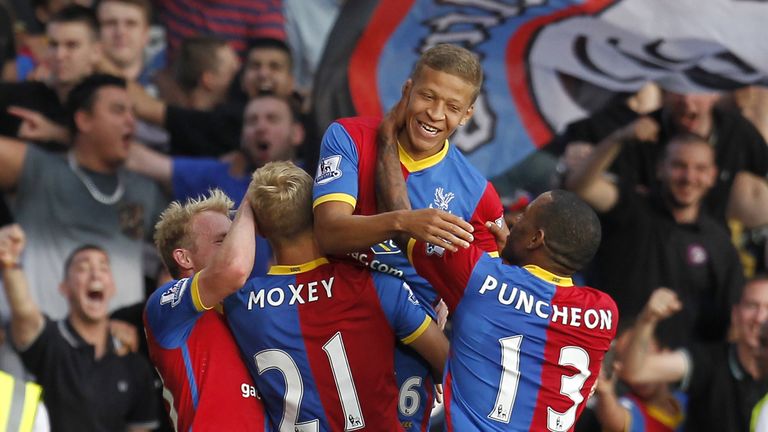 If Crystal Palace lose this game then I think they will be relegated. It's quite tight down at the bottom and a few teams will be in the fight, but if you lose at home to Fulham then it leaves you sitting and wondering where you're going to get another point from. Fulham got a good result last time against Stoke, but they are not the best away from home and Ian Holloway will have highlighted this fixture, without a doubt. They went 3-0 down to Liverpool in their last game and I thought they had a good go in the second half and made chances, but it's easy to play when you're losing like that. If they make chances like that against Fulham then they should win.
I think Palace will win this, but Fulham are one of those teams that are so hard to predict. They could go there and win 3-0 and look like the best team you've ever seen on Monday Night Football, but they could easily go there and get beat. If Palace lose then, for me, they are relegated but if Fulham don't get a draw then I think they are in major trouble and will be dark horses to go down.
PAUL PREDICTS: 2-1
Aston Villa v Tottenham (3.30pm, Sun, Sky Sports 1)
I think Andre Villas-Boas dropped a clanger by starting Jermain Defoe against West Ham. I like him, but I think he's best as a substitute and is the sort of player to put on when things aren't going well. I know he'd scored against Villa's reserves in the Capital One Cup and against Anzhi who are as bad as you can get, but West Ham were always going to sit back and deny him space and he isn't the type to hold the ball up. Roberto Soldado hasn't been scoring too many goals, but something must have been working because they'd been winning matches. I think the manager missed a trick there.
This will be a hard game for Tottenham and with Christian Benteke back in the side I think Villa will get a result. Spurs don't score a lot of goals, so you're always in the football match and someone like Benteke looks like he's going to score a goal every time he goes on a football pitch. Both teams will want the other team to attack them and play on the break, so it will be interesting. I think it will be a draw.
PAUL PREDICTS: 2-2
West Ham v Man City (5pm, Sat, Sky Sports 1)
After Soccer Saturday a fortnight ago, poor Jeff was certain that Hartlepool were going to win the Performance of the Week after they won at Exeter - and then the next day West Ham went and smashed Tottenham 3-0 and topped them in my opinion. Nobody saw that coming, even the West Ham faithful, but I don't see them repeating that on Saturday Night Football. They played with no strikers and it worked in a game where nobody was giving them a chance, but I don't think it will work against Man City at home. They will be expected to take the game to them a bit more.
Manchester City are still my tip for the title. They are strong all over and have got a big squad so I think they're best equipped. Vincent Kompany is injured, but West Ham aren't really a threat without Andy Carroll and might not play any strikers again so I think City will cope and keep a clean sheet anyway.
PAUL PREDICTS: 0-3
Arsenal v Norwich
I think Arsenal will win this, but I do believe this is a big game for them. This is where league titles are won and lost. People will turn up thinking "it's only Norwich" and that you're going to wipe the floor with them, but you have to be careful - especially after everybody has been away on international duty. I think Arsenal are playing with too much confidence and when they don't play well - as they didn't against West Brom - they are avoiding losing matches. That's important.
PAUL PREDICTS: 3-0
Chelsea v Cardiff
Chelsea haven't really got going and I thought they were lucky to get the three points against Norwich. They were under the cosh for a while and even though Jose Mourinho deserves credit for making changes, that scoreline could have gone anywhere. He still doesn't know his best team, which is not good, but I still think they will be too strong for Cardiff and should win comfortably.
PAUL PREDICTS: 3-0
Everton v Hull
I have been impressed with Hull this season. Steve Bruce has made them difficult to beat but I always say that Goodison Park is a hard place to go for any side. Everton lost their unbeaten record in the last game, but that was a great result for Manchester City and I fully expect Everton to get back to winning ways at home.
PAUL PREDICTS: 2-0
Man Utd v Southampton
This is a big game for Man United - and I mean massive. If they don't win this then they can't win the Premier League, it's as simple as that. David Moyes has said they had a hard start and their early run of games wasn't fair, but they lost to West Brom and fell over the line against Sunderland - I thought they were lucky in that match - and now they need to beat a Southampton side that is playing well. However, I've got to go for Man United at home.
PAUL PREDICTS: 2-0
Newcastle v Liverpool
St James' Park isn't the hardest place in the world to go at the moment and if Liverpool want to be contenders for the top four then they need to go and win at places like this. That's the way I look at it. I just think that with Daniel Sturridge and Luis Suarez up front together they will always be in the football match and they should win. On their day, Newcastle can give anybody a game but they are a bit hot and cold.
PAUL PREDICTS: 1-3
Stoke v West Brom
This is such a hard game to call because both teams have been playing well. I thought Stoke did well in their last game against Fulham and shouldn't have lost it, but West Brom are doing well too. They've taken four points in two games against Man United and Arsenal and you can't argue with that.
PAUL PREDICTS: 1-1
Swansea v Sunderland
I like Gus Poyet. He hasn't managed in the Premier League, so it could be difficult, but he did nothing wrong at Brighton and you have to give people chances. It isn't a bad appointment in my eyes. I was disappointed with Swansea's display against Southampton and I wonder if playing Sunday-Thursday is catching up with them. They have put a lot into the European basket and have been playing their strongest team in the Europa League, unlike the Capital One Cup. Foreign managers seem to like that competition because it's good for their CV and that could have an impact on their league form. They are not going down though and I think they'll be too strong for Sunderland.
PAUL PREDICTS: 2-0
Think you know better than Merse? Prove it with our Super 6 game and win £250,000