Paul Merson's Premier League predictions - Week 9
Soccer Saturday pundit tips wins for Newcastle, Man Utd, Liverpool and Arsenal
Last Updated: 25/10/13 1:46pm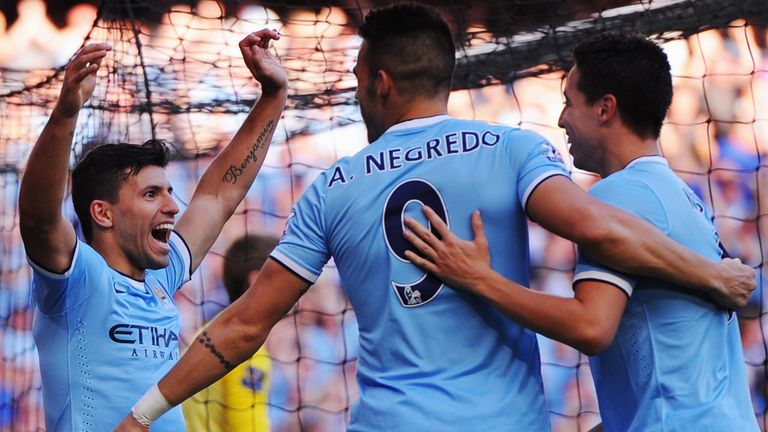 I think Manchester City are going to go and win the Premier League this year, as long as they get their complacency right. They've lost to both Cardiff and Villa, but when they've been asked to produce in big football matches like against Everton at home and against Manchester United they have hammered their opponents and played really well. When they have needed to get going they have and I don't expect them to be lacklustre on Super Sunday.
I don't think there is much between these two teams - and I think Chelsea will be favourites on Sunday because they're at home - but the difference in the title race might be the strength of City's squad. Chelsea's options up front are Fernando Torres (who played well in midweek but can he do it consistently?), Samuel Eto'o (who scored against Cardiff, but isn't the player he was) and Demba Ba.
On the other hand, Man City have Sergio Aguero, Alvaro Negredo, Edin Dzeko - and Stevan Jovetic can't even get a game. City have done a lot of travelling this week (Russia isn't up the road...), so Chelsea need to start quickly, but both teams had a fairly easy time in Europe. I reckon this will be a tight game and I think it should be a good, high-scoring game, too.
PAUL PREDICTS: 2-2
Sunderland v Newcastle (12.30pm, Sun, Sky Sports 1)
If Sunderland win this game then they might get on a roll, but if they lose it then you wonder what's going to happen. The confidence is low already, so how low is it going to get after that? You will end up with the fans up against you if you lose at home to your arch-rivals. Gus Poyet will want his players to start this game at 100mph - to play at a high tempo, but to play with their heads - and they need to score early because the longer the game goes on, the more Newcastle will become favourites.
I think Newcastle will win this game because they have more guile and more matchwinners in their side in Loic Remy, Yohan Cabaye and Hatem Ben Arfa. Sunderland will have lots of enthusiasm, but if Newcastle can get through the first 20 minutes without falling behind then I don't see how they can lose the game. The start of this match will be very important and if Newcastle get through the initial period they will be okay because Alan Pardew has got the players at his disposal.
PAUL PREDICTS: 1-2
Southampton v Fulham (5pm, Sat, Sky Sports 1)
Southampton are one of those teams that are probably better away from home. They close teams down and sometimes it's easier to frustrate your opponents when you're in front of their fans. As for Fulham, it's all about inches. If they hadn't scored two worldy goals against Crystal Palace on Monday night then Martin Jol could have been sat there without a job right now instead of Ian Holloway. I like him, but you need a bit of luck sometimes.
Fulham will have got a lot of confidence from that win and when Southampton squeeze them, they have got the players who can pass it around for five or six passes and then get in. Other teams haven't been able to do that, but I still have a feeling that Southampton will be too good for them. My Super 6 prediction is 2-0, but it could easily be tighter than that.
PAUL PREDICTS: 2-0
Tottenham v Hull
You would expect Tottenham to win this game at home, but you would have said that before their last home game against West Ham. I've watched Hull a few times this season and they have played well - I thought they should have been ahead against Everton at half-time last week and they always look like scoring from set plays. They are well organised, hard to beat and they're always in the football match. I'm going for Tottenham to win 2-0, but it will be a lot harder than that scoreline suggests.
PAUL PREDICTS: 2-0
Swansea v West Ham
West Ham have had an up-and-down period. They had a great win at Tottenham, but got beat by Man City and I think Swansea will win on Sunday. They may be a little light at the back if Ashley Williams and Ben Davies are out, but Sam Allardyce doesn't really play with forwards so that might not be much of a problem. It's got to be a home win this one.
PAUL PREDICTS: 2-0
Aston Villa v Everton
There's something missing when Aston Villa play at home and I just don't fancy them. I don't see when they're going to win a football match at Villa Park. They seem alright away when teams attack them, but when opponents sit back and they have to attack then they struggle. I thought Everton improved against Hull in the second-half last week and this will be a tight game, but I just fancy Everton. It's weird - if this game was at Goodison Park I'd give Villa more of a chance.
PAUL PREDICTS: 1-2
Liverpool v West Brom
Liverpool had a bad result against 10 men last week and this will be another hard game for them. West Brom won at Man United, drew with Arsenal (and thoroughly deserved it) and then went and drew at Stoke. According to the bookmakers, Liverpool are massively odds-on and I agree they will probably win the game, but it will be a lot tighter than what the odds are saying because West Brom are a very decent side.
PAUL PREDICTS: 2-1
Man Utd v Stoke
Quite simply, this is a must-win game for Manchester United. They are eight points off the top of the table and I would say they have only a very, very, very, very slim chance of winning the title now. People say they had a hard start, but they've lost to West Brom, drawn with Southampton and fell over the line against Sunderland. They are a long way behind and need to get back to winning ugly. I do fancy them to beat Stoke on Saturday, though. Stoke can't score a goal at the moment and Ryan Shawcross could be unavailable for the game, which is a big miss, and Geoff Cameron is a doubt as well. I don't see Stoke scoring.
PAUL PREDICTS: 2-0
Norwich v Cardiff
Cardiff were very unlucky against Chelsea last week. Chelsea may well have gone on and won the game anyway, but the equalising goal should never have stood and the referee has dropped a clanger. For me, Cardiff are hot and cold. They were very hot at Fulham, cold in the first-half against Newcastle and hot in the second. They started well against Chelsea, but they got picked off for fun the longer it went on. As for Norwich, I watched them at Arsenal last week and for all of Arsenal's great football Norwich looked like they could have got an equaliser when it got to 2-1 - but it went the other way. I don't think Norwich are playing badly, but they are losing the either-way games and that's a problem. They have to win here and I think they will.
PAUL PREDICTS: 2-1
Crystal Palace v Arsenal
Crystal Palace have got no chance here. The only good thing about them at the moment is their fans, who I thought were outstanding in the 4-1 defeat to Fulham, but I don't rate the team one bit. Arsenal's defeat to Borussia Dortmund was their first big test since the defeat to a Tottenham side who were gelling in September. I thought they were a bit naïve and should have settled for 1-1 instead of all bombing forward. That was a disappointing result, but I expect them to bounce back.
PAUL PREDICTS: 0-4
Think you know better than Merse? Prove it with our Super 6 game and win £1million