Paul Merson's Premier League predictions - Week 12
Soccer Saturday pundit tips defeat for Tottenham, Southampton, Sunderland and Norwich
By Paul Merson
Last Updated: 22/11/13 7:18am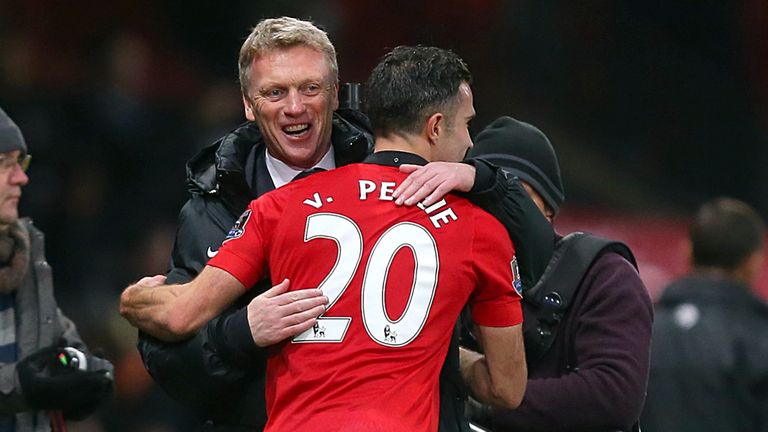 Cardiff are playing Manchester United at the right time. Everybody has just come back from the international break and there are questions over the fitness of Danny Welbeck, Michael Carrick, Jonny Evans and a few others. And remember, Manchester United will have one eye on a Champions League game they need to win against Bayer Leverkusen in midweek, so this is a good time to play them.
I don't think David Moyes can afford to rest any of his players. I reckon Man City, Arsenal and Chelsea will all win this weekend and if Manchester United drop points then they will slip further back in the title race and all the good work they did by beating Arsenal two weeks ago will go out the window. This will be a difficult game for them, but I think they will win it. The Cardiff City Stadium isn't the hardest place to go - I saw Tottenham go there the other week and they could have scored 100 - and Cardiff haven't looked good in some games, especially away from home. It all depends how long they can hold out.
PAUL PREDICTS: 0-2
Man City v Tottenham (12.30pm, Sun, Sky Sports 1)
Even though Tottenham lost to Newcastle, I think they could take a lot of positives from the game. They looked like scoring a lot of goals in the second half and they attacked with more pace and fluency than they have all season. It's the best I've seen them and they only lost because Tim Krul had an outstanding game. However, they'd have expected nine points from their last three home games and they walked away with three - which was a dodgy penalty against Hull. Overall their build-up play has been too slow this season and Andre Villas-Boas seems to set his teams up to avoid defeat, rather than going out to win.
Manchester City are a real force at home and the way they move the ball is something to behold. With no Vincent Kompany in the team then Tottenham have a chance to expose them, but it all depends on how much of the ball they get. I just think City will dominate them in that department. This is a big game and one which Tottenham need to try to make sure they don't lose - but I think they will.
PAUL PREDICTS: 3-1
West Brom v Aston Villa (7pm, Mon, Sky Sports 1)
The result of this game pretty much depends on whether or not Christian Benteke is fit. If he's on form then I would fancy Villa to beat anybody away from home. Their home form isn't the best, but when you've got Gabriel Agbonlahor and Andreas Weimann up front with Benteke then the combination of strength and pace is a match for anybody. But if Benteke isn't fit then I can't see how they'll beat West Brom. Libor Kozak would probably come into the side and he offers plenty in the air, but he's not a goalscorer like Benteke - and the other forwards are the same. He's so important to their counter-attacking game.
As for West Brom, a lot of people thought they might pick off from where they were last year and go marching towards the top of the table, but they had a difficult start and people were saying they were a one-season wonder. You've got to give them credit for the way they've responded though. They went to Manchester United and won and should have won at Chelsea two weeks ago. They drew at home to Arsenal and got a tonking at Liverpool - but one defeat in those four games isn't a bad return at all. I think this will probably be a draw if Benteke plays - but if he doesn't then I can see West Brom winning it 2-1.
PAUL PREDICTS: 1-1 (as long as Benteke is fit)
West Ham v Chelsea (5pm, Sat, Sky Sports 1)
Chelsea have had a couple of bad results against Newcastle and West Brom, which you can put down to complacency, but they are still there or thereabouts in the title race. I expect them to get back to winning ways in this game because I can't see how West Ham are going to hurt them. They put all their eggs in one basket with Andy Carroll and then he got injured, which has been a big blow. Carlton Cole hasn't played football for a long time and he'll be marked by four international footballers on Saturday, which will make it even more difficult. The worrying thing for Sam Allardyce is that they've been playing fairly well and yet are right down the bottom, but they should be ok in the long run. I can't see them getting anything from this game though.
PAUL PREDICTS: 0-2
Everton v Liverpool
I was up in Liverpool last week with a few Everton fans and they were saying they'd take a draw in this derby. I found that worrying because you'd expect them to be a bit more confident at home. I like Everton, but they haven't been great lately and they really struggled against Crystal Palace. They should have lost really and in the end it was a point gained rather than two lost. They aren't scoring a lot of goals, but I wonder if Liverpool's strikers might be a bit below par as well. Luis Suarez is coming back from a long journey and Daniel Sturridge looks to be carrying a little niggle. If there isn't an early goal this could fizzle out.
PAUL PREDICTS: 1-1
Arsenal v Southampton
I don't see anything but an Arsenal win - and even Matt Le Tissier will probably agree with me on that one. If people think Southampton are going to go to the Emirates and beat the form team in the league then they should be favourites to win the Premier League! They have been doing well this season, but have been punching above their weight and this is a journey too far. Southampton will try to squeeze Arsenal, but Arsene Wenger has got players who are comfortable and quick on the ball and can pass it around them. It was 6-1 last year and while it won't be that many this time I can't see anything but a home win.
PAUL PREDICTS: 3-0
Fulham v Swansea
Fulham have got a joint management team now... when has that ever worked in English football? I feel sorry for Martin Jol because Rene Meulensteen can't lose whatever happens. If the results don't improve then he'll just say that he can't work miracles with an ageing team, but if they do well then everybody will give him the credit for it. In my opinion Fulham will not go down this season and they've been getting a lot of unworthy stick. At the end of the day most of the teams in the Premier League just need to come fourth bottom and if you don't start well you'll always be up against it. I thought Swansea would kick on after last season, but they've disappointed me so far and I think this will be a draw.
PAUL PREDICTS: 1-1
Hull v Crystal Palace
The length of time it has taken Crystal Palace to get a manager in place has become a bit of a joke and that gap has not been good for the football club. However, I have to say that the fans have been absolutely brilliant this season; they never stop singing and have been a different class. I've watched a lot of Hull this year and I think they and Southampton are the two most organised teams in the Premier League. For that reason I can see them edging out Palace at home.
PAUL PREDICTS: 1-0
Newcastle v Norwich
Norwich's game with West Ham was certainly a game of two halves... it was almost like they were playing on a slope with the wind behind them. Chris Hughton must have been thrilled to hear the half-time whistle because they were getting well beaten, but then they came out and won well after the break. However, I can't see Newcastle losing at home. They have got some very good players who are finally starting to gel - as we saw against Chelsea and Tottenham. People say Tim Krul played well against Spurs, but you have to ride your luck against the top teams. Surely if they can win those games then they can beat Norwich?
PAUL PREDICTS: 2-1
Stoke v Sunderland
Sunderland beat Manchester City a fortnight ago and who'd have predicted that? I've been very impressed with the way Gus Poyet has started and I think he's got things spot on tactically (just look at how well they performed against Hull with nine men). Unfortunately I don't see them winning this game and I am just going to go for Stoke. If they can turn their possession into more goals then they could be a force and I think this game could kick-start them a little bit. I'm going for them to win narrowly.
PAUL PREDICTS: 1-0
Think you know better than Merse? Prove it with our Super 6 game and win £250,000