Paul Merson's Premier League predictions - Week 15
Soccer Saturday pundit sees positive results for Arsenal, Aston Villa and Swansea this weekend
Last Updated: 06/12/13 12:16pm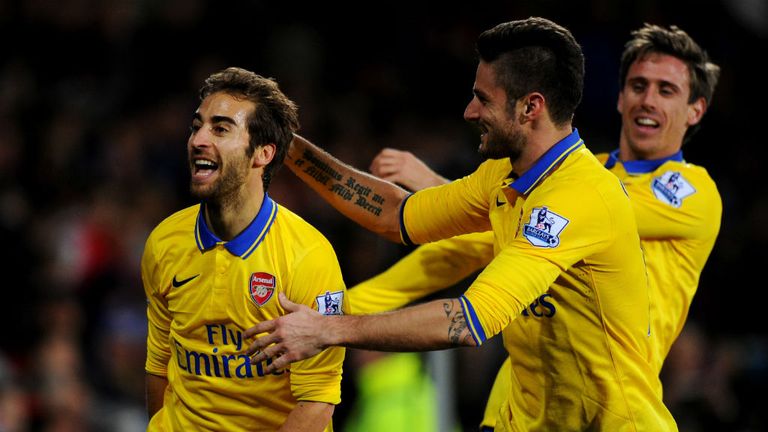 This should be a good game and it's definitely a big game for both teams. Hull had a great result against Liverpool and even though they lost to Arsenal on Wednesday it wasn't like they got run ragged. They are very hard to break down and will go to Swansea and be very solid on Monday night.
As for Swansea, they had a really good result against Newcastle but the scoreline wasn't really a fair reflection. People will pick up the newspapers and think they thrashed them 3-0, but it could have gone either way. There were a couple of dodgy penalty decisions that went their way so they shouldn't get carried away.
It was a good result though and I think they should have just enough to beat Hull with the confidence they will take from that game. A lot will depend on the first goal; if Swansea score early they should win comfortably but they could be in for a long night otherwise. I'm going to go for Swansea - just.
PAUL PREDICTS: 1-0
Arsenal v Everton (3.30pm, Sun, Sky Sports 1)
I'm going to be at this game for Super Sunday at the Emirates and I'm looking forward to it. Everton are doing very well, but at the moment nobody is playing better than Arsenal. Everton won at Manchester United in midweek, but for the first time in a long time it's probably harder to go to the Emirates than it is to go to Old Trafford.
I watched Everton against Crystal Palace a few weeks ago and they didn't look like winning, but since then they've scored three against Liverpool, four against Stoke and have won away at Man United. It's a funny old game.
I expect Olivier Giroud to come back into the Arsenal team. He was rested against Hull, but I don't think Arsene Wenger would have done that if Curtis Davies (who had Luis Suarez in his pocket last Sunday) hadn't been banned. He played Nicklas Bendtner instead and that was a big gamble, in my opinion.
I don't like seeing managers gamble like that (I know that might sound funny coming from me...) because it only takes one bad result and the wheels could fall off for Arsenal. It's fair enough losing to one of the big boys, but why risk dropping points at home to Hull? Thankfully it worked out and with Giroud back in the team I see them beating a good Everton side.
PAUL PREDICTS: 3-1
Fulham v Aston Villa (12.30pm, Sun, Sky Sports 1)
Aston Villa had the result of the week at Southampton. They won 3-2 and I didn't see that result coming in a month of Sundays. I usually back Villa away from home, but Southampton have been playing well at St Mary's - and even though Villa only had 30 per cent of the possession they managed to win, so fair play to them.
I wasn't surprised to see Christian Benteke get left out because he's been shocking in the last few weeks. Some people come into the Premier League and get a free year because people don't know much about them - but now teams are spending time in training working on ways to stop him.
It will be hard for him, but the good players step up and it'll be interesting to see what happens in the next few months. I expect him to be on the bench again because Gabriel Agbonlahor and Libor Kozak both scored and they won 3-2. It would be bad luck if one of them gets left out.
Fulham are in major trouble, but there was an improvement against Tottenham. They played well, but they still lost the game and that's a major worry. However, you just need to look at the other leagues to see what a few good results can do.
Yeovil and Accrington Stanley looked doomed a few weeks ago, but now they are on the up. If Fulham can win a few games they'll be right back in it and they have pencilled this game in as one they can win. However, I think Villa will probably do it.
PAUL PREDICTS: 1-3
Sunderland v Tottenham (5pm, Sat, Sky Sports 1)
This will be a hard trip for Tottenham on Saturday night. Sunderland scored three goals against Chelsea in midweek and still lost the game, but Gus Poyet will be telling his players that if they keep scoring goals at home every week they'll soon start winning more than they lose.
I thought Tottenham were lucky to come away with a win against Fulham, but they deserve credit for the way they responded to losing 6-0 to Man City. They drew with Man United and won in midweek, so you can't ask for more than that.
Andre Villas-Boas has to decide whether to stick with Jermain Defoe up front (I can't see him playing both him and Roberto Soldado) and I think he should. There's no point bringing Defoe in for one game and then dropping him; he needs six or seven games on the trot to get on a run.
Villas-Boas will say they need to win this game because things are so tight at the top of the Premier League, but I've been impressed with Sunderland under Poyet and I think this will be a draw.
PAUL PREDICTS: 1-1
Crystal Palace v Cardiff
This game is absolutely massive. Cardiff will be very happy after going to Stoke in midweek and drawing 0-0 and Crystal Palace had a great result against West Ham. Both teams will want to keep the momentum going and I don't think either of them can afford to lose. I think this will be one of those games where both sets of players will want to avoid making mistakes and it should be very cagey and tight.
PAUL PREDICTS: 1-1
Liverpool v West Ham
When West Ham are expected to attack (like against Crystal Palace or in their home games) they can get picked off. But they are capable of going away to the big teams and defending and making it very hard when there's no expectations on them. They went to Liverpool last year and drew 0-0 and are capable of doing that again.
Luis Suarez was phenomenal against Norwich and scored four world-class goals, but where would Liverpool be without him? People talk about Olivier Giroud at Arsenal, but Liverpool are so reliant on Suarez. If West Ham get through the first 20 minutes I see them frustrating Liverpool - but if Suarez is on top of his game he will get a chance at some point.
PAUL PREDICTS: 1-0 (or 4-0 if they score in the first 20 minutes)
Southampton v Man City
Man City got well beaten at Southampton last year and I think they will have payback on their minds. The wheels seem to be falling off for Southampton a little bit - they have conceded eight goals in their last three games after a great start. They play a pressing game which is very tiring for the players.
When you're winning you don't feel tired, but when you start losing games and leaking goals you feel tired much more quickly. They dominated the possession against Aston Villa, but let in three goals which is unlike them and I think Man City will move the ball around too quickly to let Southampton close down effectively.
PAUL PREDICTS: 0-3
Stoke v Chelsea
In the past Stoke would get the ball forward quickly and cause problems for teams like Chelsea. People used to criticise Tony Pulis for long-ball football, but sometimes that's the only way to give your team a chance. Nowadays they try to play football, which is good, but when you play another footballing side with better players then you're not going to beat them. It's alright against the lesser teams, but if they try to out-pass Chelsea then there's only going to be one winner. I see Chelsea going there and winning on Saturday.
PAUL PREDICTS: 1-3
West Brom v Norwich
I'm doing this game for Soccer Saturday. Norwich got well beaten by Liverpool in midweek and West Brom lost 3-2 to Man City - although the scoreline covered over the cracks because City were in control for most of the game. I think West Brom play decent football and are always hard to beat at home, so I would favour them here. Norwich are a better team than people give them credit for but I think they might be a bit shell-shocked after what Luis Suarez did to them on Wednesday night.
PAUL PREDICTS: 3-0
Man Utd v Newcastle
Man United go into this game with no Michael Carrick, no Wayne Rooney and possibly no Robin van Persie. If Van Persie is fit then they have a chance, but if you take the best three players out of any team then you struggle to see how they can win.
I'd say the same if you took the best three players out of the Arsenal team or the Liverpool team or whoever. If they are missing then I don't see why Newcastle can't go there and get a result. They didn't deserve to lose 3-0 to Swansea and they've got every chance.
I think Man United are out of the title race now, but if they don't win this then their top-four aspirations are struggling. It's okay if you are chasing one team, like when they closed a 12-point gap on Newcastle to win the league, but there are eight teams ahead of Man United right now.
They need to win this game badly, but I don't see them winning it. However, if they can get the three points without those three key players I think it would be massive for David Moyes.
PAUL PREDICTS: 1-1
Think you know better than Merse? Prove it with our Super 6 game and win £250,000