Paul Merson's Premier League predictions - Week 21
Soccer Saturday pundit sees wins for Cardiff, Fulham, Everton and Chelsea
Last Updated: 10/01/14 10:33am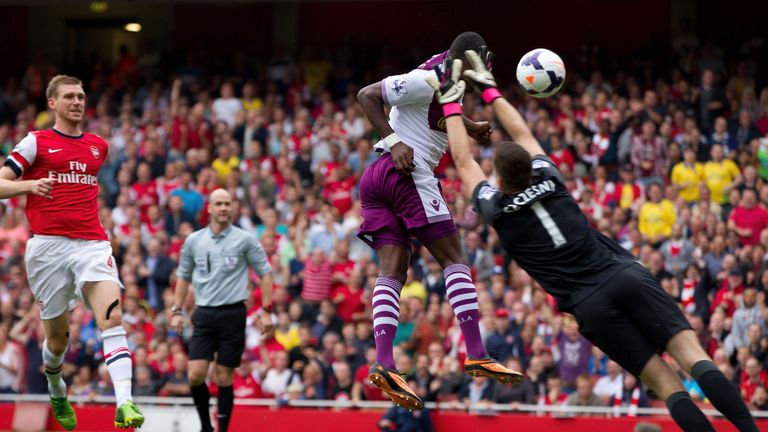 I can't see anything but an Arsenal win on Monday night. Aston Villa went out of the FA Cup to a League One team last week and that will kill the confidence of the players - and it will make Arsenal even more confident because if they're losing to Sheffield United then what chance will they have against Arsenal? Villa's home form is so atrocious that they're letting teams have 70 per cent of the possession against them and that can't be allowed to happen. To be honest, I see it as impossible for Villa to win but, of course, this is football... Arsenal's lack of pace won't be so much of a problem against Villa because they let you have too much of the ball. If you're conceding 70 per cent possession to a team with Jack Wilshere, Santi Cazorla, Mesut Ozil and Tomas Rosicky then they are going to open you up by the end of the match.
PAUL PREDICTS: 1-3
Stoke v Liverpool (3.30pm, Sun, Sky Sports 1)
Stoke have only lost one game at home all season. People say they haven't played like the old Stoke this season - and I'm one of them - but they are still hard to beat at the Britannia. It remains a hard place to go and this is a big game for Liverpool because they need to win this to keep up with the other teams near the top. They're playing a team that doesn't lose at home very often and I can see this being a draw, especially if the weather isn't very good. It's hard to get the ball down and play when there's a gale-force wind blowing around that stadium!
PAUL PREDICTS: 1-1
Newcastle v Man City (12.30pm, Sun, Sky Sports 1 & Sky 3D)
This is a hard game for Man City after another disappointing away game against Blackburn last week. A lot depends on Yaya Toure who, in my opinion, is the most important player - along with Sergio Aguero - when they play the top teams away. They will be fine at home with the squad they've got, but they need those two to play well in the hard away games - and I think this is a hard away game. Arsenal only just nicked a win at Newcastle and I was shocked to see them go out of the FA Cup last week. I think this will be a draw because if Newcastle can get rolling and get their tails up then they have enough matchwinners in the team to do some damage.
PAUL PREDICTS: 1-1
Man Utd v Swansea (5pm, Sat, Sky Sports 1 & Sky 3D)
Where do I start with Man United? This is their biggest game of the season so far. If they fail to win this and then Chelsea beat them next week then you can write off the top four already. Even a run of winning six on the trot might not be enough. They have done well against the bottom teams, but they've only beaten one of the top nine this season (Arsenal at Old Trafford) and have only picked up nine points from those games. It's almost as if they need to score first in matches if they want to win them. I know Swansea won there in the FA Cup, but I would be shocked if they won again. Man United will be wounded and they HAVE to win on Saturday; I don't think they've been very good at all, but I just think they will nick this. At least in the last 30 minutes against Swansea last week there was a bit of light and there were signs of the old Man United who went for it when they went behind. I'll go for a narrow home win.
PAUL PREDICTS: 3-1
Cardiff v West Ham
This is the biggest game of the whole season so far. Whoever loses here could be relo'd. If Cardiff lose this match then West Ham will go above them on goal difference and then they are unlikely to get anything from their next two games against Man United and Man City. They could be stuck in the bottom three and that will be demoralising. However, if they win then they will be six points clear of West Ham and will most likely still be above them after those two tough games. That's why this is massive.
If Sam Allardyce got the sack then any other team at the bottom would take him, but he's in a major rut with West Ham. They are missing centre-backs, which is a real problem, and they've got no centre-forward. They've had bad luck, but the way they've lost matches is really not good. They've brought in Roger Johnson, who can't get in a League One team and has been on loan at a team near the bottom of the Championship. That shows you where West Ham are at the moment and I've got to go for Cardiff. I really hope West Ham don't go down though because their fans are a different class - just look at how many went to Nottingham Forest and Man City this week!
PAUL PREDICTS: 1-0
Everton v Norwich
Everton had a dodgy result against Sunderland on Boxing Day, but still managed to dominate the game with 10 men and have won both of their home games since then. I expect them to win this game against a Norwich side who are in trouble - but you can say that about every team in the bottom half of the table. If you can put two wins together then you will get out of it, but I just can't see Norwich getting anything out of this one.
PAUL PREDICTS: 3-1
Fulham v Sunderland
This is another massive game, absolutely huge. Sunderland will wish they could take their cup form into league games because they've won six in a row. That sort of form would put them in the top half! However, I think Fulham are homers. They turn it on at Craven Cottage, as we saw in their massive game against West Ham after they'd been absolutely hammered by Hull. They followed that up with a decent result at Norwich in the FA Cup and overall I think they are a completely different animal at home. I predict a home win and that will put Sunderland majorly in trouble.
PAUL PREDICTS: 2-1
Southampton v West Brom
For me, this is a bit of a nothing game. These two teams, along with Swansea are middle-of-the-table. None of those sides will go down and I don't think they will be pushing for Europe either. They're the sort of teams that should be playing their strongest sides in the FA Cup. Anyway, I think this will be entertaining and I think Southampton will just edge it.
PAUL PREDICTS: 3-2
Tottenham v Crystal Palace
I hope Tim Sherwood does well at Tottenham because he's a good bloke, but the only thing he's really changed is playing Emmanuel Adebayor. A lot comes down to how well he plays because he can win you a football match, but if he doesn't play well then they're back to where they were. He goes from 10/10 to 3/10 and he was back to the latter against Arsenal last week, which is him all over. I think they can beat teams like Palace when he doesn't play well, but that won't be the case against top-half teams. Palace have been absolutely brilliant under Tony Pulis (they've shown everybody else how to play at Man City), but I just think Tottenham will sneak this because of Adebayor.
PAUL PREDICTS: 2-0
Hull v Chelsea
Chelsea are just starting to kick into gear at the right time. They were a bit dodgy early on this season, but I watched them against Liverpool and they were outstanding and once they got on top against Southampton they ripped them to shreds. They have defended well when they've had to and when you can bring on subs like Willian and Oscar you can't help but do well. Hull are a decent team and thrashed Fulham 6-0 in their last home game, but with all due respect that's Fulham. This is Chelsea. I think it will be tight, but Chelsea will win it, most definitely.
PAUL PREDICTS: 0-2
Think you know better than Merse? Prove it with our Super 6 game and win £250,000