Paul Merson's Premier League predictions - Week 29
Merse expects wins for Chelsea, Cardiff, Norwich and Manchester United on Saturday
Last Updated: 07/03/14 9:05am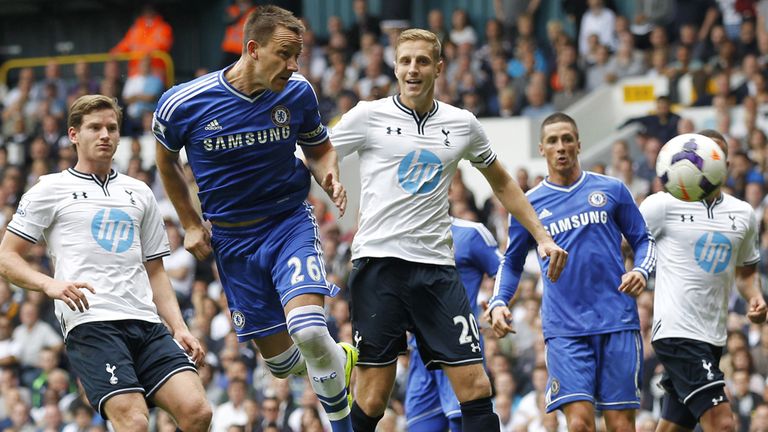 This is a great Saturday Night Football game and I don't think a draw is much good to either team. If Chelsea can get the win it would be massive for them. Manchester City may have three games in hand - but that's a lot of pressure on them, so getting points on the board would give Chelsea a big advantage. Looking at Tottenham, a draw is not the best result if they want to get in the top four - especially when you look at their fixtures. If they can get a win here it will make next week's game with Arsenal a lot easier. They are currently six points behind them and play them at home next Sunday so this is a chance to put some pressure on.
Tottenham have a bad record at Stamford Bridge (and at a few other places to be fair) and haven't won there since Gary Lineker scored many years ago. The current team don't make lorry-loads of chances, as we saw against Cardiff last week, but the longer this game goes without a goal the better chance they have because Chelsea will need to go for it at home. This should be a good game because both teams need to win, but I'll just go for Chelsea to get a massive win at home and go nine points clear of City.
PAUL PREDICTS: 2-1
Cardiff v Fulham
You can turn the lights out on whoever loses this. There's no coming back from this in my opinion because these teams aren't good enough to win two or three football matches on the trot. They'll have no chance if they get cut adrift and this is a massive, massive football match. The first goal is very important - and I'd be shocked if the team that scores it loses. Cardiff started well in the 4-0 loss to Hull and it would have been a different game if they'd scored early, while Fulham have started their games against West Brom and Chelsea quite well and faded late on. I wonder if all the running that Felix Magath makes them do is affecting them? Maybe he is working them too hard or asking them to do something they're not used to? I'm going to go for the home team.
PAUL PREDICTS: 2-1
Crystal Palace v Southampton
This is a hard game to call. Crystal Palace have done well and got a good point against Swansea last week and they have a chance against a Southampton team who had a lot of players playing international football in midweek. That will take its toll because it will have taken up nervous energy as well as physical energy. For Adam Lallana, Luke Shaw, Jay Rodriguez and Rickie Lambert it wouldn't be like a normal week of training; you have to concentrate and be serious the whole time and that can be draining. They'll have been worrying about getting on the plane - if they were involved or not - and all of that will have an impact. I can't see Southampton failing to score though, so I'll go for a draw. Palace often do enough to get draws, but I wonder if they can get over the line and win games?
PAUL PREDICTS: 2-2
Norwich v Stoke
Norwich had a really weird result last Sunday; you don't want to be going to Villa Park and losing 4-1 to an Aston Villa side that doesn't score a lot of goals at home. However, in the previous week they put in a good performance against Tottenham and I think Chris Hughton is a good manager who hasn't done a lot wrong. He may be the favourite to be next manager sacked - but if every favourite won then we'd all be rich people! Those odds will change every week, so I don't think he should worry about that. Stoke had a brilliant result last week and deserved to beat Arsenal, although I didn't agree with the tactics of kicking them off the pitch. Usually they are a playing team, but Norwich are a bit of a force at home and I think they can bounce back.
PAUL PREDICTS: 2-0
West Brom v Man Utd
I still don't see why West Brom appointed Pepe Mel. You look at the struggling teams - West Brom, Cardiff and Fulham - and they've all used foreign managers who haven't managed in the Premier League before. Then you look at Crystal Palace and West Ham who have experience of this division and those sides look like they are out of it. I wonder what these chief executives are thinking sometimes? West Brom were poor for the first 60 minutes against Fulham last week and only got back into it when Fulham changed their tactics - and I don't see Manchester United giving them that chance. Manchester United need to win this, as it's their first game since the loss in Olympiakos, although most of their players will have been away on international duty in the meantime. They had a good result in their last league game against Crystal Palace and need to start winning football matches. West Brom won at Old Trafford - but this team isn't as good as the one that was playing on that day...
PAUL PREDICTS: 0-3
Think you know better than Merse? Prove it with our Super 6 game and win £250,000