Paul Merson's Premier League midweek predictions
Merse expects wins for Man City, Arsenal and Everton on Tuesday night
Last Updated: 24/03/14 4:05pm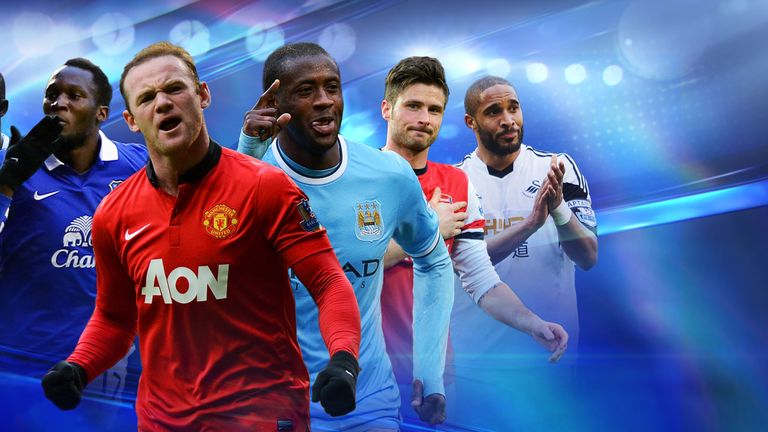 But they have to win both games. I don't think they can afford to draw many more matches when you look at Chelsea's fixtures. They can maybe afford to lose one game before the end of the season - and you don't want that to happen too early in the run-in.
It's so entertaining because it's so tight between the top three and that means they've all got to go out and try to win every game. Draws are no good to them when they're playing against sides lower down the table.
For Man United, it's all about stopping City from winning the league. They tried to stop Liverpool the other weekend and got nowhere near it, so now they need to stop City.
Fair play to them. Their confidence is up after beating Olympiakos and Wayne Rooney scoring that brilliant goal against West Ham. You can tell from watching their movement off the ball that their confidence is up again.
They have won two games on the trot, haven't let in a goal and you couldn't have asked for any more after the shocking loss to Liverpool.
They haven't got Robin van Persie at the moment and that's big, but I'd say Vincent Kompany and Sergio Aguerio are even bigger misses. They'd be the two players City don't want to lose in my opinion.
I still think Man City go into the game as favourites though. Yes, Man United have had some good results, but you've only got to look at the Liverpool game to see why I am favouring City - and remember that David De Gea had to make some good saves against Olympiakos as well.
Man City are at a stage where they have to win almost every game and I think they will just about do it. Don't get me wrong, Man United won't get an absolute run-around like they did against Liverpool but I think they will win this game.
And that sets us up for an unbelievable end to the season.
PAUL PREDICTS: 1-2
Arsenal v Swansea
Arsenal have to recover quickly from what happened at Stamford Bridge. If they lose this game then finishing in the top four suddenly looks like a dodgy situation. Remember, Arsenal play Man City at the weekend and also have to go to Everton - who have a game in hand on them. It would be an absolute nightmare if Arsenal lose this because then it would be in Everton's hands to go above them if Roberto Martinez's side win all their games. This is a big game for Arsenal and they don't want to go into the Man City game with their confidence shot.
At the same time, Swansea need a result. They can't win a football match for toffee and although people keep saying they play well, they keep on losing. They've only won one game under Garry Monk and that was his first game against Cardiff. I'd say they're in trouble, but I honestly think the three that are down there would do well to get out of the relegation zone now. If you look at their fixtures, especially Sunderland's, they are majorly in trouble.
Arsenal had a nightmare against Chelsea, but they should be able to win this game at home, despite all their injuries and suspensions.
PAUL PREDICTS: 3-1
Newcastle v Everton
I watched Newcastle on Soccer Saturday and I thought they were pretty lucky to beat Crystal Palace. It was a very even game and they won it in the last minute. They played very well against Hull, but since then they've lost at Fulham and needed a last-minute winner against Palace so you can hardly say they're in great form.
Everton still have a chance of getting in the top four in my opinion, but they need to win football matches. There's no point in them going up to Newcastle and drawing; they might as well lose 3-2 than hold on for a draw going into the last 10 minutes and that will make this an interesting game. I think Everton will go for it and will win this 2-1.
PAUL PREDICTS: 1-2