Paul Merson's Premier League predictions - Week 32
Merse expects wins for Man City, Chelsea, Liverpool and Everton over the weekend
Last Updated: 28/03/14 10:17am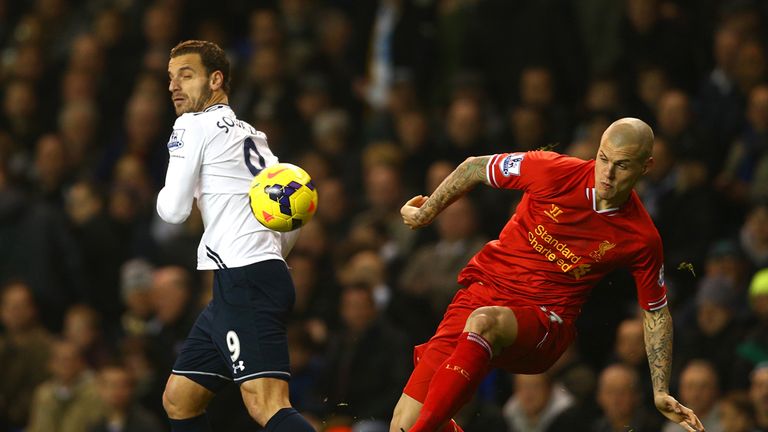 Sunderland's next four fixtures after this one are against Tottenham, Everton, Man City and Chelsea - and I can't see them getting much change out of those. I know there will be a shock result or two somewhere along the way (as we saw when Villa beat Chelsea the other week), but they need to win this game. I thought they did well against Liverpool. They set up well and looked a better team when Ki came on and they avoided the heavy defeat I expected - but now they need to go and put some points on the board. It's nearly lights out if they don't win this because it will only take one fluky result for Crystal Palace and they are in deep trouble.
West Ham won in midweek and that takes the pressure off Sunderland a little bit because they've got less to play for. A lot depends on how Sunderland start the game and they need to go for it or they risk being cut adrift by the time they play Cardiff at the end of April. This is their cup final. The Capital One Cup memory has gone and they have to win this.
PAUL PREDICTS: 2-1
Liverpool v Tottenham (3.30pm, Sun, Sky Sports 1)
I saw enough in Liverpool's game with Sunderland on Wednesday to suggest the title pressure is getting to them. They were ok in the first 30 games because nobody was really talking about them; they could score goals for fun and people were just talking about them getting in the top four. All of a sudden they are in the title picture and it's so different to play like that. A lot will depend on how they handle the nerves. Chelsea and Man City both play on Saturday, so they may need to win this game just to stay where they were - and that's a disadvantage.
This will be a hard game for them, particularly if Emmanuel Adebayor is fit because he's got a lot of pace and Liverpool's defence is not the best. I think Roberto Soldado is a good player, but if he plays then they won't have as much threat over the top - and that will allow Liverpool to squeeze and suffocate the game and win easily. I don't think this will be that easy however, and I think Liverpool will just about keep this title push going.
PAUL PREDICTS: 2-1
Fulham v Everton (12.30pm, Sun, Sky Sports 1)
Having seen Everton's fixtures, I don't think they will finish fourth, but the players won't be thinking like that. Remember, they have just won four consecutive Premier League games for the first time since 2008 - whereas the other teams in the top four are capable of reeling off seven or eight without playing well. So while that's a big feat for them, it's not really for those used to top-four football. That shows you what they're up against. They have done great to get back into the race and I think they will win this game comfortably, but I think Arsenal will beat them to fourth. As for Fulham, they took a massive battering at Man City and probably need to win half of their games between now and the end of the season. That's a big ask.
PAUL PREDICTS: 0-3
Arsenal v Man City (5pm, Sat, Sky Sports 1)
I think Arsenal are shot now, but if they can finish fourth in the Premier League and win the FA Cup then that's a major successful season for them. I'd have to say the top four isn't looking great now because I expect Everton to make up three points on them this weekend and then Arsenal go to Goodison Park in their next game. If Everton win that then they will be level on points with a game in hand! I do expect Arsenal to finish fourth, but it won't be a foregone conclusion.
I don't see Arsenal winning this game though. Arsenal won't go out and play 10 men behind the ball because they only know how to play one way - and that will play into City's hands. Manuel Pellegrini has made them look a lot more solid and Edin Dzeko and Yaya Toure are both scoring goals now. They have a big squad and if they win this game, which is a big hurdle, then I think it will take them half-way to winning the league. It's in their hands.
PAUL PREDICTS: 1-3
Man Utd v Aston Villa
In some ways this is a dead rubber for Man United because they need to focus on Bayern Munich on Tuesday night. However, it's a Catch-22 because they're not in a position to lose a game at home. Meanwhile, Villa are like a bag of Revels - you just don't know if you're going to get a toffee or an orange from them. One week they beat Chelsea and the next week they go 1-0 up against Stoke and you think it's going to end up as a big score - and it was, the only problem for Paul Lambert was it was the wrong way! I am just going for Man United to win this, but I don't really know why.
PAUL PREDICTS: 2-1
Crystal Palace v Chelsea
I don't see Crystal Palace hurting Chelsea in this game. Defensively they are decent, but they won't hurt them going forward and I can't see Chelsea going through 90 minutes of this game without scoring a goal. They were very good last Saturday and punished Arsenal for their mistakes. It was a very good result and I think they will take advantage of playing before Liverpool and Man City again this week. They will get the points on the board and say 'over to you...'
PAUL PREDICTS: 0-2
Southampton v Newcastle
This isn't the best of games, I don't think. These two teams have not got much to play for and even though Southampton had a bad result against Tottenham last weekend, and lost from 2-0 up, I am just going to go for them to win this. They have got a lot of players playing for international spaces and maybe that will be a factor. Alan Pardew will be allowed back in the ground, but only in the stands and that should make a difference because his job is to get the players up for the game beforehand and at half-time. They had a bad result against Everton and were lucky to beat Crystal Palace, so I'll go for a home win.
PAUL PREDICTS: 3-1
Stoke v Hull
Mark Hughes has done what David Moyes should have done. He has gone into a new club and put his stamp on how he wanted Stoke to play. I know it's difficult to make comparisons because Man United have different ambitions to Stoke, but Moyes hasn't put his authority on things in the same way. If you're going to go down then go down in a blaze of glory. I think Stoke have done great and all season I've said there's no chance of them going down - and they're proving me right. Hull will also be fine and were unlucky to lose to West Ham in midweek, but I think they will lose. Their big game is in a couple of weeks' time at Wembley...
PAUL PREDICTS: 2-1
Swansea v Norwich
This is a massive, massive game. Swansea will be on a high after getting a last-minute draw against Arsenal, but it's another game they failed to win. They've only won once since Garry Monk came in, but it becomes a problem when you're playing well and not winning games. Norwich are fine at home and can give anybody a game, but I don't see them giving anybody a game away because they're a bit too negative. I expect Swansea to get the win and it should be enough to keep them up.
PAUL PREDICTS: 2-0
West Brom v Cardiff
I'm doing this one for Soccer Saturday and I think I've got the best game. It's a massive, massive football match because Cardiff can't afford to lose and West Brom will have highlighted it as one of those games they have to win. They won't have too many lesser teams to play at home than this and they need to win this game badly. Cardiff played well against Everton and scored three against Liverpool, so if they play like that then who knows? If I had to pick anybody then I would definitely pick West Brom because of home advantage, but I will go for a draw.
PAUL PREDICTS: 2-2
Think you know better than Merse? Prove it with our Super 6 game and win £250,000