Paul Merson's Premier League predictions - Week 37
Merse expects wins for Arsenal, Man Utd, Newcastle and Stoke
Last Updated: 02/05/14 11:13am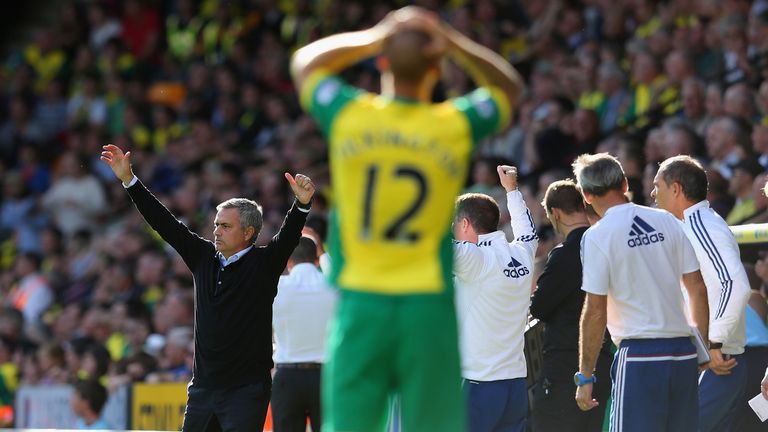 In a way, the timing of this game hasn't fallen kindly for Man City. If Arsenal played before Everton and wrapped up fourth place then the intensity might have dropped out of their game, but Roberto Martinez knows that a win would take them back to within a point of Arsenal and would put the pressure on. However, the door has opened for Man City after what happened at Anfield last week and they surely won't see it slammed in their faces again. It's in their hands to win the league and they have got every chance. I don't worry about them in the big games because when they get their game heads on they are a very professional outfit - they were very impressive against Crystal Palace last week. It's the little games where they sometimes let themselves down. I expect them to win this game, especially when you consider Everton are without Gareth Barry and a few other players. The season has caught up with them and I think City will win and go on to take the title.
PAUL PREDICTS: 0-2
Arsenal v West Brom (1pm, Sun, Sky Sports 1)
Arsenal will want to wrap up fourth place very quickly, so they can start preparing for the FA Cup Final. I tell you what, Norwich will be praying for them to win so that they rest a few players at Carrow Road next week! I think Arsenal will get the result they need, especially after West Brom climbed out of the relegation mix with that big win over West Ham last Saturday. I think they will be ok now because the teams below them would need to win six points out of six, which is something they haven't done very much all season.
PAUL PREDICTS: 3-0
Chelsea v Norwich (3.30pm, Sun, Sky Sports 1)
This game has come at the wrong time for Norwich because Chelsea can go top if they win it. If Liverpool had played first and won then the Chelsea players might have been dis-heartened, but the chance to go top is a big incentive. They will be wounded after going out of the Champions League, but that carrot will get them through. Norwich are really struggling and they just need to get this game out of the way, don't lose by a lot of goals and hope that Arsenal play a weakened team next week.
PAUL PREDICTS: 3-0
Crystal Palace v Liverpool (7pm, Mon, Sky Sports 1)
All Liverpool needed to do was draw at home to Chelsea last week and then they'd be going to Crystal Palace on Monday night knowing a victory would pretty much win them the league. They could have wrapped it up last week, but if I get the scores right then they'll be third in the table when they get off the coach. It's unbelievable how things have changed. I still think they'll win because I think Crystal Palace have hit a brick wall and looked tired against Man City last week. That's understandable because they have worked their socks off and it's hard to keep it up when you're already safe - and subconsciously you might drop off a little. I think Liverpool will win - and you just never know what might happen on the final day..
PAUL PREDICTS: 0-2
West Ham v Tottenham
Big Sam seems to be under pressure at West Ham. The crowd have been on his back and had the banners out the other day, so this is a big game for him. Tim Sherwood, who hasn't done anything wrong in his time in charge of Tottenham, will also want to win and I think he's been a bit unlucky. I'm going to go for a 1-1 draw, which won't exactly send the West Ham fans home happy, but it's better than losing to a team they don't like.
PAUL PREDICTS: 1-1
Aston Villa v Hull
If Fulham had held on to their lead against Hull last week then I'd have been really worried about Aston Villa and this would have been a completely different game. However, that result means Villa will probably have too much because the teams below them need to win two games out of two. Villa can't afford to lose this game and I can see it being a draw - and then they'll hoping teams below them like Fulham don't win both their matches, which would be a big ask. This is a big football match in other ways though - because if they lose it then you might find a few fans don't renew their season tickets for next season.
PAUL PREDICTS: 1-1
Man Utd v Sunderland
Both of these teams had really good results last week; I knew Man United would turn into the Harlem Globetrotters against Norwich and Sunderland have turned the corner and are on a right roll now. I think the euphoria factor that surrounded Ryan Giggs might go because it looks like Louis van Gaal is getting the job, but I would still go for them to win the game. I think Sunderland will stay up because they've got two home games coming up. They'll want to get this out of the way and win one of the next two, which look like decent fixtures for them.
PAUL PREDICTS: 2-0
Newcastle v Cardiff
I went to the Arsenal v Newcastle game and Alan Pardew's team were ridiculously poor. They are a big club and I really felt for their fans, who came down all that way to support their team on a Monday night when they are in the middle of the table and can't do anything. The supporters are phenomenal and I felt for them - and they should get back to winning ways here. If they don't win this then Alan Pardew is under real, real pressure. A good win here would send the fans home with a bit of enthusiasm, but if they don't then I dread to think what will happen. I would have said this was a good chance for Cardiff to get some points, but not after watching them last week. I think Newcastle will win.
PAUL PREDICTS: 2-0
Stoke v Fulham
Fulham blew it against Hull last week. They were 2-0 up and in an unbelievable position to stay up, but were too naive and ended up drawing 2-2 - and in the end it looked like they were going to lose it. I felt for the manager because he had put some attacking substitutions on to try and win the game - and after they went 2-0 up he had a lot of forwards still on the pitch and it was quite open. They really needed to shut up shop because that point might still get them out of trouble in the long run. I know Stoke lost to Tottenham last week, but I don't like to go against them at home.
PAUL PREDICTS: 2-0
Swansea v Southampton
This is one of those don't-get-injured-before-the-World-Cup sort of games. Swansea got themselves out of trouble against Aston Villa last week with that goal from Jonjo Shelvey which was probably the goal of the season. Unbelievable tekkers! Southampton don't have too much to play for either and I think this is going to be a high-scoring game. I'll just favour Swansea because as we go into the nitty-gritty I think people like Adam Lallana will be trying to avoid injury. They need to be careful now.
PAUL PREDICTS: 3-2
Think you know better than Merse? Prove it with our Super 6 game and win £250,000