Throughout this World Cup, nay throughout his career, Lionel Messi has been forced to deal with comparisons to Diego Maradona. On Sunday, just like his famous forefather, Messi will captain Argentina in a World Cup final against Germany. 1986. 1990. 2014. It's all just a case of history repeating.
On the evidence of Wednesday's semi-final, however, Joachim Loew and his German squad will sleep soundly in their beds. One of football's most wonderful aspects is its ability to produce such vastly different results despite similar ingredients, and the two semi-finals have provided the ultimate footballing chalk and cheese. 
Whilst the Germans (evidently assisted by their generous hosts) played with a vibrancy and verve, Argentina ground out victory. Each of their five wins en route to the semi-final had been by a single goal (2-1, 1-0, 3-2, 1-0, 1-0), and against the Dutch they required the excellence of Sergio Romero to take them past penalties. Romero was viewed as the weak link within the Argentina squad - this was a night for the under-appreciated to gain standing.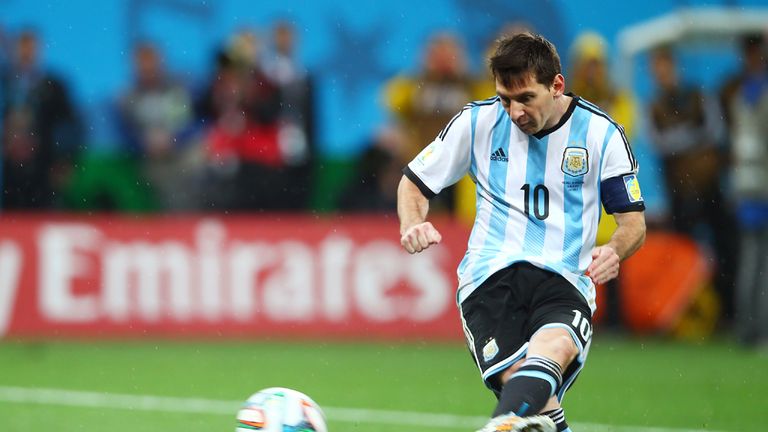 "It's football, the most illogical of sports," Argentina coach Alejandro Sabella said regarding Germany's victory in the build-up to this game. "Many times, things happen which we don't expect." 
That may be true, but this was an expectedly cagey affair, the night on which the footballing world was put back on its axis and spun at a more sedate pace. After the madness of Belo Horizonte and Brazil's catastrophic fall from grace to disgrace, the two sides delivered a more sobering fare for the goal-greedy viewer. Like waking up unfathomably hungry after a rich and gluttonous meal the night before, it was impossible not to feel short-changed. 
Both Sabella and Louis van Gaal are far too experienced to have allowed this to be anything other than a physical and edgy occasion. After Brazil's suicidal penchant for over-committing players exposed their own defensive weaknesses, this was a more realistic impression of what the latter stages of a World Cup should be like. It felt like a semi-final.
Much of the pre-match discussion had focused on a personal battle between Lionel Messi and Arjen Robben, but in truth both were kept almost entirely on the fringes, peripheral characters in a production that celebrated and cherished the perennially unheralded performers.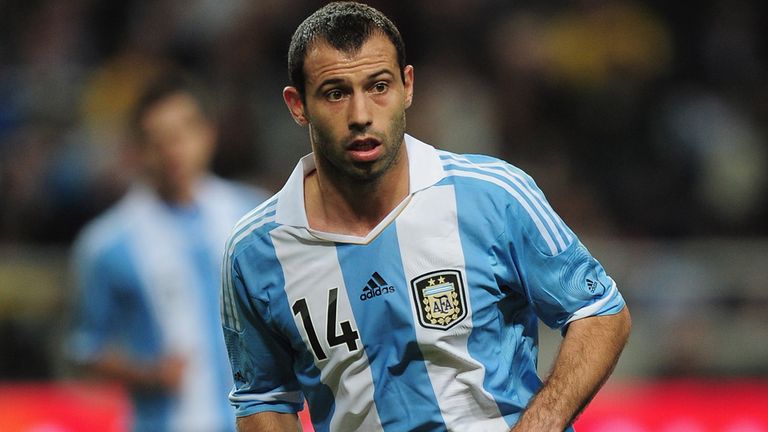 For Argentina, again, Javier Mascherano was the hero. Mascherano has been excellent throughout this tournament in his more familiar midfield role, and he was again crucial to Argentina's success in making Robben almost entirely ineffective. Robben has been the catalyst for Dutch endeavour in Brazil, but yet touched the ball only six times during the entire first half, attempting just a single pass. Even when he wriggled free in the latter stages of normal time, it was Mascherano that made the heroic sliding challenge to thwart danger. Barcelona would be well advised to buy defensive cover this summer - Mascherano has  been the holding midfielder of this World Cup.
Mascherano's night was not without controversy, however, after a clash of heads with Georginio Wijnaldum should have led to his withdrawal. The midfielder was clearly dazed and semi-conscious as he fell to the ground, and yet was inexplicably allowed to re-enter the field by team physicians. FIFA's regulations stipulate that 'any athlete with a suspected concussion should be immediately removed from play'. Will it take a death resulting from a second impact head injury for FIFA to enforce their own regulations, and place independent medical advisors in the position to make decisions? Even on such a lofty stage, this is still just a game.
If Mascherano could be considered to have been the midfielder of this tournament, then Ron Vlaar must surely be deemed the best defender - he has certainly been its surprise package.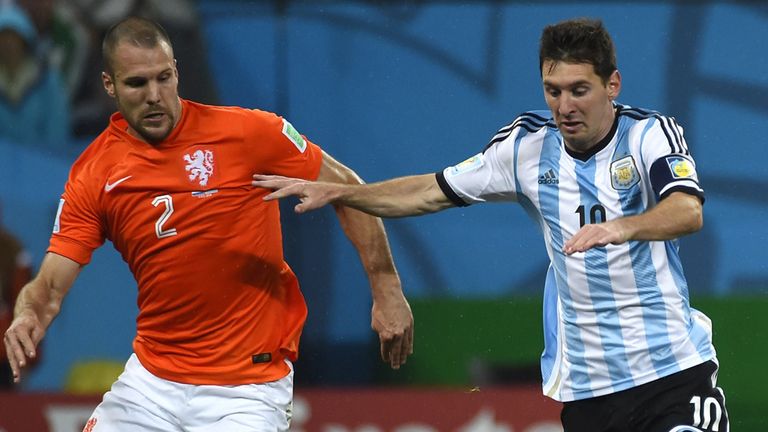 For 120 minutes, Vlaar forced Aston Villa fans to rub their eyes until they were sore, imperious and majestic in all that he achieved with minimal fuss. Lionel Messi scored his penalty and celebrated heartily, but part of that must have been a relief at being freed from Vlaar's pocket.
Vlaar won 100% of his tackles, 100% of his aerial duels, made 11 clearances (five more than any other player on the field) and registered a pass accuracy of 92% - it was as close to the perfect performance as we have seen throughout this tournament.
Alas for Vlaar, his night did not end there, although perhaps it should. Van Gaal gained significant plaudits for his late introduction of goalkeeper Tim Krul in the quarter-final, but the decision to send Vlaar to take the first penalty seems (with the wonderful benefit of hindsight) a bizarre call. Perhaps Vlaar himself insisted that he was ready but, whatever the reasoning, his weak and nervous attempt was easily saved by Romero. On a night during which the two sides could barely be separated, the initiative had been gifted - it was taken readily.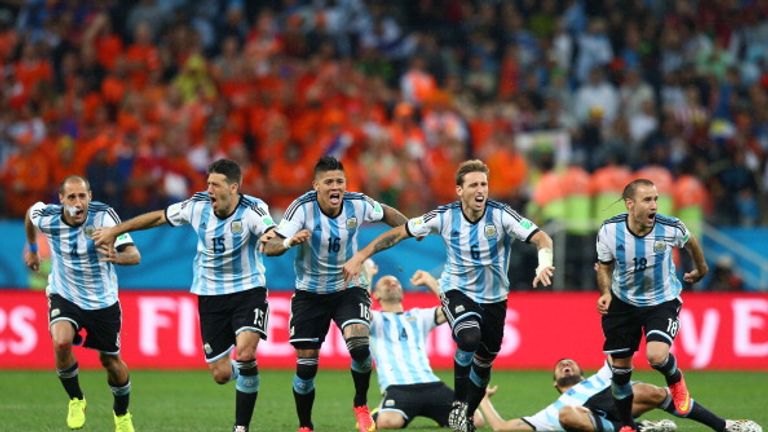 This Dutch side have performed beyond any reasonable expectation of them during this World Cup, exactly as in 2010, but that will be of little consolation. Louis van Gaal has increased both his own reputation and heightened the sense of anticipation surrounding his arrival at Old Trafford, but he will remain, for now, bitterly dissatisfied. For the second World Cup in succession, 'close but no cigar' is a disenchanting Dutch feeling.
For Argentina, however, the chance for redemption and revenge. La Albiceleste have been knocked out by Germany at three of the last six World Cups, but they must now take on a team at the irresistible peak of its powers. Messi might be a magician, but on Sunday he may well be forced into revealing his most eye-catching trick yet. The whole of Brazil is urging him to fail.
Watch Lionel Messi in Champions League action on Sky Sports 5 next season. Activate our brand new channel by clicking here.