Dominic Iorfa: Wolves full-back impressing with pace and power
Last Updated: 14/08/15 12:00pm
Wolves right-back Dominic Iorfa continues to catch the eye, writes Adam Bate.
It was in an otherwise uneventful goalless draw at Fulham in the FA Cup third round that the chants for Dominic Iorfa, really began to grow. As the noise from the Putney End increased the youngster appeared flustered, self-consciously ignoring the hullabaloo. Understandable. The rise had been quick.
"I don't know many right-backs that have got a song about them," said Wolves manager Kenny Jackett, quoted in the Express and Star. "It's usually the centre-forward isn't it? That just shows you how well he's done and how popular he is. He's made a fantastic impression and the supporters have taken to him." He's not wrong. And yet, few saw it coming.
After all, Sam Ricketts had captained Wolves to the League One title the previous season and was expected to lead the team again on their return to the Championship. With Matt Doherty also highly thought of at right-back and fellow academy graduate Ethan Ebanks-Landell also an option, Iorfa's breakthrough was not anticipated outside of Molineux.
But Jackett had seen something in the young man from Southend. He'd been impressed by how Iorfa had stood up to the physical challenge of Oxford's robust forward Danny Hylton in a pre-season game in the summer of 2014. When Wolves faltered in the winter, Jackett felt confident enough to throw the then teenage Iorfa into Championship action.
Not that he was unprepared. Iorfa had enjoyed a spell at Shrewsbury in the early part of last year – an experience he described as "completely different" to youth-team football – and it went well. Shrewsbury coach Mike Jackson hailed his performances as "unbelievable" and was struck by Iorfa's positivity. "He's a young lad who plays with no fear," said Jackson.
He was soon challenging Championship wingers with the same enthusiasm. "When I made my debut for Wolves, I already knew what men's football was all about," he explained. It was reflected in his stats. Iorfa was one of only four regular defenders in the division to average three tackles per game.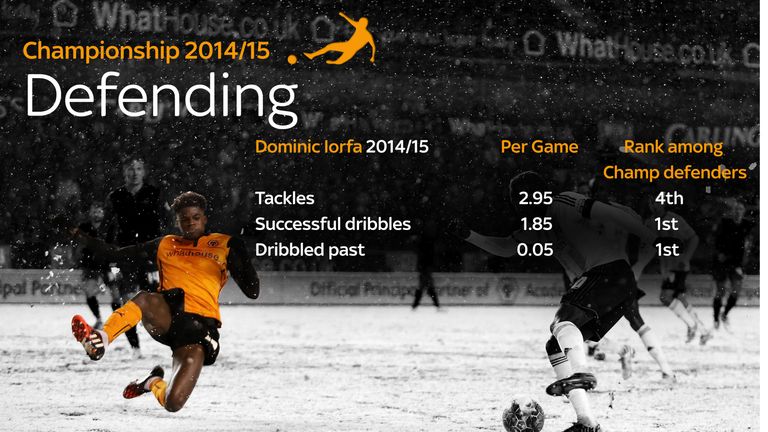 It wasn't just the tackling stats that highlight how difficult he is to beat. Iorfa's combination of pace and strength makes him a formidable opponent in a one-on-one situation. No Championship defender in the country was dribbled past so rarely – only once in 20 league appearances last term.
Tall for a full-back, he can appear gangly going forwards but that's not prevented him being effective thanks to those aforementioned natural assets. Remarkably, Iorfa also ranks among the top 10 dribblers in the division – beating his marker more often than any other defender in England's top two divisions in 2014/15.
"Defensively he's been very, very sound and I think his extreme pace is an asset in bringing the ball out," said Jackett. "I now feel the last bit for him is working at his crossing. His final ball when he gets up and around that box is something he'll need to add. It will add to considerable assets for a right-back because his pace and athleticism are terrific."
His influence certainly helped propel Wolves up the table last season. After making his full debut in a team that had lost four consecutive matches in November of last year, Wolves went on to pick up 40 points in the 20 Championship games he started – title-winning form. It is a measure of what he brought to the side.
Evidently, there are elements that remain unpolished. An England Under-20 game against Mexico in March, his first experience against non-European opposition, proved an eye-opener and he was subsequently sent off in the Toulon tournament against Morocco. England coach Aidy Boothroyd admitted the incident was all part of the "learning curve".
But learning is precisely what Iorfa is doing. Given his physique, it could be that he eventually finds a role at centre-back, but for now the right-back role gets him on the ball and gaining vital experience. Maintaining his progress with Wolves and a place in Gareth Southgate's England Under-21 team ought to be his next targets.
"He's showed fantastic improvement, development and potential and we feel, and I'm sure the supporters feel, there's big improvements to come from him as well," added Jackett. "Could he go on and play in the centre in time? Yes. But right now, my thoughts and my plans are for him at right-back, where you can really see his pace opening teams up."
After playing the full 90 minutes in Wolves' opening game against Blackburn at Ewood Park, he returns to Molineux this weekend to continue his education in front of the Sky Sports cameras against Hull. Expect to hear his name chanted again. If he continues to improve, Dominic Iorfa will need to get used to it.