Christian Eriksen will prove pivotal for Denmark at the World Cup - but there is a lot more to their hopes than just the Spurs midfielder.
The Danes have had a tough time since coming from nowhere to win Euro '92 and then narrowly losing to Brazil in the quarter-finals of the 1998 World Cup.
Since thrashing Nigeria 4-1 in Saint-Denis that summer, they have failed to win a knockout game in a major tournament, albeit they have only got out of their group twice - and have failed to qualify altogether four times.
With a population of barely five million, it is a major ask for Denmark to consistently qualify without the need for a superstar talisman like Christian Eriksen - and his hat-trick against Ireland in the play-offs did just that.
But it's not just about the Spurs midfielder.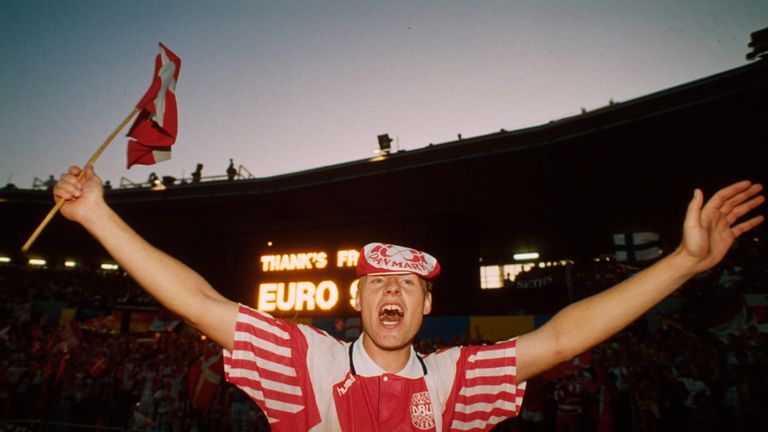 Instead, it would be better to focus on a player who never really reached the heights in England's top-flight, but typifies why Age Hareide's side are unbeaten in more than a year - even though he will not be in Russia himself.
When Nicklas Bendtner, often derided during his 10-year spell at Arsenal, returned to these shores to join Nottingham Forest in 2016, few expected his career to fall off a cliff quite so much as to score two goals in 17 games, and disappear out the exit door to join Rosenborg after just six months.
Not quite the architect of an international revival? Well not until you look at the turnaround since. Bendtner's move, welcomed by Forest, was one of tunnel vision for the forward. One last hope to revive his international career - after going all of 2016 uncapped owing to his poor form.
Fast-forward 14 months, and the 30-year-old is back in business, netting 19 in 29 in the Norwegian Eleteserien last year and topping the goalscoring charts for the whole league.
And while adding the final goal in that 5-1 drubbing of Ireland appeared inconsequential to most, to Bendtner it marked some redemption from his darker days - as well as his first international goal in almost three years - and the cherry on top of a World Cup place with his country.
Or so it seemed, until an injury suffered while playing for Rosenborg last month scuppered his chances of a dream ending to his revival, in what may well be his final chance on the world's biggest stage.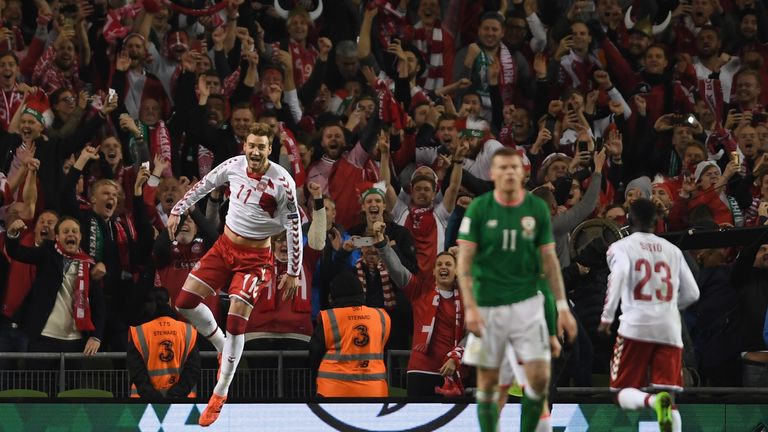 His loyalty to the Denmark national team is not a preserve of Bendtner alone, by any means. It's what has underpinned the country's qualification - as much as Eriksen's heroics.
Nicklas Clausen, a freelance Danish journalist, told Sky Sports: "The impossible actually seems to have happened with Bendtner, and he's become a mature player and person. He rejected a very lucrative move to China in January because he wanted to play at the World Cup.
"That move to Norway was all about saving his international career, and it's a great symbol of the team and the loyalty the players show.
"Having players who our national team manager feels he can trust 100 per cent has always been the most important factor for a country of our size.
"For instance, Daniel Wass has been a very important player for Celta Vigo for the last couple of years, and Pierre-Emile Højbjerg plays regularly in the Premier League for Southampton, yet they didn't make the final squad, and that's because the manager questions their loyalty towards the national team.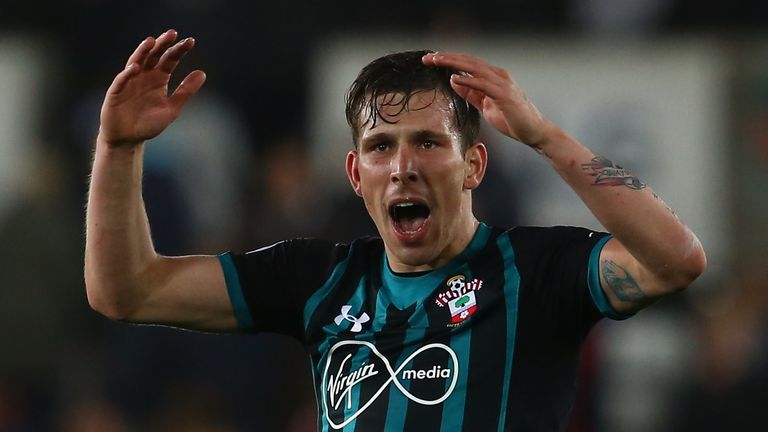 "In their place, we have 34-year old Michael Krohn-Dehli and a midfielder called Lukas Lerager, who plays for Bordeaux in France, and some of the population here don't really know who he is!
"Brentford's Andreas Bjelland would have been in the squad too but was injured, so Andreas Christensen will likely line up at the back instead. It might sound bizarre picking a Brentford defender over a Chelsea one - but that just shows how much it's about the manager playing the players he knows he can trust."
Of course, whatever magic Eriksen can conjure will still have a massive influence on the success of Denmark at the finals.
And that comes down to Hareide's influence as much as anything. Since he took the reins, Eriksen's goal tally for his country has shot up from six to 21.
"It's the first time in many years we've had a player as influential as that, and I believe that's very important in a World Cup," Clausen added.
"Just look at how individual player performances have been linked to team performances at recent World Cups; James Rodriguez and Colombia, Asamoah Gyan and Ghana and Diego Forlan's Uruguay come to mind.
"Other than that, we do really feel that we have a strong core, and the team pretty much picks itself."