Remembering Euro 96: Jamie Redknapp, Darren Anderton, Stuart Pearce and Steve Howey
By Patrick Surlis
Last Updated: 01/06/16 10:54pm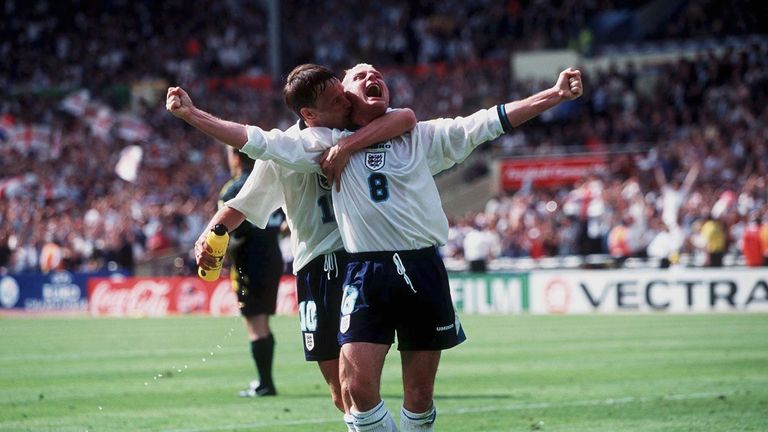 For England football fans of a certain age, Euro 96 remains the pinnacle, when, for a summer at least, the Three Lions seemed invincible.
Twenty years on and with Euro 2016 kick-off 10 days away, we spoke to four members of Terry Venables' Euro 96 squad - Darren Anderton, Stuart Pearce, Jamie Redknapp and Steve Howey - to get their memories from one of England's finest tournament performances.
Euro 96 brought a major championship to English stadia for the first time since 1966, and with it the pressure to live up to past glory, but a pre-tournament trip to the Far East got preparations off to a rocky start.
Paul Gascoigne's 29th birthday celebrations went on well into the Hong Kong night as Redknapp, then aged 22, remembers: "Our issues before the football started with the 'Dentist's Chair' and all that - it was a night that got out of hand."
The papers predictably had a field day and the headlines in the build-up to their opening group game against Switzerland were brutal.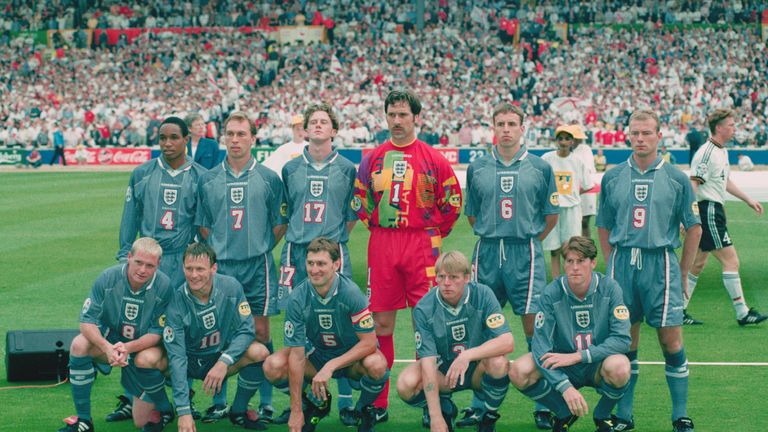 "A bunch of has-beens show up a bunch of wannabes" was the Daily Mail's verdict after Venables' side scraped a 1-0 friendly win over a Hong Kong XI. "Sporting morons" was another slightly more succinct put-down.
"We got quite a bit of criticism because of that Hong Kong trip, but the connection between the lads was excellent," Howey, a substitute in all five tournament matches, told Sky Sports.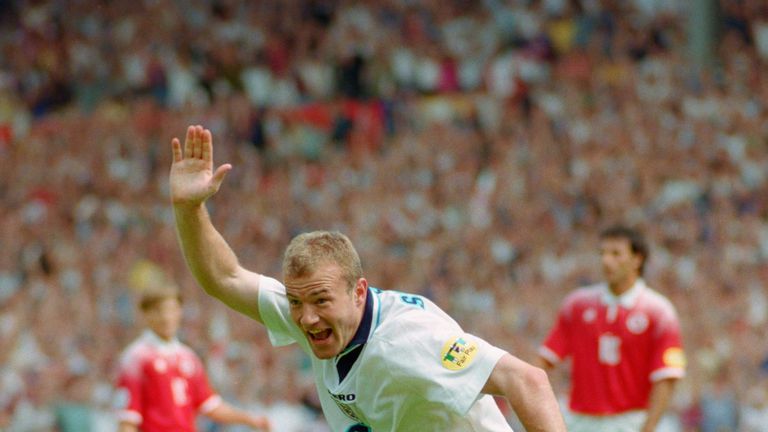 A 1-1 draw at Wembley against the Swiss, led by former PSG and Porto boss Artur Jorge, opened the door to further cynicism.
"There was so much optimism as the host nation, and it did seem to change after that first game," Anderton added.
"We didn't get off to a fantastic start but we knew we had fantastic players. We had tough games to come against Holland and Scotland, but we thought one good performance could send us on our way."
A meeting with Craig Brown's Scotland was always likely to be a nervy affair, and the game ultimately turned on the introduction of Redknapp with the score goalless.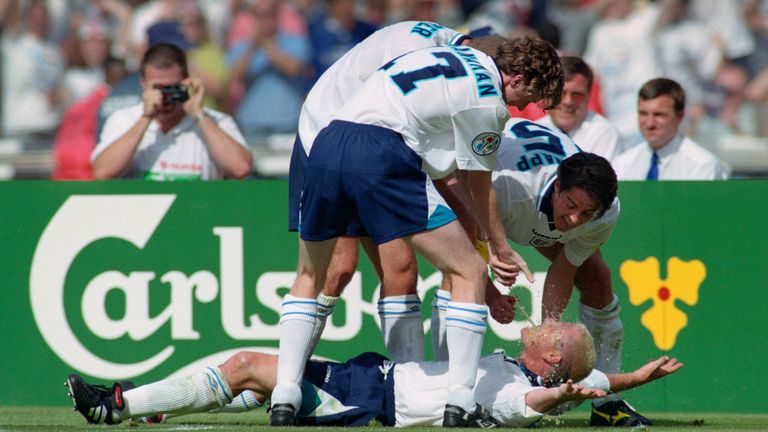 The Sky Sports pundit recalls: "We weren't great and Terry made a superb tactical substitution at the break! We started to play a little bit - Scotland were a very good side - but we just had the edge, Gazza was immense and his goal was so good."
Gascoigne's flick over Colin Hendry and volley past Andy Goram remains one of the defining moments of the tournament, but while England showed signs of quality in the 2-0 victory over Scotland, it was not until the 4-1 thrashing of Holland in their final Group A match that the whole nation seemed to unite behind them.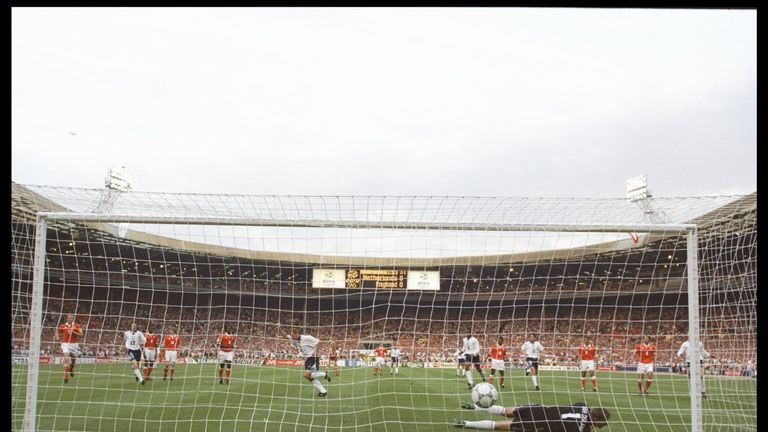 Twenty years ago last week, Baddiel and Skinner's 'Three Lions (Football's Coming Home)' stormed to No 1, and roared on by that unofficial national anthem, England fever spread ahead of a quarter-final date with Spain.
"As we progressed, there were more and more people on the route to Wembley," Anderton remembers. "Heading to games down the M40, you started noticing flags everywhere. It was surreal, and like nothing I have experienced before or since."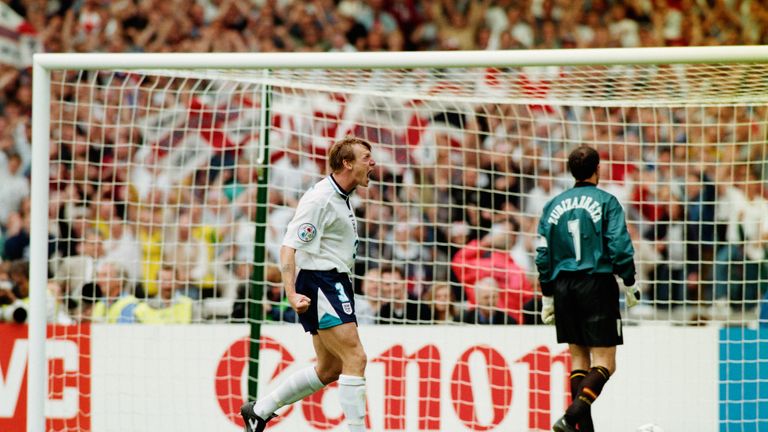 It would come down to a penalty shoot-out, now most often remembered for Pearce's celebration after his successful take. Having failed from the spot against Germany in the World Cup semi-final at Italia 90, was it relief or elation?
"I knew that it was going to be my last tournament," Pearce told Sky Sports. "I planned to retire so I knew whichever match was our last was going to be my last one too."
England rode their luck against the Spaniards, who were denied by the assistant referee's flag and an inspired performance from 'keeper David Seaman. The Arsenal stopper was the eventual hero, keeping out a spot-kick by Miguel Nadal - Rafa's uncle - to seal progress on penalties after a tense 0-0 draw.
"We didn't play particularly well," Pearce admitted. "Spain were better than us but as luck happens, we had a goalkeeper who was probably the best in the world at the time."
Now only Germany stood between England and their first major final since 1966.
"The drive to Wembley was frightening," Anderton recalls. "As we got nearer the stadium, Alan Shearer put on 'Football's Coming Home' to get the boys pumped up and ready.
"Once we got to the stadium, it felt like there was already 100,000 people there. I remember staying out for the warm-up probably longer than we should have done, with Baddiel and Skinner on repeat. It really did get us going."
A national TV audience of 24 million was celebrating inside three minutes, Shearer nodding in his fifth and final Euro 96 goal to put England in dreamland, but Germany swiftly struck back through Stefan Kuntz.
The game ebbed and flowed but the hosts looked the more likely to grab the winner in extra time, Gascoigne a shaved stud away from a Golden Goal and Anderton denied by the width of the post.
"I try and forget about that even now," Anderton said, reliving his near miss. "Steve McManaman crossed and it was one of those that was just a fraction behind me.
"I got my foot on it as I was falling backwards and when I hit it, I thought it was in, but it hit the post - and not only that, it bounced right back into the goalkeeper's arms.
"That's when you start thinking, 'maybe this is not meant to be.'"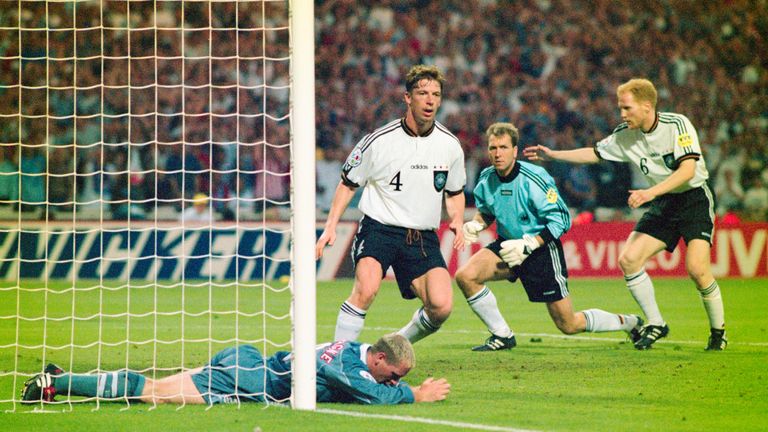 Two hours of high-energy football came and went in a flash, but curiously Venables didn't make a single substitution.
"The adrenaline was pumping so much, it felt like you could play for another 120 minutes," Anderton, who played the full game, added.
"It was that sort of night. When you're playing well as an individual and a team, you can run forever, and that's how it felt."
For the second match running, England would face a shoot-out. Spot-kicks now leave all but the most optimistic England fan resigned to defeat, and victory over Spain remains the nation's only major tournament success in seven attempts, a shoot-out win ratio of just 17 per cent.
But it started positively on that warm Wembley night as England dispatched five in a row, matched every step of the way by Germany.
"Everyone knew Shearer would have one, because he was our taker," Pearce added. "From then, there was no real defined order. I volunteered just leading into the shoot-out to take mine."
You know the story from here. Shearer, Platt, Pearce, Gascoigne and Sheringham all beat Andreas Kopke, but when Gareth Southgate failed, German captain Andreas Moller sent England crashing out.
"It was a surreal moment, just heartbreaking," Anderton said.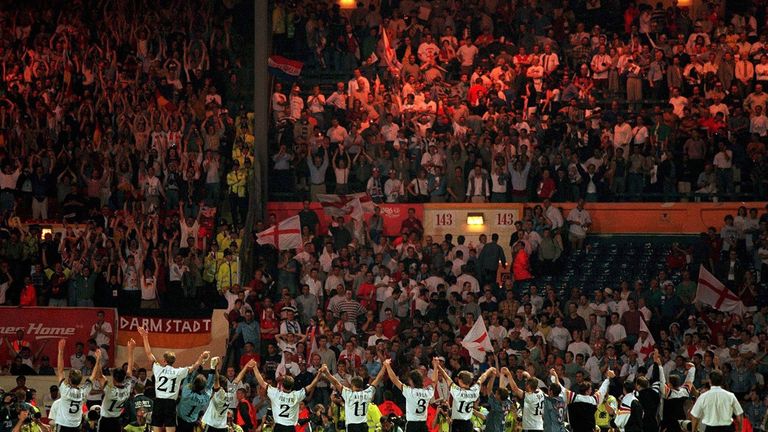 "The atmosphere after the game was almost disbelief. It was a very quiet dressing room and a quiet coach. We had a few beers in the bar back at the hotel and the realisation set in."
A thrilling friendly victory in Berlin over Germany's 2016 vintage has raised expectations for this year's squad, but many feel a quarter-final place would qualify as success for England in France.
Two decades on and no tournament since has captured the spirit of Euro 96, but Roy Hodgson takes an exciting young team to Chantilly, and if they can go one better, it could yet be a summer to remember.
"Going to the games and coming back after, especially when we won, the streets were lined with fans," Howey remembers.
"It was a beautiful summer as well. The atmosphere, the song, it just brought it all back that this was where football started. The fans played an unbelievable part in that."
Pearce agreed, adding: "It's the best tournament I was ever involved in, and the general atmosphere was by far the best I have ever experienced wearing an England shirt, there's no doubt about that.
"It just brought the whole country together."