England's Under-17s are impressing again but can they really progress?
Last Updated: 18/05/17 10:47am
England's Under-17 side are impressing at the European Championships but questions over pathways remain given the fortunes of the 2014 winners, writes Adam Bate.
When England line up against Spain in the European Under-17 Championship final on Friday, there will be a lot of excitement about the young talent on show. Rightly so. This is a group that, evidently, can rival anything on offer in Europe. Their success is a source of pride for those at St George's Park - but there is little sense of shock.
Their rise is no surprise to those in the know.
FA chief executive Martin Glenn talks of a desire to turn St George's Park into "football's Harvard" and has been keen to point to England "punching their weight" at youth level. When speaking to former England Under-16 coach Kenny Swain last year, ostensibly about Marcus Rashford, his insistence that we had seen only the tip of the iceberg was striking.
"I ought to be shouting this from the rooftops because I don't think people realise how good these players are," said Swain, a former European Cup winner himself with Aston Villa. "I remember saying to Gareth Southgate you don't know how lucky you are because you're going to see some of the finest players England have ever had over the next few years."
He told Sky Sports: "I'm not saying they will win this and that but they will give us a better chance of being successful. The England manager and the Under-21 manager over the next three or four years will have a glut of players of great talent. I know, because we had them in all those years ago. The best is yet to come.
"Now if they don't flourish, there'll be a reason."
That, of course, is the big question. Progression in the coming years will be the key and here the prospects are not so encouraging. It is no slight on the finalists out in Croatia. A look at the fortunes of England's European Under-17 Championship winners from 2014 in the three years that have passed since their own triumph in Malta tells a tale.
That England team was packed with talent. Chelsea's Dominic Solanke was the top scorer. A further five players featured in the team of the tournament. And yet, of the starting line-up that beat the Netherlands on penalties in the final, only one England player - Bournemouth midfielder Lewis Cook - has started a Premier League game this season.
PL starts in 2016/17 by England's 18-man squad from 2014
Lewis Cook (Bournemouth) --- 4
Josh Sims (Southampton) --- 1
Even Cook has made only four starts. Isaiah Brown has started 29 Championship games - 17 of them for a miserable Rotherham team - but nobody else has made more than one start in England's second tier either. Most frustratingly of all, star man Solanke has endured a season of inactivity - apparently frozen out at Stamford Bridge due to a contract impasse.
The contrast with other countries is stark. England might have beaten Portugal in the semi-finals in 2014 but two summers later, Renato Sanchez was winning Euro 2016 with the senior side. Germany didn't get that far but Benjamin Henrichs is now a full international too - part of the Bayer Leverkusen side that beat Tottenham at Wembley in the autumn.
Perhaps the most alarming contrast is with this year's finalists Spain - and a group of players who did not even qualify for the tournament in Croatia three years ago. They were eliminated by Switzerland in qualifying, but the players involved in that game have been afforded far greater experiences than their English counterparts in the period since.
Jorge Mere has made 30 La Liga starts for Sporting Gijon this season. Adrian Gomez has featured in the Leganes starting line-up on 11 occasions. Asier Villalibre made his Athletic Bilbao debut in December, while Espanyol left-back Aaron Martin, an unused substitute against the Swiss, has started 29 La Liga games and is now wanted by Manchester City.
If Martin makes the move he would be linking up with Spain Under-17 team-mate Aleix Garcia, who started his first Premier League game for City this season. However, Garcia's relative lack of first-team activity here in England hints at the problem. It's two years since he made his senior debut for Villarreal only to trade that for City's reserve team.
Madger Antonio, a substitute against Switzerland, made the move from Villarreal to Liverpool in 2014 but is still playing youth football. Toni Martinez, another of that Spain Under-17 squad, moved from Valencia to West Ham last summer but his only senior action has come at third-tier Oxford United alongside one of England's winners, Ryan Ledson.
It is a further indication that it is opportunity rather than talent that is preventing the breakthrough and underlines the point that it is no longer acceptable to argue that if the players are good enough then they are sure to succeed. Chelsea fans might wonder when the next John Terry will emerge but even that John Terry might have struggled in this climate.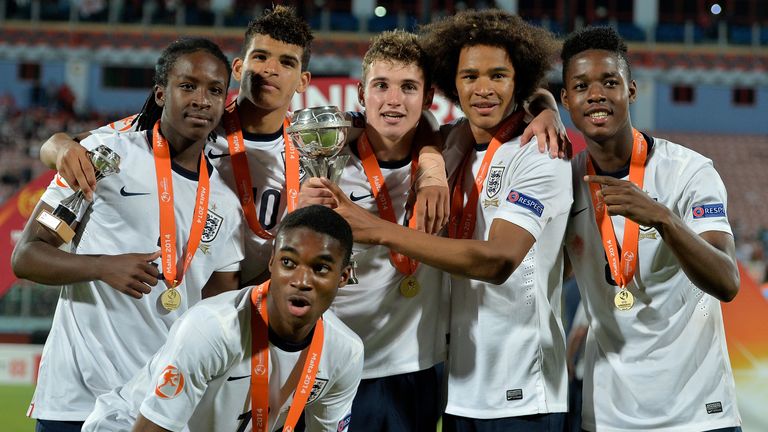 The Blues legend was, after all, no teenage superstar. He did not represent England at age-group level until he was just shy of his 20th birthday. The likes of Solanke and Brown boast far superior records in youth football but are still waiting for their breakthrough at an age at which Terry was already receiving his first Chelsea player of the year award.
And so, the wait goes on. The hope is that it will be different for this group of England youngsters and the success that their ability merits really will be inevitable. But the fear is that talent needs to be coupled with opportunity if it is to truly thrive. Only then can the best 17-year-olds in Europe go on to become the best senior players in Europe too.