Jamie Redknapp thinks Dele Alli is now worth more than £50m and Tottenham must match his ambitions to keep him.
Alli struck twice as Spurs battled from a goal down to beat 10-man Southampton 4-1 on Wednesday night and claim their first away victory since September.
The England international was making his 50th Premier League appearance for Spurs since arriving from MK Dons, and has been involved in 26 goals (16 goals, 10 assists) for the north London club.
Redknapp thinks Alli has the scope to improve further over the next few years. 
"He possesses everything to become one of the best midfielders in the world," Redknapp said. 
"They paid £5m for him. He's now a £50m-plus player. He scores goals, he makes goals and he's got that devilment that all good midfielders possess.
"He's a sensational footballer - Tottenham are extremely lucky to have him. It's amazing to see how quickly he's become of the best players around. I think there's so much more to come from him, too."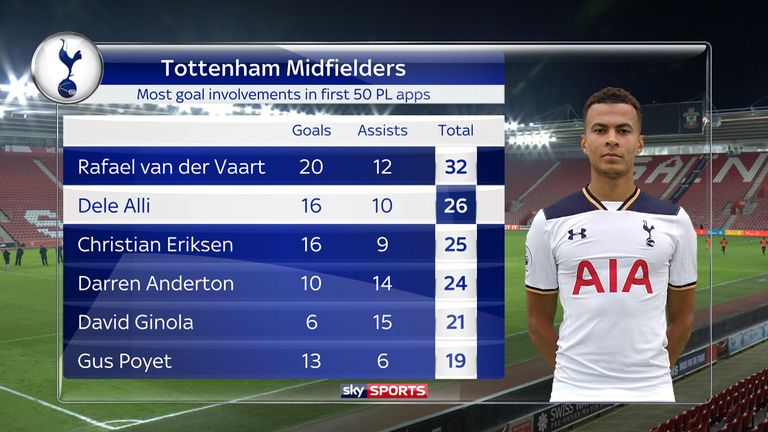 Spurs fell behind early to Virgil van Dijk's opening goal at St Mary's but Alli struck a crucial equaliser when he latched onto Moussa Sissoko's deflected cross to direct a terrific header into the top corner. He doubled his tally for the evening late on with a cool low finish into the far corner. 
His overall performance impressed Redknapp, who thinks Alli has a unique talent.
"He's got a good footballing arrogance that I've only seen a few times in my life," Redknapp said.
"Steven Gerrard had it when he was 17 - he walked onto the pitch with the first team and you knew you were in the presence of greatness. It's the same with Alli. He's only 20 but he looks at all the other players and thinks 'I'm better than you'."
However, Redknapp is worried Alli might outgrow the north London club in the long-term.
Asked whether Tottenham can keep hold of the midfielder, he said: "As long as Tottenham match his ambitions.
"That's always the problem at Tottenham - can they match his ambitions? Can they keep kicking on? If they do, then Alli can achieve anything he wants with the club. They've got a great fanbase and are about to move to a brilliant stadium. Alli's going to demand the top wages.
"If Tottenham aren't going to pay him that, then he'll have to go somewhere else to get them. He's a player anyone would like to have in his team."