Manchester City winger Raheem Sterling is rapidly developing under Pep Guardiola and realising his potential, says Jamie Redknapp.
Manchester City have needed a couple of late, late goals over the past week to maintain their winning run in the Premier League but while they've had a little bit of luck they've also shown a great mentality.
Against both Huddersfield and Southampton they didn't get frustrated, they kept probing and looking for opportunities and you have to congratulate them on that.
Raheem Sterling has, of course, taken the headlines and, while his goal at Huddersfield was fortunate, his winner against Southampton was brilliant and showed he has become a go-to guy for them.
He's in phenomenal form but his development under Pep Guardiola has been really impressive. He's now showing that potential we saw at Liverpool; his movement is fantastic and those goals - he's scored 13 in all competitions this season - have taken him to the next level.
He's not what I'd call a clean striker of the ball. He's not like Kevin De Bruyne, who hits it so pure. But I read recently he's been working with City coach Mikel Arteta on striking the ball and I hope it's true. However, he's playing with confidence, clearly taking on board what Guardiola is telling him and getting into some great positions to hurt opposition teams.


Saying that, it must be an absolute dream to play in that side right now, with David Silva and De Bruyne behind you, setting you up. It looks like there's a real togetherness in that camp, too. A real belief in what they're doing and where they're heading.
City are a joy to watch, as well. There is still a long, long way to go and I don't subscribe to the view they're going to go unbeaten through the entire season, but if they keep playing like this they'll be worthy winners of the Premier League. Not only that, but they could threaten Europe's very best in the Champions League.
They are going to take some beating - and I can't see West Ham being the ones to upset the form book this Sunday. But that Manchester derby at Old Trafford is looming - and that contest next weekend, live on Sky Sports, will tell us a lot about this City team.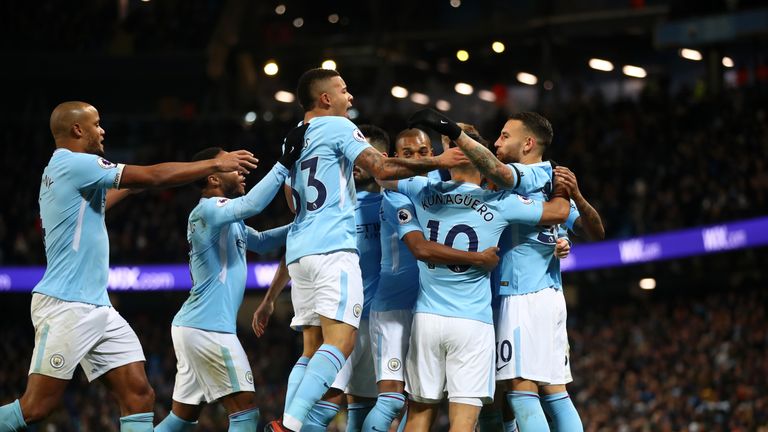 It must be an absolute dream to play in that Man City side right now. It looks like there's a real togetherness in the camp.
You'll certainly need some luck to beat them, and a disciplined defence because you're going to end up giving up a lot of possession. But pace up front and on the counter-attack is also essential to beating this City team.
City flood forward in numbers, so they do give you opportunities on the break - if you're quick enough to take them. You then need to be so clinical when you have those moments.
But they're playing with so much confidence, opposition teams are almost fearful, praying for a mistake. City's belief is huge - as those late goals show.
Their away trips to Manchester United, Liverpool and Arsenal will be key to the title race. They will be big tests of their character. But right now - and worryingly for West Ham - they look like they're in a fantastic place.
'Guardiola wrong to confront Redmond'
Guardiola was also making headlines this week for confronting Nathan Redmond after City's win over Southampton. It's something he's since said he regrets, and I have to say, I didn't like it.
To be honest, I've never seen anything quite like it! It was bizarre. I personally wouldn't have liked it if I was the player in that situation and I wouldn't have liked it if I was Mauricio Pellegrino, the Southampton manager.
You can't tell somebody what to do or how to play when they're not your player. Not everyone is blessed with the quality City have and unfortunately, when you're Southampton, you have to defend against a team like that.
Guardiola should concentrate on his own job. What tactics another team uses is nothing to do with him. Are they going to open up and lose 5-0? No opposition manager will want to do that. I'm a big fan of Guardiola - how can you not be? - but I didn't agree with that.
We have to remember this happened after his team had scored a late, late winner and I guess it shows what the emotions of football can do to you. I think if he had his time again he wouldn't have done it but football sends us all a bit crackers. That's why we love it!