Football Expert & Columnist
Europa League can be catalyst for Pierre-Emerick Aubameyang, says Jamie Redknapp
Arsenal face Everton live on Sky Sports on Super Sunday
Last Updated: 23/09/18 2:05pm
Sky Sports pundit Jamie Redknapp talks all things Arsenal ahead of their Super Sunday meeting with Everton at the Emirates Stadium…
It was always going to be difficult for Unai Emery at Arsenal this season because the players had heard the same voice for so long with Arsene Wenger. A new manager can act as a wake-up call when you're used to a certain way of working, but it's going to take a bit of time.
I remember Gary Neville saying that earlier in the season and I couldn't agree more. I was nervous for Arsenal at the start of the campaign - not so much about the way they were playing, but because I thought Emery had been left a really weak squad.
He is going to need a good few transfer windows before this Arsenal team are ready to challenge for the Premier League - or perhaps even get back into the top four. But having said that I have seen some signs of progress.
They are playing out from the back and there is definitely an intensity to Arsenal's play that we've not seen in previous years. I would be encouraged by that if I was an Arsenal supporter. It shows that Emery is beginning to have an impact.
'Tottenham have opened the door'
I still feel that Arsenal are a little bit weaker than the other top-six sides, but Tottenham have opened a door for them with their poor summer and their recent form.
For a while, it looked like the gap between the two sides was getting bigger and bigger. Tottenham seemed to be getting further and further away, but they have got too comfortable.
Their lack of activity in the summer might mean Arsenal do not have to wait long to overtake them again.
Europa catalyst for Aubameyang?
Pierre-Emerick Aubameyang is so important to Arsenal so it was good to see him score a couple of goals in the Europa League on Thursday night. He has started the season a little slowly, but hopefully that will be a catalyst for him to get going again.
It's exactly what he needed. Strikers are a different breed to midfielders and defenders. They need to score goals, they need that buzz from the ball hitting the back of the net.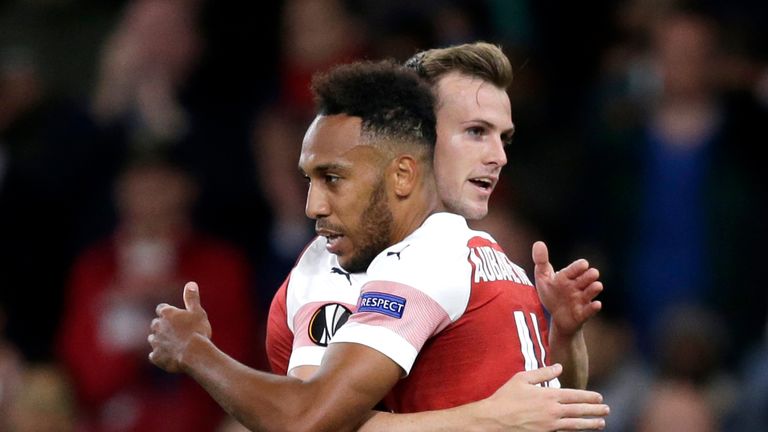 I think he can be really dangerous, especially alongside Alexandre Lacazette, who he seems to have great chemistry with, but I was surprised to see him compared to Thierry Henry recently.
You can't talk about him in the same breath yet, because what Thierry did was affect big games in the Premier League. Aubameyang has got to start doing that.
When they play Manchester United, Manchester City, Chelsea, Liverpool, that's when you want to see Aubameyang scoring goals. If he's going to earn comparisons with Henry, I think that's the next step for him.
Goalkeeping dilemma
The goalkeeping situation at Arsenal is interesting. You would put Petr Cech in the top three Premier League goalkeepers ever, no doubt at all, but the one thing you wouldn't say about him is that he's good technically on the ball.
Bernd Leno is waiting in the wings but it's a difficult one. He might be better at playing out from the back with his feet, but is he really a better goalkeeper?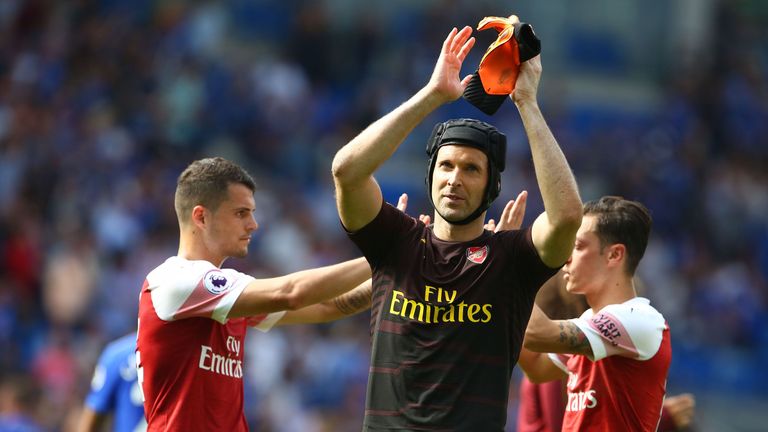 I think Leno just needs to be patient. In the Premier League, especially for goalkeepers, it does take time to adapt. We saw that with David de Gea, who had a difficult start at Manchester United but is now the best in the world.
It might not be the worst thing that Leno is being introduced slowly. Cech can't play forever. Leno will get given more games in time. If he does well, he will be Cech's successor.
Leno ready to fight for No 1 spot
Leno debut watch
Good time to face Everton?
I looked at Everton at the start of the season and I thought they had bought well. There have been some positive signs, but that was a shocking result for them against West Ham.
It was a real sucker-punch and their fans will be a little worried about the balance of their team. They need a proper striker, which is something I'm sure Marco Silva will want to look at in time, but he has to work with what he has got for now.
I think Arsenal will win this one. They've won four in a row and it feels like they have got their tails up. The Thursday to Sunday turnaround is never easy but Arsenal are improving. I think that will continue at the Emirates.
Watch Arsenal v Everton live on Sky Sports Premier League HD from 3.30pm on Sunday