Take It Like A Fan
Short of bunce? Then trek down to the Liberty Stadium on Saturday and answer our footballing teasers...
Last Updated: 25/04/12 2:51pm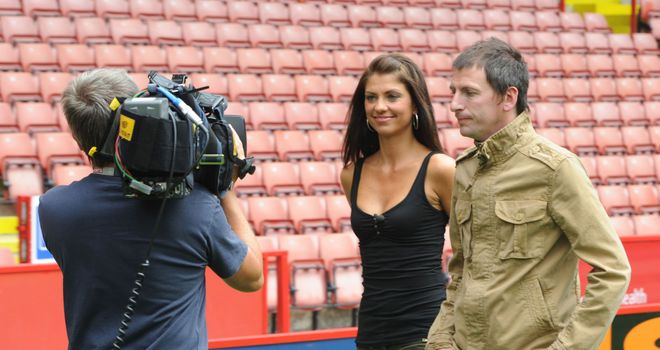 Think you know your football? Well it's time to put your mouth where our money is with Take It Like A Fan.
Our footy quiz show gives you the chance to put your knowledge to the test and pocket CASH...
Every week Fenners and Bianca will be at a football ground with our cameras and questions waiting for you to get involved.
And this week the gang are off to the Liberty Stadium to see pass masters Swansea entertain already-relegated Wolves.
So if you're heading to the match get in touch as soon as possible... you might find yourself taking part with the Take It Like A Fan crew!
As ever, there will be a series of rounds that not only put you on the spot or pit you against an opposing fan, but can also end up with you paying a heavy price yourself.
Each week the rounds will vary, but here's a taste of what you can expect...
FENNERS' TENNERS - A quickfire 60-second round with £10 a question up for grabs - and a double-or-quits chance at the end.
HOME OR AWAY? - Don't tell Sue Barker! Get a tenner for an easy question or a whopping £50 for a more difficult one.
STRIP CLUB - Can you guess the identity of the team from only their shirt?
POSSESSION GAME - Toss a coin, the cash is yours. Get the questions right and it's still yours, but get one wrong and you might end up with nothing...
SIMPLY THE CREST - 60 seconds to identify as many club crests as you can, every correct answer bags you a tenner!
If you want to take part then email takeitlikeafan@bskyb.com
Follow us on Twitter
See what's coming up and what Fenners has to say by following us on @takeitlikeafan
Don't forget to tune into the latest show - filmed at Leicester's clash with West Ham at the King Power Stadium - at 7.30pm, Friday, Sky Sports 1 HD or catch one of the repeat showings.