Richards attacks UEFA and FIFA
Premier League chairman Sir Dave Richards has accused FIFA and UEFA of 'stealing' football from the English.
By Tom Mallows
Last Updated: 14/03/12 10:30pm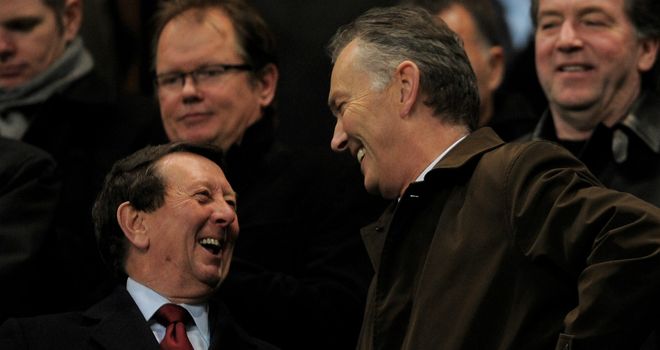 Premier League chairman Sir Dave Richards has launched an extraordinary attack on FIFA and UEFA, accusing the world and European governing bodies of 'stealing' football from the English.
Richards, who also sits on the FA board, was speaking at the International Sport Security Conference in Doha, Qatar.
He was there to add his Premier League experience to discussions about new frontiers in sports, which is of particular relevance to Qatar, who have won the right to host the 2022 World Cup and are keen to encourage the growth of top-class sport in the Middle East.
However, Richards was quick to re-assert England's claim to football, saying: "England gave the world football. It gave the best legacy anyone could give. We gave them the game.
"For 50 years...we were the governance of the game. We wrote the rules, designed the pitches and everything else.
"Then 50 years later, some guy came along and said you're liars and they actually stole it. It was called FIFA.
Stole
"Fifty years later, another gang came along called UEFA and stole a bit more."
Among those present was FIFA vice-president Prince Ali Bin Hussein of Jordan, who reminded Richards that a debate still rages as to who actually invented the game - England or China.
However, Richards responded by saying: "It started in Sheffield 150 years ago.
"We started the game and wrote the rules and took it to the world.
"The Chinese may say they own it but the British own it and we gave it to the rest of the world."
Hussein sought to defuse the row by insisting football is now a world game and the sport's governors had a responsibility to spread it further across the globe.
Whole world
"The point I'm trying to make is the whole world loves the sport and it is the most popular sport" he said.
"We have to continue to work on developing it and obviously competing and helping our youth."
International Cricket Council chief executive Haroon Lorgat was also present and he echoed Hussein's thoughts.
"This exchange could well have taken place in the cricket boardroom about who owns the game," said Lorgat, who actively encourages the spread of cricket to new regions.
"It is less about ownership and more about what is good for the game."
The Premier League moved quickly to distance itself from its chairman's comments, saying in a statement: "Sir Dave is attending the conference in a private and personal capacity and his comments in no way reflect the views of the Premier League."