New AFC Wimbledon manager Wally Downes has apologised for comments he made on social media in September and insists he has no problems with same-sex marriage.
The social media posts appeared while Downes was coaching in India, with at least one tweet mocking football's Rainbow Laces campaign.
Now in its sixth year, the campaign was started by lesbian, gay, bisexual and transgender (LGBT) charity Stonewall to fight homophobia in sport.
Kick It Out said it had "serious concerns" over the tweets, which the club addressed and Downes apologised for after he was confirmed for the role.
Downes told Sky Sports News: "It [same-sex marriage] was a big deal in India, the fact that they progressed and come forward with that and, to be fair, I was half taking the mick out of myself.
"It was crass and if it has offended people, I apologise unreservedly, but it was never my intention to offend anybody.
"I was trying to inject some humour into the situation which, where I was in India, was a big thing. It was a crass attempt at humour, about a big talking point in India at the time."
Downes, who made more than 200 appearances for the Dons in the 1970s and 1980s, deleted the account before he was appointed.
The former Brentford boss has been given the job of steering Wimbledon clear of the drop zone, having been hired to replace Neil Ardley.
He added: "I can understand why people might not want me to have been appointed as manager, but I'd like them to look at my previous 40 years in football, take a balanced view and begin to know me.
"My destiny in football shouldn't be judged on one or two tweets that were clearly offensive to people - which wasn't my intention.
"The account has been shut down now and I hope to move forward from it."
Asked if he had any issues with same-sex marriage, he said: "No way.
"I've got grandchildren and kids, the way things are at the moment with the way acceptance is, they could grow up gay, straight, gender-fluid or anything else. [The comments] are so anti of the way my feelings are."
Downes is excited about the challenge of trying to revive Wimbledon's fortunes and added: "It feels terrific. It's come full circle, because this is where I started as a player and to come back here is a dream job.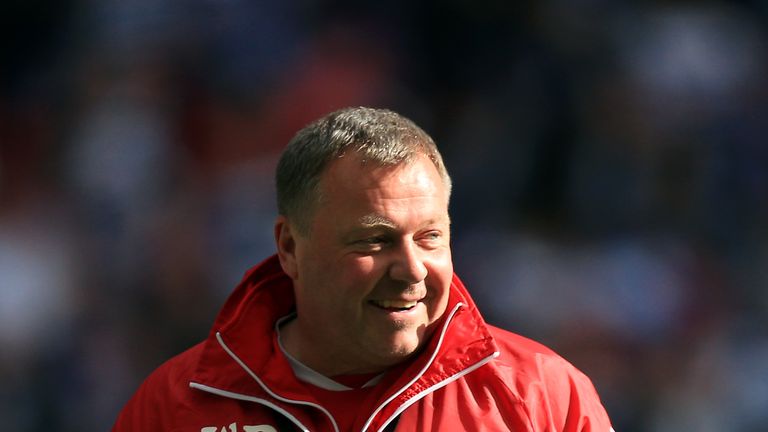 "I made 200 appearances here but I also virtually retired here. I broke my leg four times here, so there was always unfinished business!
"I'm still very fresh as a manager, this is my second job. It's not like I've been relegated and sacked a bunch of times.
"I'm approaching this with all the enthusiasm that a new young manager would have."