The Premier League in Ultra High Definition: Behind the scenes at Old Trafford with Sky Sports...
By Kate Burlaga
Last Updated: 03/02/17 9:09am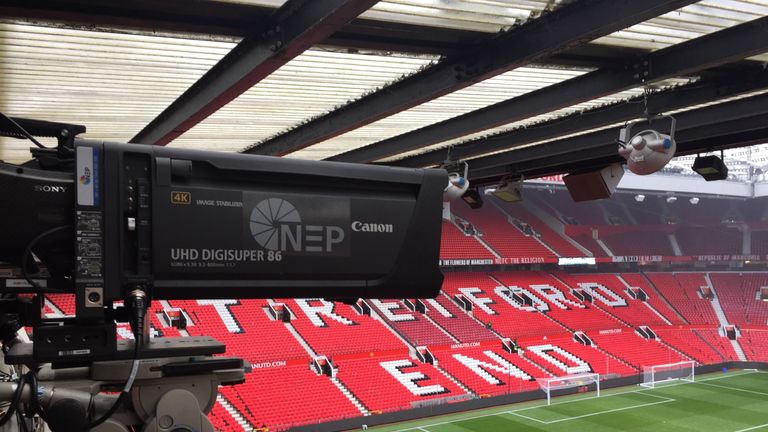 Oliver Giroud's jaw-dropping scorpion kick, Zlatan Ibrahimovic's late leveller against Liverpool, a weekend showdown at Stamford Bridge - the Premier League drama keeps coming and Sky Sports is taking fans even closer to the action in Ultra High Definition with Sky Q. We went behind the scenes at one iconic fixture...
Dawn breaks over Old Trafford, the skies damp and grey, but work for the team begins long before eager matchday tourists mingle and scarf-sellers set up in hope.
The Sky Sports cameras had seen Jose Mourinho's men win in the EFL Cup just days earlier but, come Wednesday morning, focus swiftly turned to Super Sunday's heavyweight clash. Manchester United v Liverpool: familiar foes, English football's most successful sides; a fixture steeped in history and hostility.
Mourinho's latest tussle is one of 124 Premier League fixtures live on Sky Sports this season that will be shown in cutting-edge Ultra High Definition with Sky Q, the next generation box. Ultra HD means fans can enjoy the match in up to four times the definition of regular HD with detail and clarity like never before, and today there's another innovation to befit an encounter key in the calendar.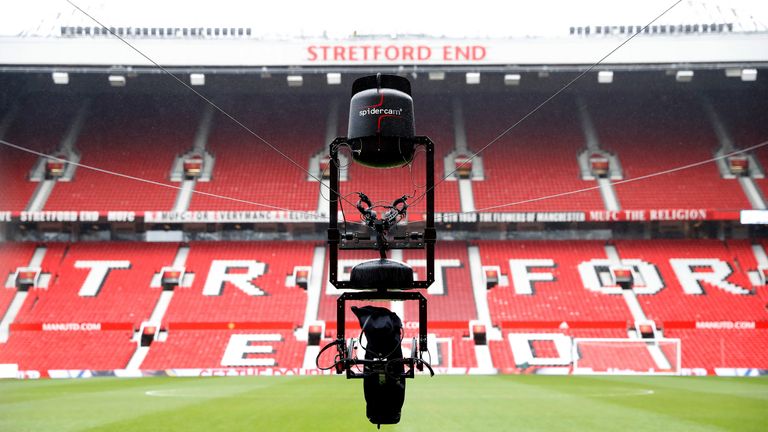 Spidercam, a wire-mounted camera suspended above the turf to capture new, exciting angles, is preparing make its debut in the Premier League. Crews have worked for days to assemble a web of cables and pulleys above the pitch and, with council approval finally sealed, a specialist German engineer sits in the gantry, exploring the famous stadium with the push and pull of a lever.
"Stay low, Spidercam," says Sky Sports' Premier League producer, Billy McGinty, watching the early-morning test run back in one of two new, multi-million-pound Ultra HD trucks stationed in the television compound outside the arena. "Take us across the turf… now up, up, UP! Give us a 360 view."
Riggers, camera crew and lighting experts - who started readying United's home for broadcast from Saturday lunchtime - are finalising their preparations as McGinty's matchday team of directors, assistant producers, sound engineers and vision mixers pile into the hulking, hi-tech vehicles.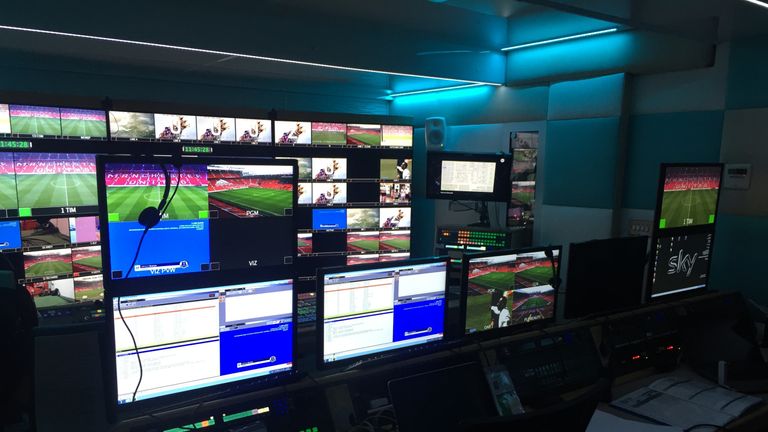 Stretching almost 20m in length, the production trucks boast the latest camera and audio equipment needed to transmit HD pictures to fans at home and around the world, as well as razor-sharp Ultra HD images - the detail of a kit, the contours of a face much clearer - to viewers watching with Sky Q. While the innovation never stops, the aim remains simple: provide the best Sky Sports experience for all customers.
It's here in these supertrucks that McGinty and match director Tony Mills will call for instant replays or slow motion clips, talk to Jamie Redknapp at a new touchscreen or monitor feeds from more than 20 cameras - many fitted with larger Ultra HD lenses - stationed around and above the pitch, as well as in the tunnel for pre-match arrivals and post-match interviews.
Kick-off is not until 4pm but it's Manchester versus Merseyside and United's rivals City face Everton in the lunchtime clash, meaning the Super Sunday titles roll at 12.30pm. Old Trafford reporter Geoff Shreeves and 'Voice of Football' Martin Tyler have time to take refuge from January's bite inside the catering truck - hot meals and vats of tea are supplied for a team totalling more than 80 - as they pore over match stat packs but it's straight into rehearsals for Sky Sports' award-winning pundits.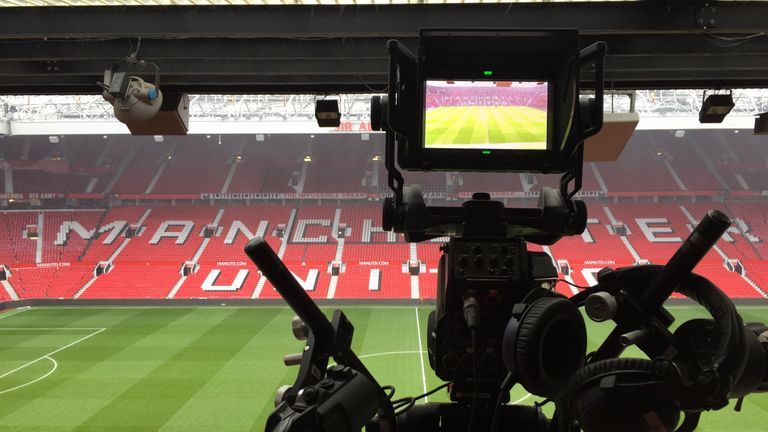 Co-commentator Gary Neville, alongside Tyler, will later clamber up a precarious-looking ladder and over the roof of the South Stand to reach the gantry of the ground he called home for 20 years but Thierry Henry, Jamie Carragher and Graeme Souness join presenter David Jones in the studio.
Floor managers receive last-minute instructions from the compound through their ear-pieces; key stats digested, pre-match chatter, final checks... and then Jones is on air, the hours and days of preparation reaching a climax. Just like in the test run, Spidercam swings into action to set the Manchester scene and then Ultra HD cameras at Goodison Park take over.
Everton dismantle Pep Guardiola's side and, as he heads to the tunnel for his pre-match interview with Shreeves, Liverpool boss Jurgen Klopp lingers in front of the big screen showing the early kick-off, eyes wide as the blue half of the city secure a surprise 4-0 win.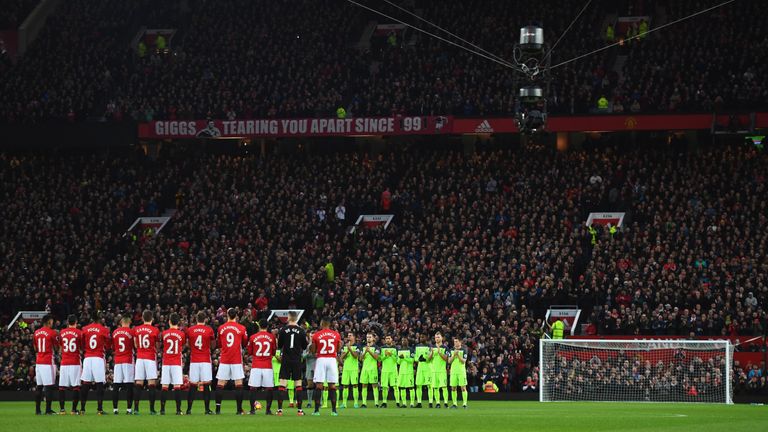 Finally the main event: more than 75,000 packed inside an expectant Old Trafford and Sky's pictures broadcast to millions across the globe. It's a cagey start but then Paul Pogba - United's world-record signing - inexplicably leaps with an outstretched arm and Liverpool have a penalty. James Milner coolly converts it and viewers get a birds-eye shot of the first Premier League goal captured with Spidercam.
There's fierce debate in the studio over Pogba's defensive lapses and as United spurn a string of chances, his gaffe looks like being decisive until Zlatan Ibrahimovic familiarly rises to the big occasion, heading a late equaliser. Pixel-packed Ultra HD captures the big Swede's delight at close-range as he wheels away, finger pointed to the sky.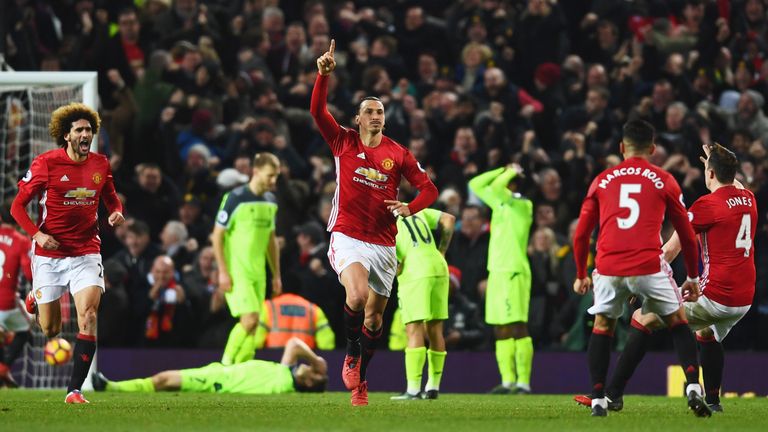 Momentum's with United but time ticks away and a pulsating contest comes to an end. Analysis continues in the studio - key topics and footage readied back in the supertruck - as fans at the stadium stream through the exits.
"We're always looking to boost the viewing experience and it gave a huge game an even bigger feel," Sky Sports' head of football Gary Hughes reflects on Spidercam's debut after the game. "It was fitting that the first goal was a penalty; it meant we could take viewers even closer to the action and provide a unique angle of the kick, as well as other perspectives for replays and our analysis. We're hoping to use it again this season - watch this space."
Old Trafford's almost empty but it's time for a derig - lights off, cables cleared, studio dismantled - and the Sky Sports crew won't leave until the day's almost over. The supertrucks will head back to London - Arsenal and Chelsea's fixtures are up next on Super Sunday - and the planning will start all over again. Work never stops and as the 2016/17 Premier League story continues, the Sky Sports cameras will track each twist and turn...
Watch the widest range of entertainment in Ultra High Definition, only with Sky Q. Get closer to the action with 124 live Premier League games and the 2017® Formula 1 season on Sky Sports, plus enjoy original Sky drama, natural history documentaries and blockbuster movies on demand in up to four times the definition of HD.
Sky Sports will show more crunch Premier League matches - all in Ultra HD - during February and March, with Chelsea v Arsenal next up on Saturday, February 4. Head here for news of the latest live fixtures.