Niall Quinn
Football Expert & Columnist
Niall Quinn: Bob Bradley deserves his chance with Swansea
Last Updated: 28/11/16 3:33pm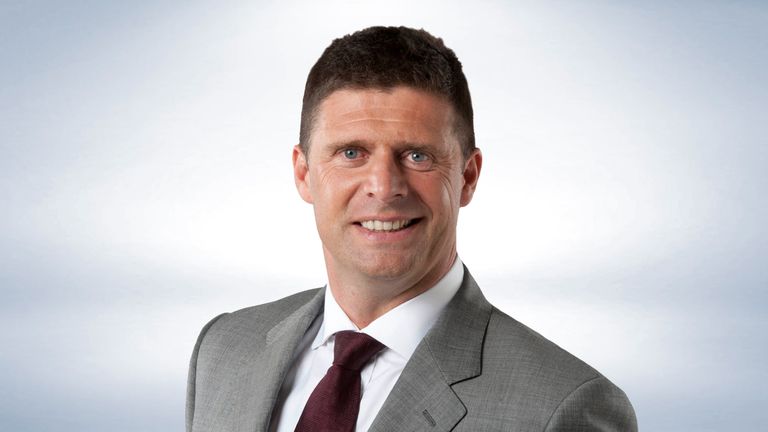 In his latest column, Niall Quinn pays tribute to Swansea manager Bob Bradley and says the American is an interesting addition to the Premier League.
Swansea City won a crazy game of football on Saturday. Nine goals. Lots of drama. It was three points that Swansea needed like oxygen. A loss that Alan Pardew and Crystal Palace needed like a hole in the head.
Swansea hadn't won a game since they beat Peterborough in the EFL Cup in August. They hadn't taken three points since they beat Burnley on the first day of the season. It was a big day for them.
In between, they had bumped off the gentlemanly Francesco Guidolin in a way which seemed hurried and not very Swansea like. In their previous nine league games, they had played the likes of Chelsea, Manchester City, Arsenal, Manchester United and Southampton. And they had replaced Guidolin with the Premier League's first American head coach, Bob Bradley.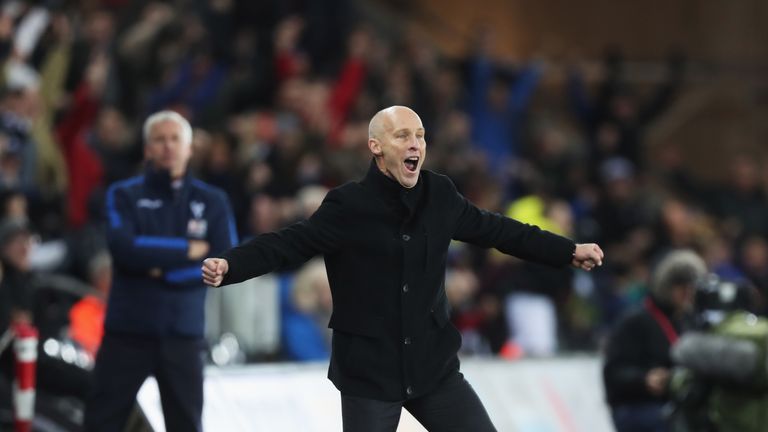 The reaction went from condescension, quick jokes about soccerball and touchdowns to the repeated allegation that he only got the job because Swansea are owned by two Americans.
I laughed along till I began to feel sorry for Bradley. By Saturday, as the goals were raining in, I was hoping that Swansea would end up on the right side of the final score no matter how crazy that score might be.
His experience in football is interesting and gives me some idea of what Swansea's owners saw in him.
After graduating from Princeton, he worked in many jobs in football, including managing the USA to a decent degree of success. Then in September 2011, he accepted the role as manager of Egypt. He took the job months after the January revolution.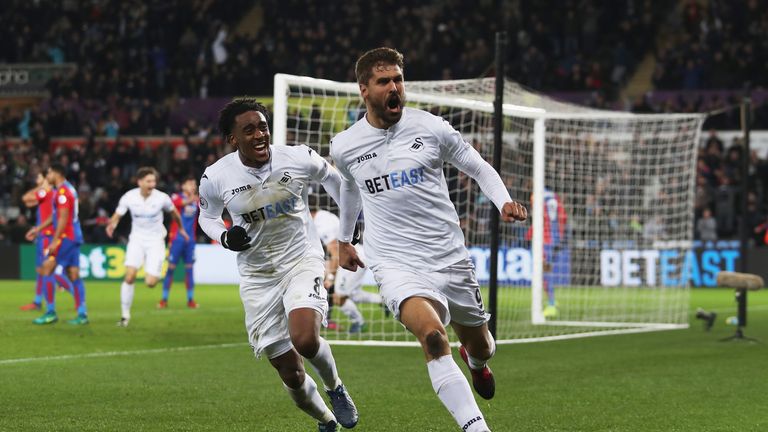 Instead of jetting in and out of Egypt to conduct training sessions and collect pay cheques, Bradley and his wife moved to the middle of Cairo and went out and became absorbed into the life and culture. 
Months after he took the job, the Port Said massacre took place. Some supporters of Al Ahly football club, their "ultras", had been prominent in the battles of Tahrir Square the previous year. On February 1 2012, they went to play Al Masry in Port Said. They lost 3-1 and at the final whistle, for the fourth time that afternoon, the Al Masry fans invaded the pitch. This time though they were allowed to reach the Al Ahly fans. 
The floodlights went out and the only exit gate for the Al Ahly fans was locked. Seventy-four Al Ahly fans were killed and 500 more were injured.    
The authorities tried to call it a riot, but Bradley called it as he saw it. He said ''it had all the hallmarks of a set-up, of a massacre" and he marched with the families of the dead and with Al Ahly fans when they went looking for justice. 
He donated money to the families. Later he went to hospitals around Cairo and he took his wife and daughters along with him. He was the most visible American in a country which didn't much like Americans but he opened himself up to the experience and the culture.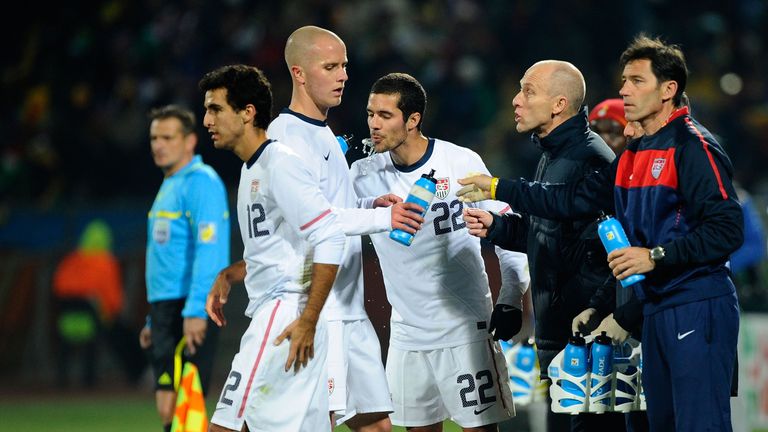 The massacre had left him in charge of a national team in a country where the domestic league had to be suspended for two years. The Egyptian FA big wigs who hired him had all resigned. The country was unstable and had no leader. A lot of football people would have just got out of there leaving a note saying that this wasn't what they had signed up for.
Instead, Bob galvanised his players and brought his team to places like Qatar, Sudan, Lebanon and Dubai for friendlies. They played qualifiers for the 2014 World Cup in empty stadiums at home. They won all six of their group matches, were unlucky to draw Ghana in the play-offs and got a hammering away before winning the second leg at home. They failed to qualify for their first World Cup since 1990 having won seven out of eight qualifying games.  
Bradley had experience of Ghana. Having managed the US team that topped England's group in the 2010 South African World Cup finals, the Americans were eliminated after extra time in the next round by Ghana.  
That won't ring a bell for most people but in the very next round the Ghanaians were denied a place in the World Cup semi finals themselves as Luis Suarez saw red for an outrageous hand ball on the line in the last seconds of extra-time. Asamoah Gyan, an old friend of mine, skimmed the crossbar with the last kick of the game and Ghana went out on penalties.
In his time in Egypt, Bradley had become a national hero. Their big adventure finished in failure but his team's struggle brought the country some unified normality. Bradley went on to bring lowly Norwegian side Stabaek into the Europa League and then managed Le Havre in France, just missing out on promotion via goal difference.  
It's not Premier League experience but it is rich experience which suggests to me that this is a bright man who is open to new ideas. Since Swansea pulled themselves out of the bog they were in when the club almost died they have developed a reputation for managerial appointments which seem to come from left field.  
Bradley is another one of these gambles but he's not the long-shot outsider he's made out to be. He hasn't been coaching minor league baseball teams for the last 35 years.
That said, the keyboard warriors commenting on Saturday's 5-4 scoreline couldn't resist the puns, top of the list was 'Swansea snatch victory in the bottom of the ninth innings'. There was worse.
The win on Saturday came a week after Swansea had been denied their first win under Bradley after getting caught by a late Seamus Coleman goal at Everton. That was a kick in a teeth for a struggling team under a new manager and to come back and win with a late goal in the manner they did looks like a positive sign of the relationship Bradley has with his players.    
Against Everton, Bradley had made eight changes from the team that crumbled against Manchester United in their previous fixture. On Saturday, he stuck to the same starting line-up for the first time since he arrived at the club. He is six games into his Premier League managerial career and seems to have found the side he wants. He brought Fernando Llorente on with about 25 minutes to go and saw him score two very late goals. 
The other Spaniard signed during the summer, Borja Baston, has had a couple of injuries but hasn't set the league alight when he has been given chances. There is already talk of him heading back to Spain in the January window.  If that happens, Swansea might struggle to recoup the £15.5m they paid for him.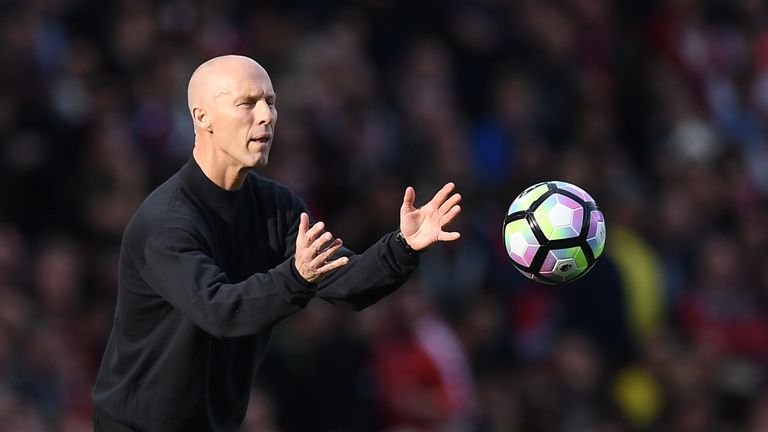 However, Bradley should have some money to spend in the window. Between now and then, his team has a break from playing the top teams and will be looking to pick up the wins that might float them toward mid-table.
Since Brendan Rodgers brought Swansea to the Premier League, the club has always taken a bit of pleasure from ransacking the odd top-six team and making off with the points.    
This year is all about desperation though and picking up as many points as possible from fellow relegation strugglers.  They play Sunderland, Middlesbrough, West Ham and Palace again in the next month or so. This season hinges on games like that. Anything else is a bonus.   
I don't know if Bradley will pull it off but he deserves his chance. He's an interesting addition to the cast of characters managing in the Premier League. If we're as open to new things as he seems to be we might just enjoy him instead of enjoying patronising him.
Upgrade to Sky Sports now and get 12 months half price. Hurry, offer ends December 4!