Niall Quinn
Football Expert & Columnist
Mike Dean blasted for 'rank bad refereeing' as Sofiane Feghouli sees red
Last Updated: 03/01/17 12:10am
Mike Dean sent off West Ham's Sofiane Feghouli for a challenge on Phil Jones - but the Sky Sports pundits blasted his decision as "disgraceful".
Feghouli clashed with Jones just 15 minutes into Monday's contest with the game still goalless after a heavy touch halted his dribbling run - but the Manchester United defender slid in forcefully himself.  
Hammers boss Slaven Bilic fumed on the touchline and, speaking in the Sky Sports studio at half-time, Niall Quinn and Alan Smith slammed the sending-off.
"He got it disgracefully wrong in my opinion," said Quinn. "It's a heavy touch (from Feghouli), Jones comes running out; (Feghouli) reaches in to try and lift the ball, he doesn't go studs-high to do Jones.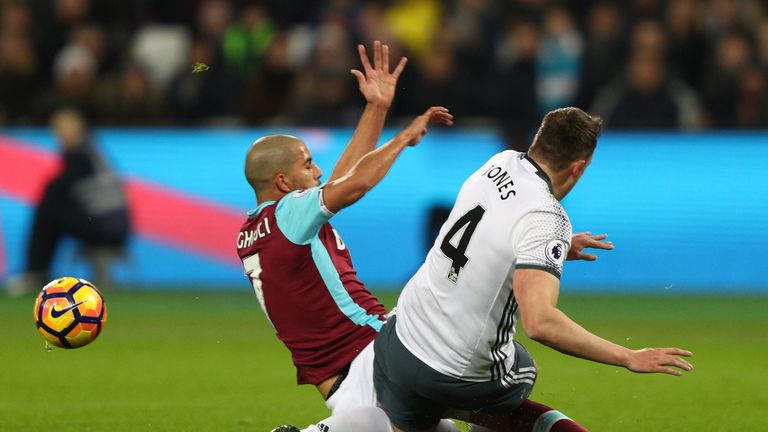 "I don't think it's helped the referee in his decision-making that he's seen Jones do three rolls on the ground.
"His position in looking at what happened, I think he's blocked a little bit by the body of Feghouli and I think he's probably guessed a bit that he's gone in with studs. That guess has let everybody down.
"I try very hard doing this job to understand how hard it is for referees and not just jump on the bandwagon but I'm delighted to make an exception in this case and call it rank bad refereeing."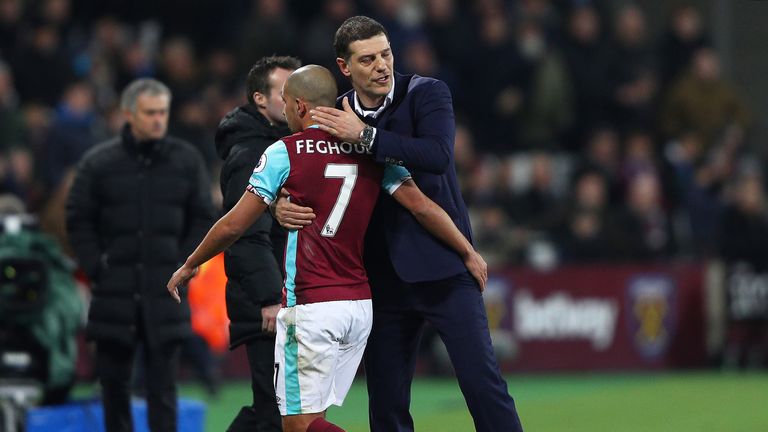 Smith agreed with his colleague - and believes Dean had time to consider the punishment before branding red.
"He never seems to give players the benefit of the doubt, Mike Dean, and it's not as if it's an instinctive decision," Smith said. "He had time, he thought about it, he had a little look round.
"You don't like to say it - I wouldn't want to believe that of any referee - but it's almost like he wants to be the centre of attention."
Speaking directly after the incident, Sky Sports co-commentator Gary Neville also deemed it the wrong decision.
He said: "Think of the red card two-footed sending off we have seen - it's not one of those. It's a poor decision and the West Ham fans are letting Mike Dean know."
Juan Mata and Zlatan Ibrahimovic struck second-half goals as Manchester United asserted their authority against the 10 men to claim a 2-0 victory.