Gary Neville salutes Antonio Conte's title-winning Chelsea
Italian's ability to 'blend' players together is key to success, says Sky Sports pundit
Last Updated: 13/05/17 4:09pm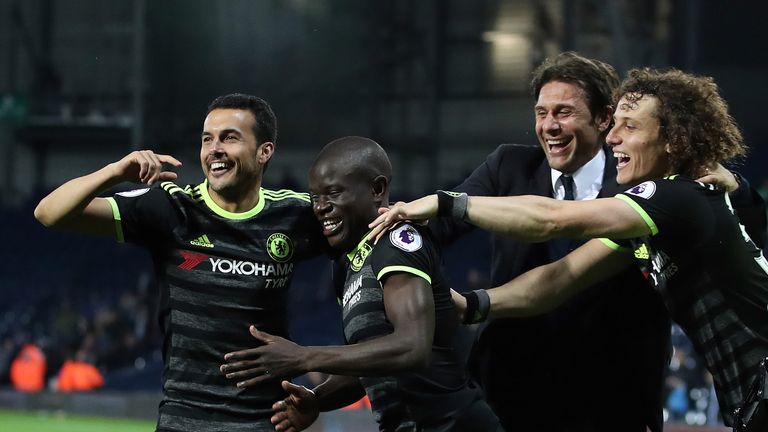 Gary Neville has highlighted Antonio Conte's assured managerial style, his team's solid spine and their unflappable consistency after Chelsea were confirmed as Premier League champions.
The top-flight pacesetters secured their fifth league crown with a 1-0 victory at West Brom on Friday night, sealed by Michy Batshuayi's late strike.
And, speaking on the Gary Neville Podcast at The Hawthorns, the Sky Sports pundit outlined his reasons for Chelsea's triumph.
"You can see the camaraderie that exists between Antonio Conte and his players," Neville said. "Last season, Jose Mourinho's team look disinterested but they've re-engaged with the club, the manager, the system and the style of play.
"The players have benefitted from the free weeks of training. You can imagine the hours and hours of shape; a very methodical way of working. When you try something on the training pitch and it comes to fruition on a Saturday, the players start to trust you and it builds confidence.
"It doesn't take a lot for our cameras to make a manager look a little panicky and nervous. Earlier on in the season, Pep Guardiola was looking like a confident manager and Conte looked a little bit ruffled. Then, all of a sudden, it started to turn, with Pep starting to look a bit more ruffled while Conte looked like a genius.
"Conte has found a system and found a group of players who stay fit. They've got consistency - they've had the reliability throughout with the same back five and goalkeeper, the same midfield and the same front three.
"I've never seen a team win the Premier League without strength and power. Costa, Matic, Kante, David Luiz, Cahill - that spine is strong. It withstood the onslaught that West Brom posed, but it can also break down more subtle teams.
"They can play different types of games and adapt. They looked like champions halfway through the season as I didn't see any weaknesses. They've built relationships - that will be challenged next season but now's not the time to talk about that.
"It's time to glorify what Chelsea have achieved. You can win all the cups you want, but there's nothing like winning the Premier League title. It has to be a priority."
The next challenge for any title-winning team is to retain their crown - a bridge which proved too far for Jose Mourinho's champions in 2015/16.
In addition to that, Neville also believes Conte has to establish a bigger, stronger squad capable of competing in Europe alongside their title defence next season.
Asked if Chelsea needed to improve their squad, Neville added: "That's the challenge for next season.
"It's a big job to do - Conte's got an 11, but he's not got a 22. The drop from the number one position to the number two position is high."
Having seen his adaptation to Premier League football though, Neville believes Conte's infectious, tenacious attitude and will to win leaves him well equipped for the challenges ahead.
"Conte can coach very well, he coaches to win," Neville said. "I don't see him bragging about his philosophy or his values - I just see him thinking about winning. He has the eyes of a winner.
"He would compromise his values and philosophies to win. All the championship winning managers have that about them. Conte is fantastic, he's delivered results in different countries. He's proven himself in England.
"He didn't have the system right earlier in the season but he found a way to get the players to get behind him. It's not easy to blend players together.
"It's hard for them to get behind you and not use you as a scapegoat. He should enjoy and revel in one of the greatest moments you can have in football in this country."
Click here to download the latest edition of the Gary Neville Podcast, or subscribe via iTunes.