Gary Neville delivered a damning assessment of Arsenal's players and their performance after their 4-0 defeat to Liverpool on Nissan Super Sunday.
The Gunners offered little in terms of a reply as they were outclassed at Anfield, making it a second successive Premier League defeat for Arsene Wenger's side.
Sky Sports pundit and co-commentator Neville was scathing of Arsenal throughout the game and placed blame for the loss firmly at the players' hands during his post-match analysis.
"When you're at a football club, you all take the blame. I can't personally look any further than the players," he said on Nissan Super Sunday.
"I don't think the team is correct. setting up with [Granit] Xhaka and [Aaron] Ramsey in central midfield at Anfield, with Sanchez and Ozil just outside them is never going to be enough with Liverpool the way they are. I've never understood the lack of attention to the opposition.
"You play against an Arsenal team 10 or 15 years ago and at United, Darren Fletcher comes into the team to sit to the right-hand side. You play against Liverpool, you have to go and mark Steven Gerrard on the right because you know he's going to whip crosses in. You have to pay attention to the threats and Arsenal never do that in games.
"The issue today I had in the first 15 or 20 mins - and why I was as scathing I was - is because [Mesut] Ozil, [Alexis] Sanchez, [Alex] Oxlade-Chamberlain, Xhaka, Ramsey, they didn't do most basic things I think every fan, manager, and player knows - when the ball goes past you and it goes towards your goal and your team-mates are struggling, you run back as quickly as you can.
"You're told that at the age of five. Aged 12 or 13, you're told to get into your shape quickly and when you get into the first team you're told about transition - give the ball way, get back in, transition, transition.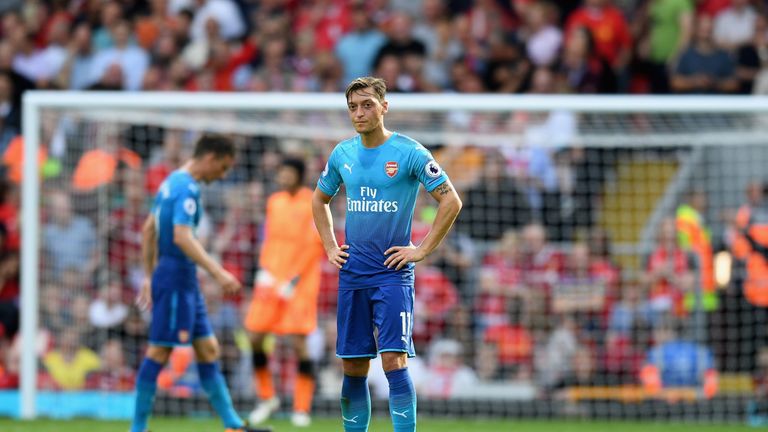 "I'm naming those five - there may be more - but that is absolutely disgraceful. That doesn't represent the Arsenal shirt or what they're about and they've let themselves down as individuals. In terms of who's to blame, I can only start and end with that.
"In terms of the tactics, the football, the mistakes, you'd need five Monday Night Footballs to analyse what went wrong there. But the simple premise of working hard, getting back towards your own goal - it's just unacceptable."
Referring to his earlier co-commentary, in which he said a lacklustre Arsenal "deserved a battering" and that he'd "stick them all on the transfer list," Neville said: "I wasn't being serious when I said I'd put them all on the transfer list but I can't think of any of those players who, if they went on the transfer list, would end up at a better club.
"People might say Sanchez but he's been throwing the towel in over the last six, seven months. He's a fantastic player - a tiger at his best - but he's not covered himself in glory recently. If he went to another club, he might give you a couple of good years but what's to say he wouldn't do the same?"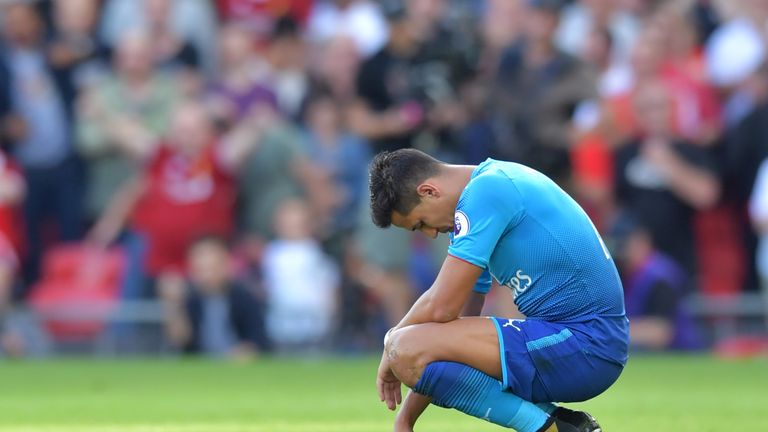 There were calls of 'Wenger Out' during the game with echos of last season's unrest among supporters, but Neville maintains his backing for the Frenchman and believes his players have let him down.
"[The Wenger question] was raging all the way through last season. I'm still adamant I wanted to see Arsene Wenger at the football club - I don't change that, I never will and ultimately that's just a level of respect from my point of view," he added.
"You don't turn on managers and coaches. Wenger deserves the utmost respect but his players, time and time again, are letting him down and he shows too much loyalty to those players.
"Some of those players have been at the club for a long time and they're not doing it for him. When they're crossing that white line, they're not giving the absolute maximum. He was dejected in that interview, I feel for him but I'm not going to start sticking the knife in and saying he should go. Of course, you look at Wenger - and he'll look at himself."