Europe's elite clubs would pay £150m for 'great' Harry Kane - but there's no chance Tottenham will let him go in the next 18 months, says Gary Neville.
The Spurs striker scored twice on Saturday in his side's 4-0 win at Huddersfield, after bagging a hat-trick in their Champions League victory over Apoel Nicosia in midweek.
After a barren August, Kane scored 13 times in September and his 2017 tally now stands at 36 goals in all competitions. Across Europe's top five leagues, only Lionel Messi (43) has scored more - and Neville says it is right that the Englishman is ranked alongside the likes of Edinson Cavani and Robert Lewandowski as one of the best No9s in the game.
However, while Neville believes top clubs would be willing to pay a huge fee to sign him, he says Spurs chairman Daniel Levy will be determined to keep his star striker, with Tottenham moving into their new stadium next season.
2017 Most goals in all comps - Players in top 5 European leagues
| | | |
| --- | --- | --- |
| Lionel Messi | Barcelona | 43 |
| Harry Kane | Tottenham | 36 |
| Edinson Cavani | PSG | 35 |
| Robert Lewandowski | Bayern Munich | 34 |
| Pierre-Emerick Aubameyang | B. Dortmund | 33 |
| Cristiano Ronaldo | Real Madrid | 31 |
"Before the game we put him in the categories of Alan Shearer and Wayne Rooney and I'm comfortable to sit here and put him in the category of Lewandowski, Cavani, those world-class centre-forwards," Neville told Sky Sports.
"I think you can take Messi, Cristiano Ronaldo and Neymar a little bit out of it. They're incredible, they're freaks. But of what you would call the traditional centre forwards, the No9s, Cavani, Lewandowski, Shearer… I'm really comfortable putting him in that company. And they're outstanding centre forwards.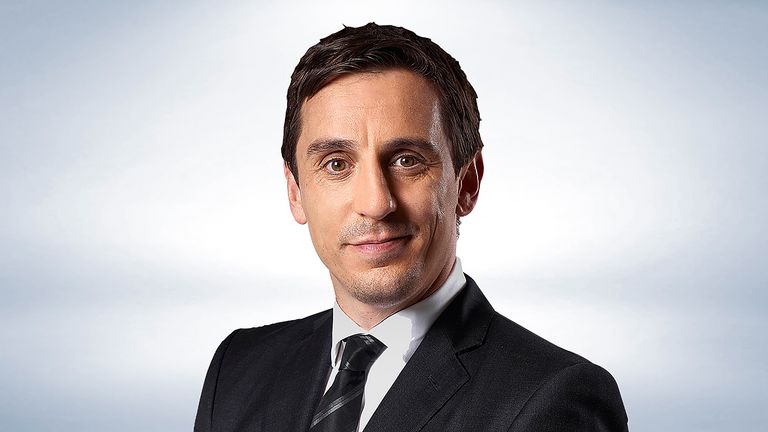 Real Madrid, Bayern, Man Utd, Man City, Chelsea - every single one of those clubs would want him now. They'd pay £150m for him.
"He's 24. Real Madrid, Bayern Munich, Manchester United, City, Chelsea - every single one of those clubs would want him now. They'd pay £150m for him because they know they're going to get six, seven, eight years of gold, of delivery, of goals, of professionalism. You can't say anything higher than that. This is a great, great player.
"But there are three characters who aren't going anywhere in the next 18 months for Tottenham. Dele Alli, Pochettino and Kane aren't going anywhere. Daniel Levy wouldn't let them go anywhere.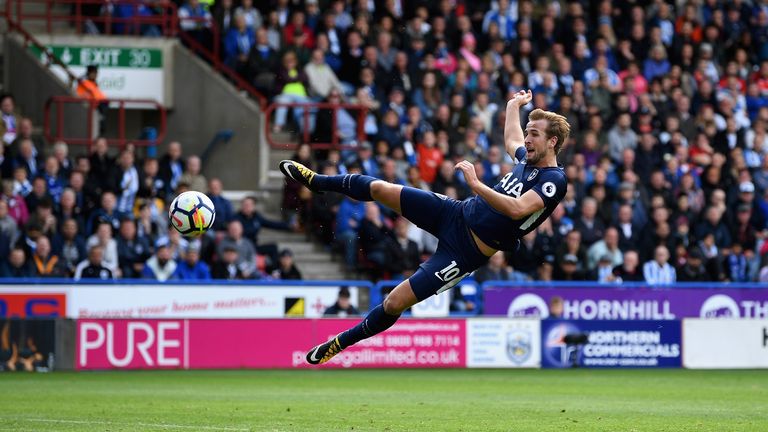 "With the stadium being built and them starting there next season, with the season tickets, the hospitality, the incredible stadium, one of the best in the country, they're not going anywhere in the next 18 months, Daniel Levy wouldn't let them go anywhere.
"Whether he re-negotiates contracts is another matter but they've got a great chance in the next 18 months because that squad will stay together. They need to build around what they're doing. They can't sell Kane and Alli and let Pochettino go, it would be a deflated new stadium if they did. There's so much invested in it."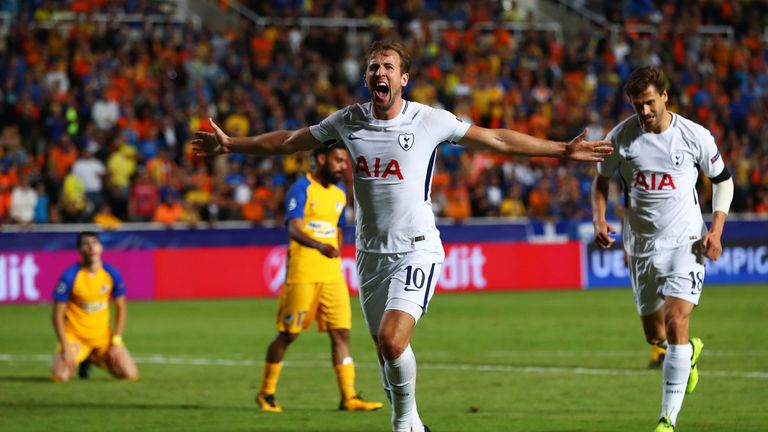 As well as his goalscoring, Neville says Kane is also setting the standard for his team-mates to match with his professionalism, hard work and commitment. The Sky Sports pundit says Kane will continue to develop into a leader, too.
"He's a dream. He's gold," said Neville. "This is a lad who is never going to have a bad run because although he'll not score goals [all the time] he'll always contribute to the team. He'll be a target man, he'll bring people into play.
"He'll become a leader - you'll see a change in character in him over the next couple of years. I started to see it at the end of when I was with England, seeing him stepping up and taking a bit more responsibility. He's got so much more to come in his personality and character to develop, other than the fact he's an absolutely outstanding professional and player.
"The rest of the team have nowhere else to go; if he is a professional and is doing everything right, eating right, training right, he's behaving right, it leaves no one else in the squad anywhere to go.
"It sets a standard that the best player is perfect in everything he does. Everyone else's standard comes up behind it and anyone else who is thinking about maybe not being professional, not doing the stretching or eating the right things, it's not acceptable. He really is an outstanding professional."