David Luiz got everything wrong against Luis Suarez, says Gary Neville
Last Updated: 16/04/15 9:09am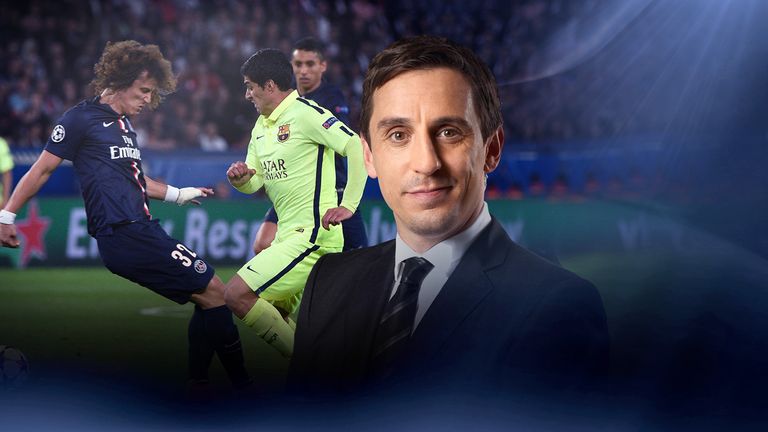 PSG defender David Luiz did exactly what he shouldn't have when dealing with Luis Suarez, says Gary Neville.
The Brazilian was twice nutmegged by the Barcelona forward, who scored two as Barcelona won 3-1 in the first leg of their Champions League quarter-final clash with Laurent Blanc's side.
Neville has questioned Luiz's defending before and told the Champions League Podcast the 27-year-old got his decision-making all wrong in Wednesday's encounter.
"I think he'll be more than disappointed, Laurent Blanc, he really will," he said.
"Luis Suarez, from an attacking point of view, was fantastic. But when you know you've got a player like him that will commit you, that will take you into the box if he can, you've just got to wait for help.
"You try and wait for your team-mates to get around, you delay, deny space and try and show him a certain way.
"He did everything he shouldn't do. He just carried on towards him and Suarez eight times out of 10 will stick it through your legs, or if not then around you the other side."
Luiz replaced the injured Thiago Silva early on as he started on the bench after making a quick return to the squad from a hamstring problem.
His name was a surprise addition to the squad, and Sky Sports expert Neville believes if there were any doubts over his match fitness, Blanc should not have taken the risk.
"If he's not fit he shouldn't be on the bench. He's come on, and to be on the bench you've got to be ready to come on.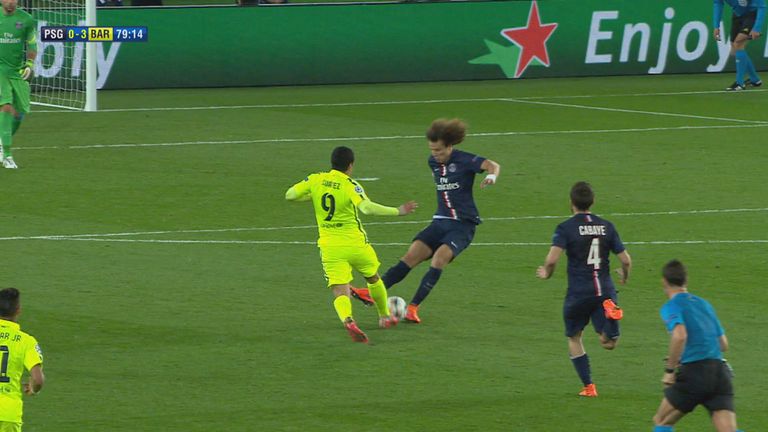 "It's a blow to lose Thiago Silva – I don't think he would've done what Luiz did.
"It's still very, very good from Luis Suarez. You've got to be an exceptional player to do what he did.
"But when you're playing against an exceptional player you've got to manage the situation as best you can, not commit yourself, not take yourself out of the game.
"Slow the attack down, not quicken it up. He does exactly the opposite."
The two sides meet again on Tuesday evening for the second leg at the Nou Camp, with Blanc's side needing to win by three goals to seal progress into the last four.
Download the Champions League podcast here, or visit skysports.com/podcasts